Conflict Forces Coal-Rich Ukraine to Import More Coal to Ease Shortfalls
Publication: Eurasia Daily Monitor Volume: 11 Issue: 194
By: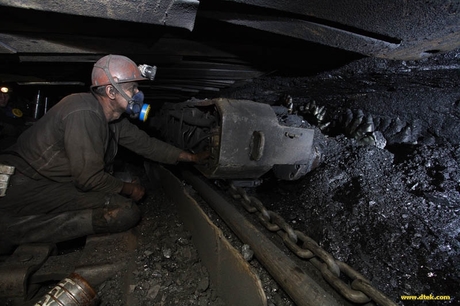 On October 22, Ukrainian Prime Minister Arseniy Yatsenyuk delivered the grim news to his constituents that, by the end of the year, Ukraine will be short four million tons of coal (TSN.ua, October 22). Pro-Russian separatists control more than half of the coal mines in eastern Ukraine's Luhansk and Donetsk oblasts, where Ukraine's most productive mines are located (Coal Explorer, October 27). As a result, Ukrainian power-generating companies are experiencing anthracite coal shortages of around one million tons per month, of which only 400,000 tons per month can be covered by maritime import deliveries. The Ministry for Energy and the Coal Industry reported, on October 1, that coal reserves in Ukrainian thermal power station depots totaled 4.3 million tons, 55.9 percent lower than on the same date in 2013 (Zerkalo Nedeli, October 10). The key question now for Ukrainian government is how to make up this shortfall.
After natural gas, coal is the second most important element in Ukraine's energy balance (35 percent). And in electricity production (45 percent), it trails only nuclear power (eia.gov, March 2014). The problem for Ukraine is that conflict in its eastern regions has halted the majority of the country's coal production there. On October 24, Ukrainian Minister of Energy and Coal Industry Yuriy Prodan told reporters that 83 out of the country's 150 coal mines are located in regions that the Ukrainian government currently does not control (RIA Novosti, October 24).
The militants in Ukraine's eastern regions have indicated a willingness to negotiate the issue with the government. During a recent interview, Borys Lytvynov, "supreme council" chairman of the self-proclaimed Donetsk People's Republic (DPR), stated that coal delivery issues were purely a matter of payment. After acknowledging the blockage of deliveries of coal from state-owned Ukrainian mines, when asked for the reason Lytvynov replied, "If Ukraine was to pay us for this coal in advance, we would decide to release this coal to them. Let them pay the appropriate sums in an appropriate manner" (Novaia Gazeta, October 13).
In the interim, the Ukrainian government is considering any and all options to cope with the coal shortfall. In addressing the rolling blackouts affecting Ukraine's Kyiv region, cabinet minister Ostap Semerak said, on October 3, that they were, in fact, unrelated to fuel shortages, labeling the cut-offs "political" and emphasizing Russian ownership of many Ukrainian regional power supply companies as the probable cause (Interfax, October 3).
The same day that Yatsenyuk delivered his grim news, DTEK Energy Holding CEO Maksym Tymchenko told a cabinet meeting, "We managed to bring more than 900,000 tons of imported coal in the period [since the coal shortfall began], which allowed thermal power plants to provide about 40 percent of the country's electricity generation," before adding that power plants still did not have enough coal in their warehouses to cover winter usage. As he noted, "Now there are about 1.5 million tons of coal in the warehouses, which is less than half for the same period last year. We need to accumulate 3.5 million tons by the end of the year for winter" (Interfax-Ukraine, October 22).
The coal shortages are having an impact on Ukrainian electricity exports; on October 10, Energy Minister Prodan told a press conference in Kyiv that, due to power shortages for the domestic needs of the country, Ukraine had stopped electricity exports to Belarus on October 1 (Interfax, October 10).
Poroshenko's government is already making contingency plans for coal deliveries from eastern Ukraine being unavailable for the foreseeable future. According to the Lviv regional state administration temporary acting head Yury Turiansky, two new mines in the Lviv region, Stepova and Vidrodzhennia, and the reconstruction of existing ones there will help alleviate shortages, with the new and renovated facilities producing 7,000–7,500 tons per day (Holos Ukrayiny, September 26).
Ukraine is also seeking more coal imports from abroad. On September 23, Prodan told a Cabinet of Ministers session that Ukraine's state and private enterprises have signed agreements to import coal before the end of 2014, informing the cabinet, "We have signed an agreement on coal supplies with South Africa—one million tons before the end of the year should be supplied. We, and other private enterprises, which today are working in the energy market [DTEK, Donbasenergo], signed agreements on the supply of coal from the territory of Russia. Unfortunately, this grade of coal is scarce, which you can only find in Russia and certain countries. The total volume of coal supplies according to the agreements we have is 5.6 million tons before the end of the year. This coal will be enough for us to have more than 3.5 million tons of coal at thermal power plants on January 1, 2015" (Interfax-Ukraine, September 23). Besides South Africa, whose first 85,000-ton shipment arrived at Ukraine's Pivdenniy Black Sea port on October 21, the Ukrainian government also investigated the possibility of importing coal from the United States, Brazil and Chile (TASS, October 7).
But the problems of indigenous coal production will continue, as even in the event of the restoration of coal supplies from the regions of Ukraine controlled by the militants, the coal deficit will remain at the level of 200,000–250,000 tons per month because a whole series of mines in the Donbas have been put out of action.
Ukraine's efforts to diversify its coal sources have run into the country's dire economic situation. From January to September, the hryvnia lost almost 63 percent of its value, according to a September macroeconomic report prepared by the US-based private equity firm SigmaBleyzer (Kyiv Post, October 11, 2014.)
The fiscal shortfall is forcing Kiev to consider upping coal imports from Russia, which cost about a third higher than domestically produced coal. On September 18, DTEK Director General Maksym Tymchenko wearily admitted, "We additionally need around 600,000 tons of coal a month. Russian coal is the most realistic option, and it is some $20 per ton cheaper than coal shipped via ports" (Interfax-Ukraine, September 18). With the days growing shorter and colder, energy imports, rather than military might, may effect a diplomatic rapprochement between Ukraine and Russia.