Lavrov Elaborates on Non-Use-of-Force Proposals in Sukhumi and Tskhinvali
Publication: Eurasia Daily Monitor Volume: 8 Issue: 82
By: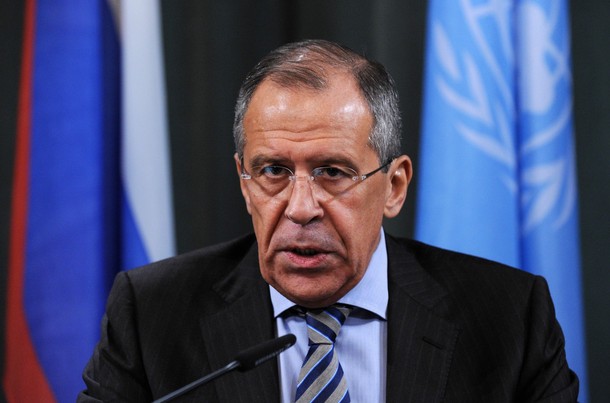 On April 25 and 26, Russian Minister of Foreign Affairs Sergei Lavrov paid a "working visit" to the occupied Abkhazia and South Ossetia, which Russia unilaterally "recognizes" as states. He visited Russian army and border troop cantonments, met with the Moscow-installed local leaders, and used the occasion to blame Georgia for Russia's occupation and militarization of the two territories (Itar-Tass, RIA Novosti, Apsnypress, South Ossetia press and information committee, April 25, 26).
Lavrov added new elements to Russia's demand that Georgia sign guarantees against the use of force with Abkhazia and with South Ossetia, respectively. The demand itself is as old as the two halves of the unresolved Russia-Georgia conflict. Moscow seeks through this demand to evade responsibility for its own conflict against Georgia since the early 1990s. Ten years later, Russia fleshed out proposals for Georgian-Abkhaz and Georgian-South Ossetian non-use-of-force agreements under Russian guarantees. Following the August 2008 invasion, Moscow has further developed this demand, and it seems to be a work in continuing progress.
Russia wants the Georgian government to sign legally binding non-use-of-force agreements on a bilateral basis with each of the two territories, this time in their purported capacity as "states". Russia offers to "guarantee" the observance of such agreements, whether singly or as part of some international guaranteeing format. For a first step in that direction, Moscow proposes that Tbilisi, Sukhumi, and Tskhinvali should each issue a unilateral commitment on non-use-of-force, then "exchange" their unilateral statements with each other on a bilateral basis.
According to Lavrov in Tskhinvali, the South Ossetian leadership has already made such a commitment publicly, and the Abkhaz leadership is about to follow suit (Lavrov's ministry had recently claimed that Tskhinvali and Sukhumi had each made such a commitment — Interfax, March 7; EDM, March 10). During this visit, Lavrov added two new elements: first, Georgia should "unconditionally" sign non-use-of-force agreements with Abkhazia and South Ossetia; and second, the United Nations should subsequently ratify these two bilateral agreements. Lavrov announced that Russia would push for this arrangement as high priority in the Talks on Security and Stability — the post-2008 war "Geneva process" (Interfax, April 25, 26).
Russia itself has refused all along to sign any such agreement with Georgia. A Russian signature would confirm that Russia has been the party in conflict with Georgia all along: indirectly through the two proxies, as well as directly, until the 2008 invasion; and directly since then. Moscow continues insisting that Abkhazia and South Ossetia, not Russia, are parties to the conflicts with Georgia. The demand for Georgia to sign "unconditionally" almost certainly implies acceptance of occupation, renouncing title to Georgian sovereignty and the right of expellees to return to their homes.
The entire construction (and Russia's refusal to be a party to its own construction) seeks, first, to disguise Russia's responsibility as a party to the Russia-Georgia conflict from its inception. Second, it seeks to empower Russia as a "guarantor" of these agreements' observance, effectively a security arbiter on all three local parties; third, to equalize Russia's two proxies with Georgia, in status and in the negotiating process; and fourth, to obtain Georgian and international recognition of the two secessionist territories. This form of indirect recognition would become outright recognition if the UN were to ratify such an arrangement, as per Lavrov's latest addition.
Promoting this proposal as Lavrov's "high priority" at the Geneva process would serve Russia's tactics to divert that process away from its mandated issues: demilitarization of occupied territories, international access there, and return of expellees to their homes.
For its part, Georgia proposes a non-use-of-force agreement to be worked out and signed by Russia and Georgia. Pending this, Georgia has made such a pledge unilaterally, and calls for Russia to make a similar pledge. In his November 23, 2010 speech to the European Parliament, President Mikheil Saakashvili committed Georgia to "never use force to restore its territorial integrity and sovereignty, and only resort to peaceful means in its quest for de-occupation and reunification" (Civil Georgia, November 23, 2010). Tbilisi followed up with official letters undertaking that commitment to all major international organizations and all the Geneva process participants. Georgia also seeks a political dialogue directly with Russia on all contentious issues, including a bilateral non-use-of-force agreement. Russia, however, refuses any form of dialogue with the Georgian government. Apparently, Moscow is reserving the option to try regime change again, after its serial failures in Georgia.
Assessing Lavrov's visit, Georgia's Ministry of Foreign Affairs commented that the event flaunted Russia's policy of occupation and annexation for the world to see (Civil Georgia, April 26).