Lavrov's Visit to Pyongyang Buries Russian Pivot to Asia
Publication: Eurasia Daily Monitor Volume: 20 Issue: 170
By: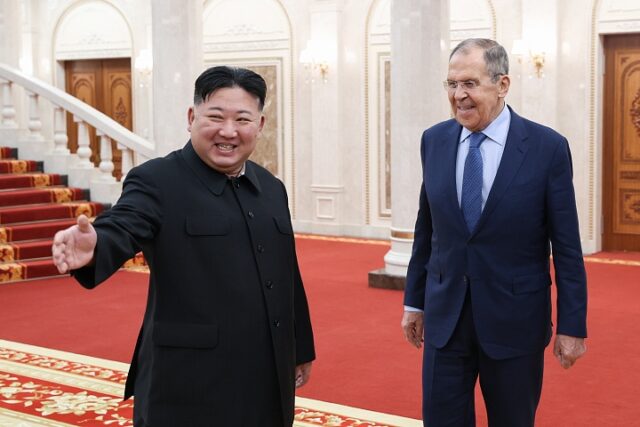 If Russia's pivot to Asia was not yet dead, Foreign Minister Sergei Lavrov's recent visit to Pyongyang on October 18 and 19 may have sealed its fate (TASS, October 18). Lavrov hailed the "blooming friendship, solidarity, and cooperation" between Russia and North Korea. Choe Son-hui, Pyongyang's foreign minister, characterized their relationship as "invincible comrades in arms" (Kommersant, October 19). The visit highlighted the growing entente between Russia and North Korea, especially on defense and security matters. That collaboration was further highlighted in November, when South Korean intelligence released a report alleging that North Korea sent one million artillery rounds to Russia in exchange for consultations on military-technical matters (Kyiv Independent, November 1). The expanding partnership between Moscow and Pyongyang threatens Russia's relations with other countries in Asia. Lavrov's visit decisively undermined the Kremlin's pivot to Asia, which had hoped for enhanced economic-political ties with Japan and South Korea, among others.
Russian officials do not want their dealings with North Korea to be acknowledged publicly. Despite Russian denials that North Korea has been shipping arms to Russia for use in Ukraine, US satellite evidence revealed a sharp increase in railway traffic along the Russian-North Korean border in recent months (Izvestia, September 13; Ukrainska Pravda, October 19; Ministry of Foreign Affairs of the Russian Federation (MID), October 20). Those reports have naturally heightened suspicions of a quid pro quo arrangement between Moscow and Pyongyang. International press reports have speculated about Russian assistance to North Korea in launching satellites, developing more modernized nuclear and missile technology, and providing food supplies. The Russian Foreign Ministry's recent declaration that both sides are determined to counter US hegemony in the current world order has given more fuel to these suspicions (MID, October 19).
During Lavrov's visit, North Korean leader Kim Jong Un vowed to "faithfully fulfill the country's agreements with Russia" in pursuing their shared agenda (The Japan News, October 20). Lavrov in turn endorsed plans to actively respond to regional and global issues in concert based on "solid political and strategic trust" between Moscow and Pyongyang. They both criticized Washington for its alleged militarization of northeast Asia, failing to mention North Korea's nuclear proliferation and expanding missile program (MID, October 19). In wrapping up the talks, Lavrov announced that bilateral relations were now at a "qualitatively new strategic level of partnership" and Kim described Pyongyang's unwavering support for Moscow as a "sacred cause" (Euronews, October 19).
Lavrov responded positively to Kim's advocacy for "far-reaching" ties with Russia (1tv.ru, October 20). Kim openly called for a long-term plan "to work out a stable, forward-looking, far-reaching plan" in opening a new era for Russian-North Korean relations (The Moscow Times, October 20). The North Korean leader hopes for a formal alliance with Russia, partially to force China to commit itself in the same way. A Russian-North Korean alliance would presumably lock both countries into consistently providing aid to fulfill one another's needs. Pyongyang has abundant weapons and munitions that Moscow needs, and Moscow possesses the technical capabilities and knowledge to support North Korea's military modernization. Russia's strong political support for North Korea may place considerable pressure on China to reciprocate and commit to more binding support of North Korea's policies.
The two sides also discussed expanding economic cooperation, including trade in dual-use technologies. Various sources have reported that Russia secretly offered North Korea nuclear technology in 2006 and 2017. It is entirely possible that this could materialize in the near future, given Russia's growing desperation in its wartime isolation (The Telegraph, July 9, 2006; Fpri.org, November 29, 2017). Moscow and Pyongyang's history of support for nuclear proliferation and the congruence of those interests with Iran will further disrupt Russian efforts to spread its influence in Asia.
The Russian-North Korean dialogue underscores how the war in Ukraine has disrupted Moscow's attempt to improve relations with Japan and South Korea. That pivot becomes almost impossible if the Kremlin closes ranks with Pyongyang on regional issues. On October 25, the United States, Japan, and South Korea released a joint statement strongly condemning "the provision of military equipment and munitions" by North Korea to Russia (State.gov, October 25). South Korean Unification Minister Kim Jong-ho recently stated, "If Russia offers military technology to North Korea, it indicates a serious threat to South Korea's security. Then, we cannot help but seek powerful sanctions against Russia and North Korea with the United States and other nations" (Kommersant, October 19). Despite reluctance to impose sanctions on Russia, Seoul has provided arms and munitions to several European countries sending aid to Ukraine (see EDM, January 18, February 1). Future support from North Korea for the Russian war effort may push South Korea, Japan, and other countries in Asia to take a more hardened stance against Moscow and its war.