Leaked Makei Letter Suggests Belarusian Efforts to Reach out to the West
Publication: Eurasia Daily Monitor Volume: 19 Issue: 59
By: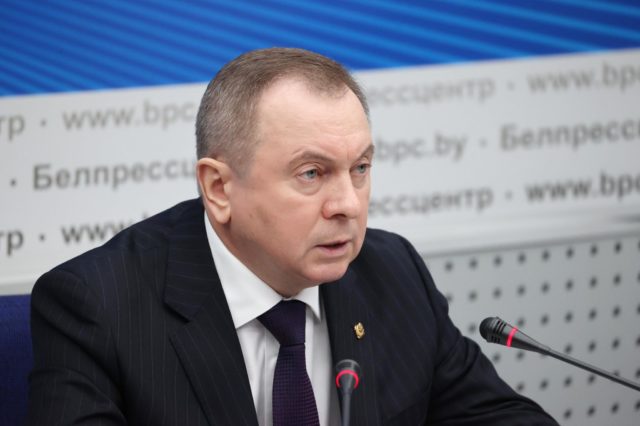 As Russia continues to try to subjugate Ukraine in an unprovoked war of aggression, Belarus has endeavored to keep its options open (see EDM, April 18). Further evidence of this policy from Minsk came out on April 14, when Rikard Jozwiak, a Prague-based journalist of Radio Free Europe/Radio Liberty, published a letter written by Belarusian Foreign Minister Vladimir Makei. Dated April 6, Makei's missive, the reporter notes, was sent "to some counterparts in the EU [European Union] complaining about a witch hunt against Belarus […and] a 'Berlin wall' in EU-Belarus relations." Furthermore, the letter rejects accusations that Belarus is "somehow being involved in the hostilities in Ukraine" (Twitter.com/RikardJozwiak, April 14). Makei reminds his addressees about the 2016–2019 achievements in Belarus-EU relations, euphemistically refers to an "unfortunate sequence of events that followed since 2020," posits that Western sanctions against Belarus "hit primarily ordinary people and never help attain their desired target," and calls upon the EU to "reestablish dialogue" with his country.
All major media outlets speaking on behalf of the Belarusian opposition responded to the revelation: the common refrain was that Minsk clearly understands the calamity it has embroiled itself in and so is now attempting to avoid being lumped together with Moscow, but the Makei letter will arguably not accomplish its goal, because nobody in the West sees Minsk as an independent actor anymore. Moreover, these opposition outlets asserted, by leaking this Hail-Mary-pass correspondence through a journalist, the EU was snubbing Minsk (Gazetaby, April 15, 16; T.me/klaskouski, April 16). According to Yury Drakakhrust of Radio Liberty, "the tone of the letter contrasts strongly with the aggressive anti-Western rhetoric of Alyaksandr Lukashenka and Belarusian state propagandists. However, the Belarusian authorities made several cautious gestures that were supposed to demonstrate that Makei's appeal was not just words. Thus, several political prisoners were transferred from jail to house arrest, and Easter-time visa-free travel for citizens of Lithuania and Latvia was introduced" (Zerkalo, April 17).
A few comments regarding Makei's letter deviate from the common refrain. For example, Yauheni Preiherman of the Minsk Dialogue underscores that Makei's appeal is nothing new and is likely to be perceived positively (YouTube, April 18). While Warsaw-based Pavel Latushko, a former Belarusian diplomat who heads the National Anti-Crisis Management of Belarus, a government-in-exile structure, conceded that some Western officials may, indeed, be willing to resume contacts with Minsk—although, the opposition body that he heads does its best to preempt such an outcome (YouTube, April 18). Svetlana Tikhanovskaya, the Belarusian "democratic leader" in exile, revealed that some international organizations have already dispatched their representatives to Minsk with the aim to resume contacts (Svaboda.org, April 20). Also, Makei himself received a call from Ignazio Cassis, the president of the Swiss Confederation (Belta, April 6). Finally, on April 12, Alfred Hutterer, the German ambassador to Minsk, publicly apologized for what happened two days earlier, when, at a ceremony commemorating the liberation of the Buchenwald concentration camp, the Belarusian state's official red-green flag was replaced with a white-red-white flag (adopted by the Belarusian opposition movement) (Reform.by, April 12). The apology testifies to Berlin's willingness to maintain contacts with Minsk.
Yet as Drakakhrust pointed out, Lukashenka's rhetoric clearly seems to contradict the peaceable overtures of his foreign minister. Thus, the members of Belarus's Security Council were warned against complacency: "we will cut off anybody's head for disrupting peace and calm in our country," Lukashenka declared (Pul Pervogo, April 19). Some concerning signs have also emerged of Belarus's only two Polish-language schools (in Grodno and in Volkovysk, where Polish identity is widespread) apparently having been stripped of their special language status. These institutions will now have to adopt Russian and Belarusian languages for instruction while leaving Polish only as an academic subject (Belsat.eu, April 11).
Still, despite harsh rhetoric and the crucial challenges of the war, Belarus continues to defy prima facie reasoning—like that embodied in the title of a recent article by Arkady Moshes of the Finnish Institute of International Affairs, "Russia's War in Ukraine Hastens Lukashenka's Demise" (Sorsafoundation.fi, April 19). On the one hand, since withstanding his first full-blown political crisis in November 1996, President Lukashenka has outlived hundreds of subsequent predictions that "unlike many times in the past, now he will fail to wriggle out." On the other hand, when someone has been at the helm of power for 28 years, this person is naturally closer to the end of his or her tenure than to its beginning. So it is exceedingly difficult to associate Lukashenka's expected longevity or downfall with any particular event. Here, an observation by Viacheslav Bobrovich, a philosophy professor at Belarusian State University, may be enlightening.
Bobrovich is known for making provocative statements that are routinely castigated by both sides of the political barricade in Belarus. On April 17, he posted to his Facebook page, noting, "Belarusians are often criticized for being passive, cowards and traitors, but […] these accusations are groundless. Belarusians are […] not ideologically indoctrinated to the extent Russians and Ukrainians are. By that, I mean adherence to certain doctrines that presume a readiness for sacrifices. Adherence to great-power status allows Russians to put up not only with difficulties generated by sanctions but also with war casualties. The idea of ​​ethno-linguistic nationalism in Ukraine blocked all attempts at federalization and settlement of the Donbas conflict… And only Belarusians do not have 'great' ideas and live an ordinary, unremarkable life." Bobrovich continues, "True, their president [Lukashenka] sometimes takes an oath of allegiance to certain ideas of the past, but only as long as they do not require sacrifices [from the population] and a disruption of calm" (Facebook.com/vbobrovich, April 17).
If Bobrovich has accurately diagnosed both Belarusians and their head of state, then Lukashenka's further longevity at the helm of power (or alternatively, his downfall) will likely continue to hinge centrally on his lingering ability to maintain an "ordinary, unremarkable life" that most Belarusians ostensibly prefer. Admittedly, this is a hypothesis that those Belarusians whom Bobrovich might label the "indoctrinated" presumably would not agree with.