Libya's Sabha Oasis: Former Qaddafist Stronghold Becoming Regional Center of Insecurity
Publication: Terrorism Monitor Volume: 11 Issue: 8
By: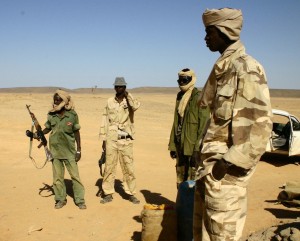 During the rule of the late Mu'ammar Qaddafi, Libya's Sabha Oasis was an important regional security center, dominating Libya's remote Fezzan region and the ancient trans-Saharan trade routes that connect sub-Saharan Africa to the Mediterranean coast. The Libyan airbase and garrison at Sabha gave Qaddafi a military presence in a region that contains most of Libya's considerable oil wealth as well as a remote center for nuclear weapons development and rocket testing. The presence of many Qaddafist loyalists in Sabha (including members of Qaddafi's own Qadhadhfa tribe) made it the last major center to be taken by rebel forces in the campaign to depose Qaddafi. Today, roughly a year-and-a-half after Qaddafi's death, Sabha's strategic importance has actually increased due to the insecurity that prevails in southwestern desert.
To cope with the rampant insecurity that allowed the deadly Islamist attack on Algeria's In Aménas gas plant to be mounted from southwestern Libya, Sabha was one of several southern regions declared a closed military zone in December, 2012, with temporary closures to border crossings with Niger, Algeria, Chad and Sudan (see Terrorism Monitor, January 25).
Sabha – The Disputed Oasis
Located some 500 miles south of Tripoli, the town of Sabha, with a population of roughly 200,000, is dominated by a massive Italian-built fort (Fortezza Margherita, but now known as Fort Elena), a legacy of Italy's brutal occupation of the Libyan interior in the early 20th century. Most residents belong to Arab or Arab-Berber tribes, but the Tayuri and al-Hijra neighborhoods belong to members of the Tubu, an indigenous Black African tribe following a semi-nomadic lifestyle in what is now southern Libya, northern Chad and northeastern Niger. Though famed for their traditional fighting skills, the Tubu of Sabha occupy cheap fire-blackened cinder block housing that provides witness to the bitter inter-communal battles that have plagued the oasis town since the Libyan revolution. The Tubu make up only 10 to 15 percent of Sabha's population, which also includes a number of Tuareg and migrants from Sudan, Chad and Niger who were encouraged to fill jobs in Libya's oil economy.
Stripped of citizenship by Qaddafi and denied basic services such as medical care and education by Libyan administrators ordered to treat all Tubu as undocumented aliens, the Tubu see an opportunity to normalize and legitimize their historic presence in southern Libya through specific inclusion in Libya's new constitution. Earlier this month, the Tubu attempted to educate other Libyans and foreign delegates about the Tubu by holding the first-ever "Festival for Tubu Heritage and Culture" in Murzuk, southwest of Sabha. While the event was attended by a number of members of the GNC, official foreign representation was limited to the Turkish consul and a UN delegate (Libya Herald, April 8). For the Turkish consul, his arrival marked something of a symbolic return to the region: Ottoman troops were beginning to establish posts in the Tubu regions of the Sahara in the early 20th century prior to being withdrawn after the Italian invasion of Libya in 1912.
A group of Tubu fighters under the leadership of Niger-based militant chief Barka Wardougou (who became close to Tuareg rebel groups in Niger in the last decade) took Murzuk from its loyalist garrison in August, 2011 (Ennahar [Algiers], August 20, 2011). Wardougou and his militia remained in southwestern Libya after Qaddafi's overthrow (Jeune Afrique, May 17, 2012).
Who Will Control the Borders?
Despite playing a leading role in the expulsion of Qaddafist forces from Libya's southwest and the southeastern Kufra Oasis region, Libyan Tubus continue to be treated with the suspicion normally associated with pro-Qaddafists. When Sa'adi al-Qaddafi threatened to return from his Niger exile in February, 2012 to lead a new uprising in cooperation with elements of the Libyan military against the "gangs" who controlled Libya, attacks quickly began on Tubu residents of Kufra who were suspected (without evidence) of supporting Sa'adi's plans for counter-revolution (Jeune Afrique, May 17, 2012; al-Arabiya, February 11, 2012; al-Sharq al-Awsat, February 15, 2012). For now, the Tubu continue to guard the border regions of the southwest, though partly out of self-interest – infiltration by Islamic extremists and narco-traffickers would challenge traditional Tubu control of local smuggling routes. The Tubu are already engaged in a struggle for control of these routes with their local rivals, the Awlad Sulayman Arabs. The Tubu and Awlad Sulayman fought a vicious battle using automatic weapons, rockets and mortars in Sabha in March 2012. The clashes left at least 50 dead and over 160 wounded (Libya Herald, March 28; Tripoli Post, March 29; for the battle, see Terrorism Monitor Brief, April 6, 2012).
In Sabha, incendiary rumors that the Tubu minority are about to take over the city often find a ready audience amongst the Awlad Sulayman and Awlad Abu Seif Arabs. Many Tubu are similarly convinced that the Awlad Sulayman intend to take control of the entire southwest region. Operating under the nominal direction of the Ministry of Defense, Tubu militias remain in control of several sensitive areas in southwestern Libya, including the southern al-Wigh airbase and parts of the Murzuk oil-fields. Calls from the militias for funding and equipment to control the borders have largely fallen on deaf ears. The Tubu not only know the physical terrain, they also know the location of unmarked minefields along the Libyan-Chadian border, deadly relics of the prolonged struggle between Chad and Qaddafi's Libya for control of the uranium-rich Aouzou Strip.
Return of the Qaddafists
The continued presence of Sa'adi Qaddafi across the border in Niger also contributes to the destabilization of the region. A group of armed men attacked a Sabha police post on April 12, killing a police guard and two others before seizing vehicles and arms from the station. The next day, over 20 individuals described as supporters of the Qaddafi regime were arrested. According to the head of Sabha's military council, Ahmad al-Atteibi, the men had confessed to having been infiltrated from abroad with the purpose of setting up a base in the south (SAPA, April 13; News24, April 14). Another police source claimed the assailants were veterans of the Libyan Army's 32nd Mechanized Brigade, a well-trained, well-armed and highly loyal unit under the direct command of Khamis al-Qaddafi (a son of the Libyan leader who was killed in a NATO airstrike in late August, 2012 (Libya Herald, April 14). Two vehicles belonging to the attackers were later recovered by the Zawiya Martyrs' Brigade, a militia hailing from the Berber-dominated Nafusa Mountains of western Libya. Libyan border police also reported arresting a group of Libyans entering the country from Egypt with a large quantity of pro-Qaddafi literature for distribution in Sabha (Libya Herald, April 13).
Libya has been applying intense pressure on Niger to extradite Sa'adi to Libya to face war crimes charges and it is expected that the former soccer player and Special Forces commander will join other members of the Qaddafi family in Oman rather than wait to be returned to an unhappy fate in Libya (al-Shabiba [Oman], March 26; Times of Oman, March 26).
Securing the South
The apparent inability of local security forces to resist attacks on their posts prompted a joint emergency meeting of Libya's government and the ruling General National Congress (GNC). The meeting was attended by the highest levels of Libya's administration and security services in an effort to find a solution to the ongoing challenges to government authority in the south (Libya Herald, April 14).
Security forces and militias from northern Libya dislike serving in the south, partly because there are no additional benefits offered to persuade them to serve there. Deployment orders from the Libyan Army command continue to be treated as requests by most of the Libyan militias. Most are unable to cope with the isolation and severe climate of the vast desert expanses south of Sabha, leaving the region largely in the hands of local tribal militias, smuggling bands and roving groups of extremists who may have already established bases in the deserts.
The smugglers, who specialize in arms, fuel, vehicles, subsidized food, narcotics and human trafficking, are usually at least as well-armed and organized as the security forces tasked with their elimination. With under-equipped local security forces often going unpaid for months at a time, it has become much easier to simply purchase free movement through Libya's ungoverned southwest. Efforts to inhibit the smugglers' operations can invite retaliation; on March 30, a well-armed smuggling group angered by attempts to restrict their activities attacked the Sabha headquarters of the southern military region command at the Sabha airbase, killing two officers and wounding three other soldiers (Libya Herald, March 30; PANA, April 2).
The Arab-Berber Qadhadhfa, who were regarded as Qaddafi loyalists during the rebellion, have also engaged in deadly clashes with the generally anti-Qaddafi Awlad Sulayman tribe, who experienced rough treatment from the former dictator after he suspected them of planning his overthrow. Libyan army Special Forces units under Colonel Wanis Bukhamada were deployed to stop these tribal battles in early 2012. Bukhamada has since survived assassination attempts in both Sabha and his hometown of Benghazi.
Conclusion
The task of securing southern Libya from Islamist militants, narco-traffickers and arms-traders depends greatly upon efforts to reform Libya's security services, most notably the National Liberation Army. However, with most former rebels preferring to remain under arms with their rebellion-era militias, such efforts have been painfully slow in obtaining results. Northerners dislike military service in the south and enduring suspicion of Tubu motives prevents the GNA from supplying this group with the arms, funds and equipment they need to secure the borders. As clashes with their Arab neighbors continue, Tubu goodwill towards post-revolutionary Libya is rapidly diminishing, as is the potential for this group to assume security tasks in southern Libya that few others are qualified to carry out. The In Aménas attack is a potent reminder of the necessity of securing the strategic Sabha Oasis and the rest of southwestern Libya before well-armed Islamists fleeing the French-led intervention in Mali can set up new operational bases in the region.