Lukashenka Makes Unconventional Pronouncements on Sidelines of Eurasian Security Conference
Publication: Eurasia Daily Monitor Volume: 20 Issue: 169
By: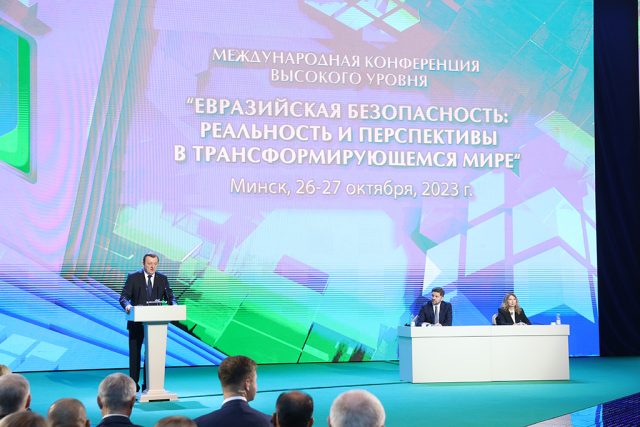 On October 26 and 27, the international conference, "Eurasian Security: Reality and Prospects in a Transforming World," was held in Minsk. The event took place under the auspices of Belarus's current chairmanship of the Collective Security Treaty Organization (CSTO). About 300 representatives from 30 countries participated, including the foreign ministers from the CSTO and Shanghai Cooperation Organization (SCO) member states. Russian Foreign Minister Sergei Lavrov (Mid.ru, October 26) and Belarusian Foreign Minister Sergei Aleinik (Mfa.gov.by, October 27) delivered speeches, and President Alyaksandr Lukashenka met with Lavrov and Hungarian Foreign Minister Péter Szijjártó, the only high-level participant from the West (Belta, October 26).
The conference was framed as an effort to push back on the alleged unipolar, US-centered world order. In his speech, Lavrov attributed all contemporary crises to what he called the "fierce resistance of the West" to the realization of non-Western countries' sovereign security demands in the context of cultural and civilizational diversity. He suggested that the "new architecture of Eurasian security" is a response to the West's "heavy-handed arrogance" and ought to be built on the basis of available multilateral structures such as the CSTO, Eurasian Economic Union (EEU), SCO, Commonwealth of Independent States (CIS), Arab League, and Association of Southeast Asian Nations (ASEAN). Lavrov welcomed Szijjártó's participation in the conference as a manifestation of Hungary's objective needs as opposed to the US-initiated destruction of economic ties between Europe and Russia (YouTube, October 26).
Aleinik's speech was not nearly as confrontational as Lavrov's remarks. The Belarusian foreign minister also underscored that "European security today does not exist either as a fact or as a system. NATO [North Atlantic Treaty Organization] members believe that they are under the umbrella of their alliance. An alliance that ignores all other structures and mechanisms that could ensure common security for all" (Mfa.gov.by, October 26).
Lukashenka offered some curious pronouncements during his bilateral meetings with the high-level conference participants. In his meeting with Szijjártó, Lukashenka declared, "For some reason, in the European Union, they believe that we in Belarus are its opponents. However, we are not vindictive, and, despite the current turbulence in the European Union and the sanctions that the EU is imposing against us, you should know that the president of Belarus is an ardent supporter of the EU's preservation." Lukashenka emphasized that his concern about the European Union's future does not mean he sees the 27-member bloc as effective overall, simply "the EU, together with the United States, China, Russia, and to some extent India, are strong pillars" of the existing world order (Zerkalo, October 26). Some of Lukashenka's remarks during his meeting with Lavrov sounded rather like a response to a possible reproach from the Russian official: "We are reliable allies of the Russian Federation. You can be sure of this. There can be no gamesmanship here since we understand that a lot is at stake" (President.gov.by, October 26).
Gamesmanship may be too strong a word for the current state of affairs that firmly attaches Belarus to Russia. Even so, Lukashenka never stops improvising. During a working trip to Minsk Oblast, he continued his informal overtures to Warsaw (see EDM, October 25). He placed particular focus on the outcome of the Polish parliamentary elections on October 15. "Well done, Poles," he exclaimed. "I did not expect this. They simply did not play this game with these self-described 'pissers' [ed., play on words, PiS is the Polish abbreviation for the ruling Law and Justice party]. For that, I praise the people of Poland. Well done! They wiped their noses. And they brought the opposition to power. Poland will no longer be the same. Even if they are not in the mood to talk to us, these are different people" (BelVPO, October 27). Lukashenka is seemingly oblivious to the fact that no such change, even with the results of the Polish elections, is possible under his leadership.
Lukashenka's "extreme" worldview pales in comparison to more ardently anti-Western, pro-Russian agitators in Belarus. One such individual is Elena Bondareva, a political activist residing in Grodno, only a few kilometers from the Polish border. Bondareva has previously railed against the "white-red-white" flags honored by the Belarusian opposition as the national flag of Belarus and what seemed to her as official Minsk's excessive tolerance of such matters. More recently, on October 25, Bondareva wrote a letter of indignation to the chairman of the State Committee for Religion. She protested the Vitebsk diocese of the Catholic Church holding a literary and artistic competition dedicated to the 400th anniversary of the martyrdom of Josaphat Kuntsevich, a Catholic saint. Kuntsevich headed the archbishopric of Polotsk. In 1623, he was killed during a riot in Vitebsk and was later canonized in the 19th century. The Russian Orthodox Church holds that Kuntsevich badly mistreated Christian Orthodox believers, hence Bondareva's indignation. The chairman of Belarus's State Committee for Religion responded, "The issues of veneration of saints and canonization of famous historical figures fall exclusively within the competence of a certain denomination, in this case, the Catholic Church" (Zerkalo, October 25).
Lukashenka's current rhetoric is an affront to Bondareva's demands. During the same working trip to Minsk Oblast, the Belarusian leader declared that he is not averse to shaking hands with Western representatives if and when they are ready to discuss a peace settlement in Ukraine (TASS, October 27). On October 26, Lukashenka sent condolences to the American people in connection with the mass shooting in Lewiston, Maine (Belta, October 26). One should be careful not to exaggerate the significance of such gestures, but downplaying them would also be a mistake. By all indications, Lukashenka remains at least somewhat open to rapprochement with the West, and writing him off prematurely could close that window.