Lukashenka, Putin and Tikhanovskaya: A Long Echo of Belarus's Historical Division
Publication: Eurasia Daily Monitor Volume: 19 Issue: 97
By: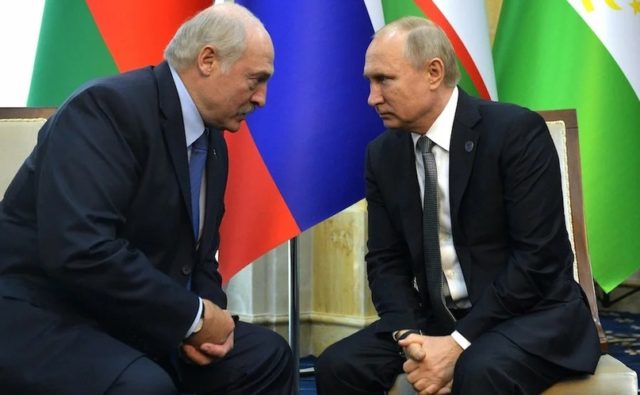 Belarusian President Alyaksandr Lukashenka paid yet another visit to his Russian counterpart, Vladimir Putin, last week, June 23–25. Prior to this, the two heads of state had already met five times this year, each time on Putin's turf. Those earlier meetings occurred on February 18 and March 11 in Moscow, on April 12 at the Vostochnyi Cosmodrome in eastern Siberia, on May 16 in Moscow at the summit of the Collective Security Treaty Organization, and on May 23 in Sochi (Belta, June 23). This time, the Kremlin leader himself was expected in Grodno on June 30 at the Forum of the Union State Regions (Sputnik.by, June 20), but he changed his mind and will participate in videoconference format. Instead, Lukashenka himself unexpectedly flew to Russia for a three-day stay, including a two-day (June 23–24) "informal" get-together with Putin in his residence at the Zavidovo reserve (between Moscow and Tver oblasts), and then in St. Petersburg on June 25.
On Saturday, sitting next to the Russian leader, Lukashenka made several announcements. First, he mentioned his visit to the construction site of the Bronka deep-sea terminal (see EDM, May 25), a port facility via which Minsk has already begun transporting potash to global markets. He also listed 15 joint import-substitution programs being implemented as a response to Western sanctions. Next, Lukashenka expressed his desire to elevate Belarus's observer status at the Shanghai Cooperation Organization (SCO) to that of full member. Three announcements were immediately related to joint military planning. In response to Lukashenka's repeated requests, Putin proposed that multiple Belarusian Su-25 jet aircraft be modernized in Russia so they would be able to carry nuclear missiles. Putin also assured Lukashenka that (nuclear capable) Iskander-M mobile, short-range ballistic missile systems will be deployed in Belarus within several months. Finally, Lukashenka stated that Lithuania's attempt at enforcing a "transportation blockade [sic]" of Kaliningrad (see EDM, June 21) is akin to a declaration of war (Belta, June 25).
Almost undoubtedly, the ongoing war in Ukraine was part of Putin and Lukashenka's bilateral discussions. Some Russian analysts predict that the restart of negotiations and the chances of a truce between Moscow and Kyiv may materialize no sooner than "late 2022–early 2023" (Globalaffairs.ru, June 22). In light of such predictions, plenty of Russian-Belarusian military cooperation scenarios may materialize too.
According to Artyom Shraibman, a non-resident scholar at the Carnegie Endowment for International Peace, whatever a possible Russian "victory" in the war may be—and by now, the expansion of Russia's control over Donbas and the northeastern Black Sea coast may fit that notion—it will be bad for Belarus. Such a self-declared triumph would mean a rising self-confidence among the Russian elite and a further narrowing of the freedom of maneuver for Minsk, the analyst concluded (YouTube, June 22).
What Shraibman articulated from his current vantage point in Poland sounds reasonable. However, the war and reactions to it have led to an utter disconnect between the two sides of the reemerging iron curtain across eastern Europe. If only for that reason, what the leaders of the Belarusian opposition and its pundits in exile say in places like Warsaw or Strasbourg has precious little resonance in Minsk. At times, Belarusian TV mentions political exiles with only one thing in mind: how harshly "we" should prosecute "them" if "they" return. In that sense, a recent interview of one Belarusian talk show's Russian guest was illustrative. The former KGB/Russian Foreign Intelligence Service sleeper agent Andrei Bezrukov (who lived in the United States as Donald Heathfield until he was uncovered and exchanged back in 2010) evinced more magnanimity to recent émigrés from Russia than the program host Marat Markov showed toward the émigrés from Belarus. Whereas the former suggested recent émigrés should not all be treated the same, the latter was noticeably more assured of recent émigrés' treasonous intent (YouTube, June 16).
How significant should the impact of those expatriates and exiles be on Western foreign policymakers has always been a moot point. On June 21, in Strasbourg, Svetlana Tikhanovskaya, Pavel Latushko and Anatoly Lebedko (perhaps the three best-known leaders of the post-2020 Belarusian opposition) participated in the so-called Kalinovsky Conference at the European Parliament headquarters. "After Russia's attack on Ukraine, the Belarusian issue shifted off the agenda of Western policy," explains Valer Karbalevich of Radio Liberty. "The current conference is an attempt by the leaders of Belarusian democracy not only to return Belarus to the European agenda but also, to take advantage of the new trend of Western policy toward Eastern Europe." This new trend is exemplified by granting European Union candidate for membership status to Ukraine and Moldova. Karbalevich does not sound optimistic on achieving this goal. "The problem is whether the West is ready to enter real competition with Russia for Belarus… Is it ready to spend financial, diplomatic […] and other (possibly military) resources, as it is doing now in relation to Ukraine? Another question is how much Belarusian society is ready for such a radical turn. The conclusions of independent sociology are quite measured in this regard," Karbalevich observes (Svaboda.org, June 21).
Aside from the above-mentioned conference in Strasbourg, Tikhanovskaya spoke at the meeting of the Parliamentary Assembly of the Council of Europe. She implored the audience not to call Lukashenka "president" and not to negotiate with the regime because this "insults Belarusians" (Svaboda.org, June 23). Yet even opposition-minded sociologists reveal that Belarusians are divided on the nation's most critical issues, which is what Karbalevich meant when he called the conclusions of independent sociology "measured."
Belarusian society is even more divided on historical memory, which explains the latest escalation of attacks on Konstanty Kalinovsky, after whom the above-mentioned conference was named. He was recently called "a Polish terrorist who has nothing to do with real Belarusian self-consciousness." So the opposition media took it upon itself to reassure that Kalinovsky (1838–1864), one of the leaders of the 1863 uprising on Belarusian lands, should be considered Belarus's national hero (Zerkalo, June 23). This issue is not easy to grasp without immersion in Belarusian history and an understanding of the schism at the heart of the Belarusian national movement that has accompanied this movement since its inception. Pretending that this schism and its current implications do not exist is destined to end in a policy miscalculation.