Saakashvili Proposes Creating a Dual Georgian-Abkhazian Federation
Publication: Eurasia Daily Monitor Volume: 19 Issue: 97
By: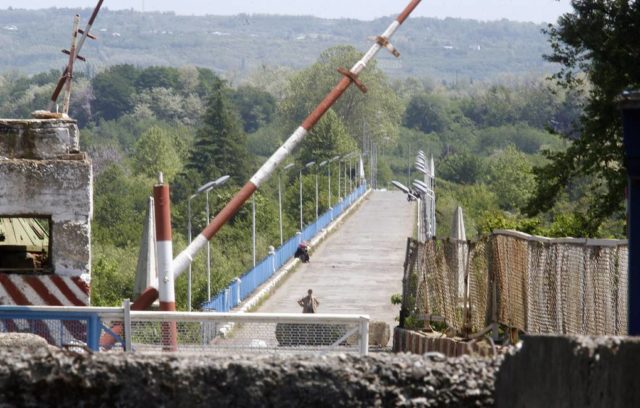 Former Georgian president Mikheil Saakashvili, who is sitting in prison after a Tbilisi court sentenced him to three and six years behind bars for abuse of power during his presidency (2004–2013), presented a historic initiative to resolve an existential problem of Georgian statehood: the status of Abkhazia, a Russian-backed Georgian breakaway region that declared independence in 1992 and 1994 during the Georgian Civil War. It became the scene of ethnic cleansing of the Georgian population with the direct participation of the Russian army in 1993, as well as during the Russian aggression in the Kodori Gorge of Abkhazia in 2008 (State.gov, January 30, 1994; Hrw.org, March 1995; Jemal Gamaxaria, International Society to Bring a Verdict on the Tragedy of Abkhazia/Georgia, 2015; Kvirispalitra.ge, August 8, 2017; Geocities.com/abkhazia_dream, accessed on June 29).
On his Facebook page, Saakashvili published a possible program for dialogue and reaching a historic compromise with the Abkhazian separatists (Facebook.com/SaakashviliMikheil, June 10). But while many Georgians find Saakashvili's proposal unacceptable, it is nonetheless highly significant, if only for having been put forward by the third president of Georgia and leader of the country's largest opposition party, the United National Movement (UNM). Indeed, Saakashvili and his party, according to public opinion polls and judging by recent election results, are consistently supported by a third of Georgian voters (Ndi.org, April 2022). According to the former Georgian president, shortly following Ukraine's victory over Russia, Georgia will not only join the European Union but will also be able to negotiate with people living today in Russian-occupied South Ossetia (another Georgian separatist territory) and Abkhazia.
"With the departure of the Russian occupation army, the Tskhinvali issue [South Ossetia] will be resolved by itself—someone will decide who will leave and who will remain—we have nothing to share with them," Saakashvili contended. He further argued, "The situation with Abkhazia is more complicated. There are many more people living there than in Samachablo (Georgian name of South Ossetia), and the degree of alienation is also higher." According to the former president, Georgia "should offer [Abkhazians] to create a common Georgian-Abkhazian state, a Georgian-Abkhazian federation with an administrative center in Kutaisi [the second-largest city in Georgia]. Dual citizenship will operate in this state—a citizen of Abkhazia will automatically be a citizen of Georgia, and other citizens of Georgia will not automatically be citizens of Abkhazia," the opposition leader stipulated (Facebook.com/SaakashviliMikheil, June 10).
Saakashvili further pointed out, "Thus, the fear of Abkhazians about assimilation will be removed. Both languages, Georgian and Abkhaz, will be official state languages. In Kutaisi, the parliament will be bicameral, and both subjects of the federation will have equal representation in the upper house. The president of Abkhazia will be the vice president of Georgia." The politician observed, "There should be a transitional period (three to five years) during which the integration of the armed forces, customs and border guards will be carried out. Naturally, within the federation there should be complete freedom of movement and a general security regime."
"Will Abkhazians agree to this?" Saakashvili posited. "The last decades have clearly shown that Abkhazia has no chance of international recognition. Together with Georgia, according to the model we propose, it can become a full-fledged subject of the federation and part of the European Union with full guarantees for the development and protection of national identity." Further, the former president asserted, "We should already be discussing and discussing these topics in order to be ready for big changes and to not miss a historic opportunity. According to my calculations, if [Georgia] is united with Abkhazia, in three to four years the gross national product of Georgia will increase by two or three times, which will affect the well-being of every Georgian and Abkhazian family." Saakashvili summarized, "Together with Abkhazia, the entire Georgian Federation will be able to increase the number of tourists to 20 million in six to seven years. The port infrastructure boom will begin, there will be many other advantages." (Facebook.com/SaakashviliMikheil, June 10).
David Avalishvili, from the independent analytical resource Nation.ge, said in a June 27 interview with this author that Saakashvili's statement is a real sensation if only because, over the past 30 years, the political class of Georgia (not only the authorities) as well as public and cultural elites have never dared to publicly mention the term "federation" regarding Abkhazia. In truth. Saakashvili "found the strength to 'swim against the tide' not only of government but public opinion" (Author's interview, June 27).
"It is noteworthy that Saakashvili's historic proposal is not being discussed in the public space now, just as, frankly, any compromise on the federal structure of the Georgian state has almost never been discussed publicly," Avalishvili stressed. He further argued, "Not only pro-government but also opposition TV channels do not talk about it, and even the former president's friends and colleagues from UNM remain silent; they are all afraid of public opinion and do not want problems."
"The Georgians consider Abkhazia as the 'heart of the motherland,' from where Georgian statehood began; therefore, any talk of a Georgian-Abkhazian two-subject federation by type, following the example of the former Czechoslovakia, requires political courage," the expert added (Author's interview, June 27).
Paata Zakareishvili, who served as state minister of Georgia from 2013 to 2016, underlined in a June 26 interview with this author that the proposals Saakashvili has now published were discussed at the beginning of his presidency: "My colleagues and I developed such a concept in 2001–2003, but then Saakashvili was skeptical about it," Zakareishvili admitted (Author's interview, June 26).
Levan Javakhishvili, from analytical publication Experti.ge, emphasized in a June 25 interview with this author: "It is the 'Georgian rules of the game' and is not strange that the ruling GD party [Georgian Dream] does not comment on the idea of Mikhail Saakashvili, and in same time, government  is helped by 'opposition TV channels'; they do not ask the prime minister and other ministers 'uncomfortable questions' about Saakashvili's proposal" (Author's interview, June 25) .
Most actors in Georgian policy circles have conspicuously remained silent regarding Saakashvili's initiative. Perhaps this is because the Georgian political elite, which consists not only of representatives of the authorities but also of opposition factions and civil society, has come to a consensus on the danger of publicly discussing the status of Abkhazia, despite the fact that such an idea was made by a notably prominent Georgian politician.