Lukashenka's Latin American Trip Brings Some Short-Term Benefits for Minsk
Publication: Eurasia Daily Monitor Volume: 9 Issue: 141
By: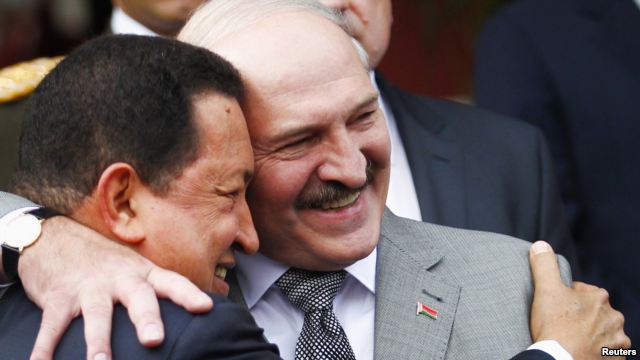 In late June, President of Belarus Alyaksandr Lukashenka visited Cuba, Venezuela and Ecuador. He signed over 20 accords with the President of Venezuela, Hugo Chavez, renewed acquaintances with Raul Castro in Cuba and started a new relationship with Rafael Correa, the President of Ecuador. The visit received lengthy attention in the official Belarusian media. But how important was it? Why is Belarus developing such a close relationship with Venezuela? Are the main reasons economic or strategic?
Prior to the visit, what seems in retrospect like an embarrassing faux pas took place. On June 7, First Vice Premier Uladzimir Syamashka responded to media reports that shipments of Venezuelan oil to Belarus had stopped by commenting that, "At present there are no economic reasons to import Venezuelan oil." The comment supplemented an earlier statement by Syamashka that Belarus required oil supplies from Venezuela mainly to put pressure on Russia, which was exerting difficult terms for oil exports to Belarus. But "today" there were no problems with Russian oil, which Belarus receives regularly and without additional fees or limitations (Belarusian Telegraph Agency, June 7; Xinhua, June 8). Three weeks later, Viktor Sheyman, assistant to the President, announced that Belarus planned to increase the volume of oil from Venezuela by five times (tut.by, June 30). How does one explain such inconsistency in Belarus' policy?
One reason is the close friendship between Lukashenka and Chavez. The two visit each other's countries regularly: Chavez has visited Belarus five times since 2006; while this was Lukashenka's third visit to Venezuela following earlier trips in 2007 and 2010. They act like brothers, ignoring diplomatic protocol. Lukashenka makes no secret of his gratitude to Venezuela for coming to the aid of Belarus during difficult times. Indeed, this visit seemed like a payback in terms of the agreements made, virtually all of which are for Belarusian assistance with economic and social programs in various parts of Venezuela. Bilateral trade between Belarus and Venezuela has risen more than 200 times, stated Lukashenka, from $6 million in 2006 to almost $1.5 billion in 2010-2011 (BELTA, June 27).
The 20 accords signed by Lukashenka and Chavez encompass a wide variety of projects in areas such as housing, technology, mining and energy, as well as oil. Belarus will develop a gas pipeline for Venezuela and help construct a thermo-electric power station in Barinas as part of a joint project with China. Chavez is interested in the development of Belarusian-style agro-industrial "communes" in the eastern part of his country (AVN, June 27). Belarus is even assisting the Venezuelans in building a space complex to launch satellites in Aragua, which it was stated, would not be "for launching space rockets," but rather "for scientific and research aims" (RIA Novosti, July 4).
The visits to Cuba and Ecuador appear, by contrast, to be something of an afterthought. Lukashenka demanded that the United States should end the "disgraceful" blockade of Cuba (RT, June 26), and he invited Ecuador's president Rafael Correa to visit Belarus. But it is with the larger country of Venezuela, the world's 13th largest oil producer last year, that he has built the most significant ties.
It is hard to avoid the conclusion, however, that Chavez and Lukashenka essentially have different priorities. Chavez was persistent in acclaiming Lukashenka as an ideological ally, and Belarus as a fraternal country and a workers' state. Chavez on several occasions made reference to another "natural ally" of both countries, Vladimir Putin's Russia. He emphasized the importance of the Bolivian Alliance of Our America (SB-Belarus' Segodnya, June 28), a group working for social welfare and mutual aid schemes in Latin America and the Caribbean, as well as other regional inter-state associations such as the Association of Southeast Asian nations (SB-Belarus Segodnya, Jun 30). In other words, the Venezuelan leader's main goal seems to be the establishment of an alliance of socialist or quasi-socialist states that can combine forces to offset the economic power of a political enemy, the United States.
For the Belarusian side, the priorities are different. If Belarus wished to deepen amity and trade with Venezuela, it was precisely to circumvent pressure from Russia and open up new economic outlets. In an interview on Venezuelan television, Lukashenka tried to combine both the political and economic aspects of the Belarusian-Venezuelan relationship in painstaking fashion. He stated that "We and Chavez" [are] people of a single ideology." Those opposing them are of a different ideology. But, he continued, the question is not a matter of ideology. "Here the question is an economic one." Belarus lacks the natural resources that other states possess, including Venezuela. It is dependent on raw materials from outside. But when the two states stand together, this dependence ends. The alliance is creating a "club of friends" who together can secure their interests in the world. He concluded with the statement that: "We want to procure independence and the flourishing of our states and peoples" (SB-Belarus' Segodnya, June 26).
There are other reasons why Lukashenka went to Venezuela, one of which was to emphasize that Belarus, ostracized by the EU because of human rights violations, has other alternatives. In that respect, the key issue is friendship rather than ideology. Neither the Belarusian President nor the country's parliament shares the worldview of Chavez or Raul Castro, despite symbolic gestures such as the establishment of a Simon Bolivar School in Minsk in 2010, in deference to the national hero of Venezuela (charter97.org, October 12, 2010). But there is some logic to expanding economic ties with Venezuela, especially if, as Lukashenka stated, they can lead ultimately to enhanced trade with the more powerful nations of Latin America such as Brazil, Argentina and Chile (SB-Belarus' Segodnya, June 26).
Importing oil from Venezuela may not be a long-term solution to Belarus' energy problems, as Syamashka correctly pointed out. It is also questionable how long the Chavez regime can continue to produce oil at such low costs. But as a temporary alternative to imports from Russia, and as a conduit to more trade with the southern hemisphere, the links may be worth pursuing. However, the difficulty with the friendship with Chavez – other than his unpredictability and uncertain health – is that Venezuela remains close to Putin's Russia. In fact, each of Chavez's visits to Belarus followed or preceded the Venezuelan President's trips to Moscow. Chavez perceives Belarus as a close partner of Russia and approves of integrationist concepts such as the CSTO and the Customs Union of Russia, Belarus and Kazakhstan. He recognized the independence of Abkhazia and South Ossetia in September 2009, something that Lukashenka has avoided.
Lukashenka has a very different worldview that perceives the survival of Belarus through pragmatism and broad economic links. Thus the Venezuelan partnership seems illogical as a strategic alternative but makes sense as a short-term economic stopgap and a sign that Belarus has some international friends.