Medvedev Aims to Squeeze the Dollar in Partnership with China
Publication: Eurasia Daily Monitor Volume: 6 Issue: 135
By: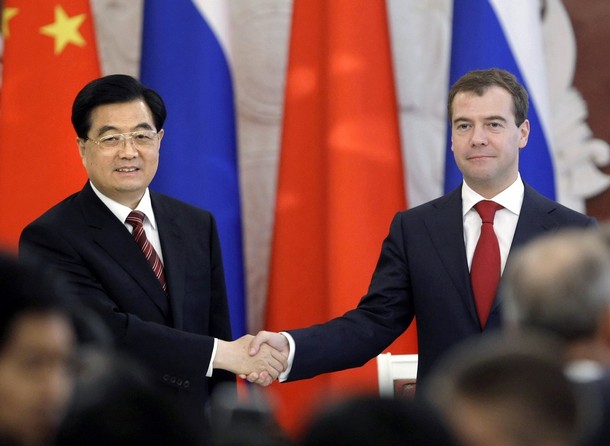 Moscow and Beijing have hailed what they describe as a bilateral strategic partnership, but Russian and Chinese state-run energy companies struggle to agree to a compromise on energy prices. Both sides insisted that the visit by China's President Hu Juntao to Russia on June 16-18 was aimed at further deepening the bilateral strategic partnership and developing energy cooperation. On June 17, Russian President Dmitry Medvedev announced that he had clinched a deal totaling $100 billion and described it as "the largest ever" in Sino-Russian relations. "It became possible due to the use of the mechanism we agreed with the Chinese president one year ago," he said. Medvedev also suggested using this positive experience in other areas of energy cooperation, including natural gas and the coal sectors (Interfax, RIA-Novosti, ITAR-TASS, June 17).
Medvedev's announcement of the $100 billion deal apparently contradicted the list of agreements concluded during Hu's visit. On June 17, Medvedev and Hu inked a joint statement. Both sides also signed MOU's on gas and coal cooperation, trade promotion, an investment cooperation blueprint, a framework agreement on $700 million loan from China's Export-Import Bank to Russia's VEB, and an additional MOU between Renova and China's state gold mining corporation (Interfax, RIA-Novosti, ITAR-TASS, June 17). On June 17, Lukoil and Sinopec signed a contract to supply 3 million tons of crude oil from the South Hylchuyu deposit in Nenets Autonomous Region to China between July 1 and June 30, 2010 (Interfax, June 17). All these agreements apparently fall short of the $100 billion mentioned by Medvedev.
Ahead of the bilateral talks, Russian news agencies cited Kremlin sources as saying that the negotiations in Moscow would focus on energy and trade. They also noted that in 2009 Russia and China had signed strategic energy agreements totaling $100 billion (Interfax, June 15).
Therefore, by praising the $100 billion deal, Medvedev was apparently talking about a long-term crude oil supply agreement concluded earlier this year, and the jointly formed "mechanism" he referred to meant Chinese loans granted in exchange for future oil supplies. On April 21, the Chinese and Russian governments finalized an inter-governmental deal, agreed upon in October 2008, under which Russia will supply China with 300 million tons of oil over 20 years, in exchange for a $25 billion loan to Russian state-run companies. The deal also involves the construction of the 67-kilometer pipeline spur of the Eastern Siberia Pacific Oil Pipeline (ESPO) to connect Skovorodino with China's border. Russian officials pledged to finish the construction ahead of schedule or before the end of 2010 and eventually raise the spur's capacity to above 15 million tons annually.
However, Chinese officials apparently remain skeptical about these official pledges to finish the construction ahead of schedule. Following his talks with Medvedev, Hu told a joint press conference that both sides should aim to finish the construction of the ESPO spur on time (Interfax, June 17). It took Russian and Chinese companies more than three years to finalize the ESPO spur deal, first announced when then President Vladimir Putin visited China in March 2006. Putin also promised to export up to 40 billion cubic meters (bcm) of Russian gas to China via a 6,700-kilometer $10 billion Altai pipeline. In March 2006, Gazprom and CNPC signed a memorandum on the delivery of Russian natural gas to China from 2011, which was a follow-up to their partnership deal signed in October 2004.
Earlier this year, Moscow apparently moved to revive the Altai gas pipeline project, stalled by disagreements over the gas pricing formula. During his February trip to Beijing, Deputy Prime Minister Igor Sechin delivered a letter from Medvedev to Hu, which urged intensifying contacts between Gazprom and CNPC on possible Russian gas supplies to China. However, Russian gas executives made it clear that the gas deal remained a long way off. On June 17, Gazprom deputy CEO Alexander Ananenkov announced that Russian gas supplies to China were not expected to start in 2011, due to continued disagreements over gas prices. "A seller wants to sell high and a buyer aims to buy low," he noted (Interfax, June 17). Gazprom has reportedly offered to export gas to China based on international oil prices, while China remains reluctant to accept this offer.
During their summit, Medvedev suggested using national currencies in bilateral transactions. On June 17, Sechin said that both sides would consider using the ruble and yuan in energy trade, adding that this Medvedev initiative was of "a strategic character." He also suggested that both sides agreed to continue consultations on gas cooperation in October (Interfax, RIA-Novosti, June 17). Russian officials have repeatedly advocated an increased reliance on national currencies. In October 2008, during a meeting in Moscow with his Chinese counterpart Wen Jiabao, Putin urged using the Russian and Chinese currencies in bilateral trade so as to gradually replace transactions in U.S. dollars. Putin also suggested raising bilateral trade up to $80 billion annually.
In the meantime, bilateral Sino-Russian trade has declined. In January-April 2009, it dropped to some $8.7 billion or 41 percent down year-on-year, according to the Chinese government's statistics. In 2008, bilateral trade reached $56.8 billion or 18 percent up year-on-year, and China's trade surplus with Russia amounted to $13.5 billion (Interfax, June 17). The joint statement confirmed future nuclear cooperation plans, including the expansion of China's Tianwan nuclear power plant. In October 2008, Russia's nuclear corporation Rosatom and the Chinese nuclear agency signed a MOU on expanding the Tianwan nuclear power plant. However, both sides have struggled to agree on cost estimates of the expansion project.
Russian media outlets noted that energy deals with China frequently take longer than expected to materialize. Russia and China remain divided on some major joint projects, including the Tianwan nuclear project and gas supplies to China, the Kommersant business daily noted on June 18. Moscow and Beijing are yet to resume discussions on gas prices, the daily commented (Kommersant, June 18). Therefore, despite these pledges of bilateral strategic partnership, including energy cooperation, Russia and China apparently need several years to agree on the terms of major energy projects.