Medvedev Appoints Putin's Special Representatives for Abkhazia and South Ossetia
Publication: Eurasia Daily Monitor Volume: 9 Issue: 59
By: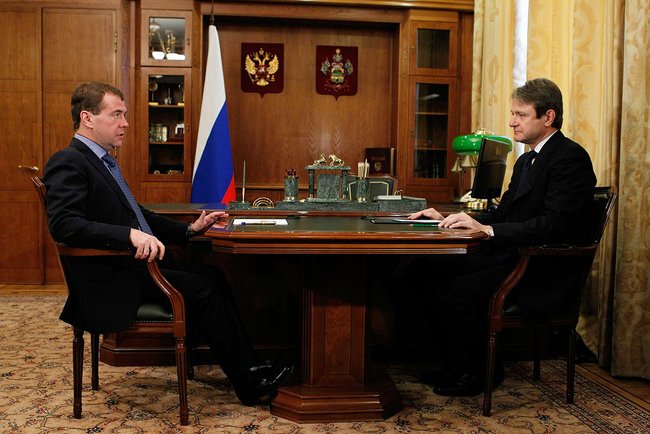 On March 16, President Dmitry Medvedev appointed Aleksandr Tkachev as Special Representative of the Russian President for Abkhazia. On March 21, Medvedev appointed Teymuraz Mamsurov as Special Representative of the Russian President for South Ossetia. And also on March 21, Medvedev appointed Dmitry Rogozin as Special Representative of the Russian President for Transnistria [Russian: Pridnestrovie], where Russian troops are similarly stationed. No representative is being instituted to deal with Karabakh and the adjacent territories of Azerbaijan, where Moscow seems content to see Armenia in charge as an occupying power (Interfax, March 16-17, 21-22).

As a lame-duck incumbent, Medvedev has instituted the three presidential representatives' posts on behalf of the incoming president, Vladimir Putin. These posts are newly created. In the case of Abkhazia and South Ossetia, these posts seem designed to implement a form of direct rule from Moscow. Although Russia portrays these two occupied territories of Georgia as "independent states," the appointment of overseers shows the opposite. And although Russia maintains "embassies" in Sukhumi and Tskhinvali since 2008, it seems clear that the newly instituted presidential representatives, not the "embassies," will henceforth handle the issues of primary significance and interest to Moscow.

Tkachev will continue serving as governor of Russia's Krasnodar Territory, and Mamsurov similarly retains his post as president (often referenced officially as "head" [Russian: Glava]) of Russia's North Ossetia, each adjacent to Abkhazia and South Ossetia, respectively. Such concurrent assignments are not uncommon in the Russian government. In these cases, the parallelism is essential to the mission: the two territories of Georgia are, each, to be functionally integrated with Russia's adjacent administrative entities. The absorption of South Ossetia and Abkhazia into Russia had been centrally directed until now, with government ministries and agencies in Moscow directly in charge of the civilian and military aspects. With the Mamsurov and Tkachev appointments, however, South Ossetia's and Abkhazia's absorption into Russia is planned to advance on an additional level: that of Russia's border regions, albeit under the Kremlin's direct supervision through these special presidential representatives.


Russia had initiated this process de facto, well before its official seizure of the two territories from Georgia, which remains the internationally recognized sovereign. Russia took control of most of South Ossetia through a "peacekeeping" operation in 1992, moving gradually toward formalized de facto annexation. The turning point dates back to 2005, with Putin's appointment of Mamsurov as head of North Ossetia. The Kremlin licensed Mamsurov to call for South Ossetia to join the Russian Federation outright, via North Ossetia. He issued such statements periodically in Vladikavkaz, in Russian-controlled Tskhinvali and in Moscow, in the presence of senior Russian officials. In May 2008, Russia's Foreign Affairs Minister Sergei Lavrov tacitly blessed this idea by hosting an MFA event in Moscow for Mamsurov, who again urged incorporating South Ossetia into Russia. The Kremlin was clearly envisaging this option prior to the 2008 war. Those statements were intended at least in part for testing Western reactions, of which there were none (see EDM, September 22, 2005; March 27, 2006; April 18, May 21, 2008).

As an ethnic Ossetian himself, Mamsurov might be expected to handle South Ossetia's inter-clan rivalries more adroitly, compared with Russian appointees from outside the region. Such appointees have mismanaged the political situation in South Ossetia, leading to the collapse of the "presidential" election amid infighting over Russian subsidies. Russian carpetbaggers have also been involved in mutual rivalries in South Ossetia. One of them, the "acting president" Vadim Brovtsev, welcomes Mamsurov's appointment with the argument that Mamsurov is knowledgeable about the local situation (Cominf.org, March 21).

South Ossetia does not have an economy; and lacks any basis for job creation other than Russian-financed, small-time construction programs, recruitment in the Russian security services and servicing Russia's military base. By contrast, Abkhazia has its own economic resources, albeit underdeveloped (tourism, citrus and other subtropical fruit for the Russian market, timber, as well as stone, gravel and sand for Russia's 2014 Sochi Winter Olympics construction sites in Krasnodar Territory). Thus, Tkachev will supervise considerable economic activity in Abkhazia, with special responsibility for timely completion of construction projects for the Olympic Games.

Tkachev, governor of Krasnodar Territory continuously since 2001, is known to enjoy close ties with Putin. In the winter of 2004-2005, when the Abkhaz elected a "president" (Sergei Bagapsh) who was not the Kremlin's top favorite at that time, Putin retaliated by blocking Abkhaz citrus fruit supplies to Russian cities all winter. Tkachev enforced that measure by closing down the transportation routes over the river Psou, which separates Abkhazia from Krasnodar Territory (legally, it forms the Russia-Georgia border). That measure proved ruinous to Abkhaz citrus growers at that time. Soon enough, Moscow reconciled itself with Bagapsh, and the Abkhaz with Moscow. But the population of Abkhazia undoubtedly remembers that Tkachev can act as a ruthless enforcer for the Kremlin.