Medvedev Issues a Bold Manifesto, While Putin Delivers a Stern Warning
Publication: Eurasia Daily Monitor Volume: 6 Issue: 167
By: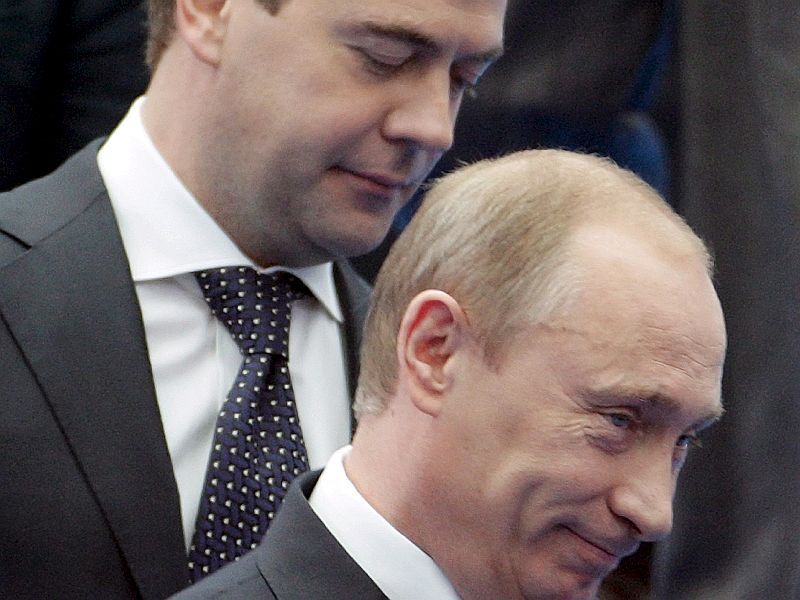 The topic of power-sharing inside the rather peculiar duumvirate of President Dmitry Medvedev and Prime Minister Vladimir Putin has long since lost its news value, but in the last couple of days it has suddenly acquired new currency. Personal relations between the co-rulers are beyond any scrutiny, but most observers have gathered enough signs and signals to denote Medvedev as a disappointment. Despite the deepening of the recession, the approval ratings of both leaders remain high, while some 58 percent of respondents are of the opinion that Medvedev does not have a strong influence on the course of events (www.levada.ru, September 3). They probably will not change their minds after the publication of Medvedev's lengthy article "Go, Russia!" first in the internet daily Gazeta.ru (September 10), known for its sharp and informed criticism of state policies, and then in other periodicals including the official Rossiyskaya gazeta.
Medvedev has on several occasions expressed dissatisfaction with such problems as corruption or bureaucratic over-regulation of the economy, but in this article he unleashed a devastating condemnation of the whole situation in the country. He started with a simple question: "should a primitive economy based on raw materials and endemic corruption accompany us into the future?' Then he summed up his diagnosis with a list of major problems: "an inefficient economy, semi-Soviet social sphere, fragile democracy, negative demographic trends, and unstable Caucasus." He made no attempt to put the blame for the crisis on the U.S. financial meltdown or some other malignant external forces, and instead he lashed out at the paternalistic attitudes in the society and "the poor quality of public debate." From this dramatic revelation of the real depth of the crisis he moved on to identify the key goals of modernization by asserting that: "As President, I am obliged to do everything in my power to make sure that we fully take advantage of this opportunity."
The message of this manifesto is unambiguous: the corrupt system of business-bureaucratic symbiosis that came into existence during Putin's presidency is not viable, the probable increase of oil prices will only prolong Russia's stagnation, but Medvedev is ready to lead the country out of this dead-end (Ezhednevny Zhurnal, Vedomosti, September 11). Putin, however, remains unperturbed by this condemnation of "Putinism" (which Medvedev is careful not to associate directly with his senior partner) and paints a very different picture. Meeting with a group of Western experts from the Valdai club on the same day as Medvedev's article appeared, he asserted that "Russia's fundamental political and economic system is fully in line with international standards." He radiated confidence that the economy is on the way to recovery and political institutions have shown their stability, but the most remarkable twist in that discussion (which is not given in the transcript on his website), occurred when the question about the 2012 presidential election was raised. Putin informed the attentive Putinologists that he would not run against Medvedev, since they would sort it out between themselves, depending upon the results achieved and the position of the ruling party United Russia, which -as Putin reminded his audience- was led by no one else but himself (Kommersant, September 12).
The hint in that carefully measured dose of sincerity is hardly in doubt: Medvedev must be ready to step down when his more experienced and better qualified comrade says so. Medvedev's article actually, if not literally, cries out loud four desperate words: "No, I will not!" A choir of Kremlin-fed commentators led by the PR guru Gleb Pavlovsky has already started on the tune of praising the president, but Medvedev will require far more than such feeble support to have any chance against the entrenched Putin's class (Nezavisimaya Gazeta, September 11). He described vividly those who would try to derail his plan: "Influential groups of corrupt officials and do-nothing 'entrepreneurs' are well ensconced. They have everything and are satisfied. They are going to squeeze the profits from the remnants of Soviet industry and squander the natural resources that belong to all of us until the end. They are not creating anything new, do not want development, and fear it."
It is clear why Medvedev chose this particular moment for his massive media attack on this superior force. Later this week he will deliver a speech at an international conference in Yaroslavl, where he might elaborate on the point that "resentment, arrogance, various complexes, mistrust and especially hostility should be excluded from relations between Russia and the leading democratic countries." More importantly, next month Medvedev plans to make his annual address to parliament and it has to contain more specific guidelines than just "living beyond our means is immoral, unwise and dangerous." This address is his last chance to demonstrate that he is capable of making executive decisions and not only to perform the role of "talking head" of state (Vremya Novostei, 11 September).
It is possible, however, that this chance is in fact non-existent. Shrewd apparatchik as he is, Medvedev has not managed to gather a loyal team during the first third of his presidential term; his modernization rhetoric produces little resonance in the over-grown state bureaucracy. Liberal opposition, seeing that their rallies are still brutally dispersed by the special police unit OMON, has few doubts that the two co-rulers are "of one blood," as Putin has so aptly emphasized to the Valdai veterans (Kommersant, 12 September). For that matter, in Gazeta.ru, of the 1,500 comments on Medvedev's text, only a few were positive, and the responses on Echo Moskvy also focused on the point that Medvedev does not have the stomach to deliver on his words.
Sacking Putin is definitely not an option for Medvedev, but replacing a few more governors would only prove his helplessness in asserting his authority. There is, however, one simple way to change drastically the political atmosphere in the disheartened country. The trial of Mikhail Khodorkovsky and Platon Lebedev is dragging on far beyond the boundaries of common sense, and Medvedev is right to avoid any interference in the proceedings. It is within his responsibility, however, to ensure that the law indeed rules -and that would establish the simple fact that the prosecution has no case. Putininsm would expire with the phrase "not guilty."