Putin Takes Opel's Wheel
Publication: Eurasia Daily Monitor Volume: 6 Issue: 167
By: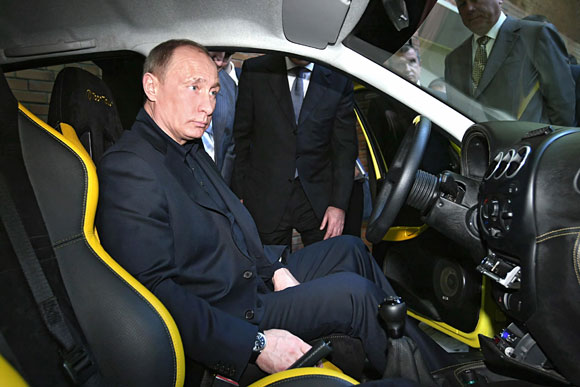 On September 10 General Motors, partly owned by the U.S. government, changed its position and allowed its ailing German subsidiary, Opel, to be "rescued" by a Kremlin-controlled consortium. The German government strongly pressed for the Russian solution in preference to an American one. The issue figured prominently in Germany's ongoing electoral campaign, which reached a high point on September 13 with the only televised debate between the two top contenders. Both the Christian-Democrat Chancellor Angela Merkel and her challenger, Social-Democrat Minister of Foreign Affairs Frank-Walter Steinmeier, took ample political credit in front of voters for arranging Opel's handover to the Russian-led consortium. On the day after their debate, the Russian Prime Minister Vladimir Putin also claimed a large share of the credit for "saving German jobs" in a German press interview (Handelsblatt, September 14).
German government leaders in recent weeks interceded vigorously by telephone and in other ways with the U.S. government and GM in favor of the Russian solution for Opel. Meanwhile, a fast-recovering GM had all but renounced the proposed deal with the Russian-led group. Instead, GM preferred to sell a majority stake in Opel to RHJ, the Belgium-based subsidiary of the American investors Ripplewood, with an early buy-back option for GM. The German government, however, insisted on the Russian option (Sueddeutsche Zeitung, September 12).
By all appearances, Merkel sealed a political commitment regarding Opel -among other Russian takeovers of ailing German enterprises- during her meeting with the Russian President Dmitry Medvedev in August in Sochi, although a more promising agreement with RHJ was already available at that juncture (EDM, August 18).
In his interview, Putin revealed some details on the Russian government's political role in this takeover. He said: "The Russian government, Angela Merkel's government, and the [German] labor unions worked together intensively. There were close contacts. I myself met with representatives of IG Metall [German labor union] in my residence. Today's achievement is the result of these efforts by the Russian and German governments, and the German labor unions" (Handelsblatt, September 14).
Putin's interview would seem to imply some coordination behind the demarches made during the late-summer break in favor of the Russian-led consortium. According to German press reports, Berlin government leaders in their calls to Washington were casting this issue as a test of trans-Atlantic political confidence. German organized labor and the Opel Works Council [Betriebsrat] threatened to demonstrate in front of the U.S. embassy in Berlin, if GM (and by implication the U.S. government) insisted on the RHJ option or a GM buy-back option for Opel.
Both components of the German government campaigned to sway the U.S. government and GM. Social-Democrats under Steinmeier were the first to propose the Russian option for Opel; but Merkel then stepped in and took over this issue for her party's perceived electoral benefit. The Russian side allowed Merkel to steal the spotlight from Steinmeier on this as on other issues in the German-Russian "strategic partnership."
This situation illustrates how Russia is gaining the ability to intrude into Germany's internal politics at election time. Nervous political leaders seek Russian state intervention to "save German jobs" -at Opel, the Wadan shipyards, and the Siemens subsidiary Infineon/Qimonda- during this year's election campaign. When the twin imperatives of job-saving and election-winning are at stake, Moscow stands to gain leverage over the government's foreign policy decisions.
This process is not necessarily linked with economic downturn cycles. Four years ago the Social-Democrat Party took electoral advantage of the Nord Stream gas project, grandly announced by Putin and the then-chancellor Gerhard Schroeder just before Germany's parliamentary elections. Already overly dependent on Russian energy supplies, Germany increasingly perceives itself as reliant also on Russian industrial orders in strategic sectors. In his interview, Putin stressed that Russia (i.e., Russian state-controlled entities) and "integration" of the two economies can guarantee German jobs. He described the Opel transaction as a possible model for more to come (several were agreed upon in August at the Sochi meeting).
Under the Opel deal as it now stands, GM would be reduced to a 35 percent stake. Russia's state-controlled Sberbank would take another 35 percent stake; the Canadian-Austrian parts supplier Magna, 20 percent; the Putin-dependent oligarch Oleg Deripaska's GAZ becomes the "industrial partner," paying nothing into the venture, but making its production installations in Russia available; and the Opel work force, currently with an estimated 25,000 German employees would take 10 percent of the shares.
German press commentaries are uniformly critical of this arrangement. Magna, aiming to advance from parts supplier to automobile manufacturer, has staked its corporate development strategy on Russian support and the Russian market. Deripaska's conglomerate is deeply indebted and GAZ is widely regarded as rudimentary technologically. The German government has agreed to subsidize the deal by providing 1.5 billion Euros ($2.2 billion) in bridge credits and 4.5 billion Euros ($6.6 billion) in credit guarantees.
GM will be hard put to prevent the unauthorized use of GM technology and patents in Russia. And Magna has already announced that it would eliminate more jobs at Opel than had been anticipated. Opel's Russian rescue may turn out to be a rescue of Russian GAZ from backwardness, by transferring some of Opel's production to Russia and assisting the Kremlin's national project to create a Russian automobile industry (Frankfurter Allgemeine Zeitung, Die Welt, Finanancial Times Deutschland, September 11 – 14).