MEDVEDEV-PUTIN: DREAM TEAM OR UNWORKABLE DIARCHY?
Publication: Eurasia Daily Monitor Volume: 4 Issue: 235
By: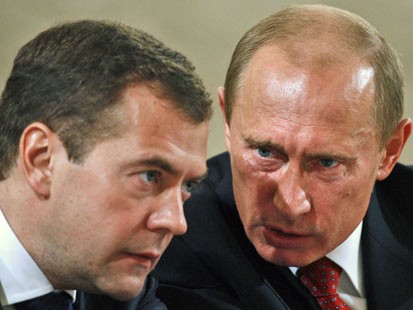 With President Vladimir Putin having now accepted Dmitry Medvedev's invitation to serve as prime minister if, as is virtually certain, Medvedev is elected president next March, observers are now focused on the question of how this "diarchy" will work in practice, particularly given that Putin, in accepting the invitation to serve as prime minister, ruled out redistributing powers between the two posts. As former Russian presidential spokesman Vyacheslav Kostikov put it, the problem is who will be Number 1 – President Medvedev, "who, according to the constitution, possesses vast powers (including the right to dismiss the government at a moment's notice)," or Prime Minister Putin, with his "vast authority"? Kostikov noted that the arrangement would create difficulties even in the area of protocol. "We have gotten used to the Asiatic ritual in which the premier and ministers jump up when the president enters the room. While V. Putin stand up with the appearance of D. Medvedev? Or the other way around?" (Argumenty i Fakty, December 19).
Tatyana Stanovaya, head of the analytical department of the Center for Political Technologies, wrote in an article for the center's website that the key problem will not be relations between Putin and Medvedev per se, but how this diarchy is able to handle the Kremlin inner circle, which is split up into increasingly conflicting and competing factions. "The appearance of two centers for decision-making (even if they work as one), gives rise to the possibility of alternative arbitration," she wrote. "Considering that Putin even now is experiencing difficulties in resolving inter-elite conflicts, it will be even more difficult for him from now onwards. In addition to that, Medvedev will take on some of the arbitration functions himself. For the first time in eight years, the regime will have another center of influence no less legitimate than Putin, to whom it will be possible to appeal. And for the first time there will be a situation in which Putin's decision may not be the final or decisive one. The dynamic of this inter-elite pluralization will directly depend on the level of cohesion of the two figures – Putin and Medvedev. And it's a question not simply of the possibility of reaching a consensus of opinion, but of a complete identity of understanding. Time will tell whether or not that is realistic" (Politcom.ru, December 18).
Gennady Gudkov, the former security services colonel who is a member of the pro-Kremlin Justice Russia party faction in the State Duma, predicted that Putin will transfer power to Medvedev in stages. Putin will at first "keep strong control, above all over the special services," Gudkov told the Rosbalt news agency. "This is necessary, inasmuch as at first Medvedev will be working beside the [popular figure of] Putin, and this undoubtedly will influence the work of the government." Over time, "Medvedev will turn into a sovereign presidential figure if, of course, there does not arise the need to change the constitution and redistribute powers between the president and the premier," Gudkov added. "And provided that Medvedev in his work will rely on the parties, parliament [and] other institutions but not on the clan structures in the government" (Rosbalt, December 18).
It should be noted that while most observers believe that the plan to have Medvedev serve as president with Putin serving as prime minister is the final one, with no further surprises in store, that view is not shared by every one. Stanislav Belkovsky, head of the National Strategy Institute, who has consistently predicted that Putin will relinquish power completely and is simply looking for a way to do so that will ensure his personal security (see EDM, November 19), continues to insist on that scenario. According to Belkovsky, Putin's acceptance of Medvedev's invitation to serve as prime minister was simply a gambit designed to boost Medvedev's rating among the voters in the run-up to the presidential election next March 2 while avoiding being made a lame duck and suppressing a conflict between the warring Kremlin clans over who will be Medvedev's prime minister (Moskovsky Korrespondent, December 18). Belkovsky wrote on the LentaCom.ru website that while those "circles" which put Medvedev forward as Putin's successor would like to see former Kremlin chief of staff Alexander Voloshin as Medvedev's prime minister, Putin probably "wants somewhat to dilute the influence of the family of Boris Yeltsin on the next Russian president" and therefore will pick a prime minister for Medvedev who "does not belong to the Voloshin-[Roman] Abramovich team." The choice of Medvedev's prime minister, predicted Belkovsky, will be made public only at the end of next February (LentaCom.ru, December 18).
Other observers, meanwhile, say that Putin can avoid the entire problem of a power diarchy by becoming the head of a unified Russia-Belarus state (see EDM, December 17). "The variant by which Vladimir Putin, from being prime minister, becomes the head of a confederation of Russia and Belorussia takes away all of the current fears over the fate of the future 'duumvirate'," wrote Kirill Benediktov in an article for the Novaya Politika online magazine. "Moreover, such a scenario can make it highly probable that the Union state will be further widened to include the unrecognized republics (Pridnestrovye, South Ossetia, Abkhazia), possibly Armenia and, in the future, even the eastern regions of Ukraine" (Novopol.ru, December 18). Mercator Group head Dmitry Oreshkin noted that even if it proves impossible to engineer a union with Belarus, it would be "easy" to form a union with Abkhazia with Putin as its president, in which case "President Medvedev would be his subordinate" (Versiya, December 17).