Medvedev's Indecisiveness Permeates his Presidency
Publication: Eurasia Daily Monitor Volume: 6 Issue: 191
By: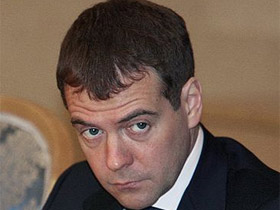 President Dmitry Medvedev made a surprisingly strong claim for leadership five weeks ago in his article "Go, Russia!" arguing that the country could only overcome the devastating recession by breaking the pattern of "endemic corruption." The article is still lively debated; the key point of discussion, however, is not supplying additional proposals for the forthcoming presidential address to the parliament –as Medvedev suggested– but questioning his ability to lead (www.gazeta.ru, October 9; Novaya Gazeta, October 16). Devoting himself primarily to foreign policy these past weeks, Medvedev has scored a few points with the photo-ops, but missed a number of opportunities to act in domestic affairs, where his word could have made a difference –and rescue his withering claim.
Among the liberal "malcontents," skepticism has prevailed from the start, but the moderate hope that the discussion would expand the space for public debates disappeared when the official television channels ignored the meeting between U.S. Secretary of State Hillary Clinton and Russian NGO's during her recent visit to Moscow (Novaya Gazeta, October 16). Liberals also noticed that Medvedev did not say a word on the third anniversary of Anna Politkovskaya's murder (www.gazeta.ru, October 8). What marked his most telling failure to gain any democratic credentials, however, was the lack of response to the harassment of the journalist Aleksandr Podrabinek by the quasi-patriotic youth movement Nashi and his ambivalent reaction to the demand from the pro-Kremlin party United Russia to dismiss Ella Pamfilova from the presidential council on human rights for her firm condemnation of that shameful campaign (Kommersant-Vlast, October 12).
For the political class, the litmus test of Medvedev's commitment to liberalization, even if incremental, was the series of regional elections last week, first of all in Moscow (www.grani.ru, October 14). Veteran-Mayor Yuri Luzhkov had suspected multiple threats to his spectacularly corrupt administration and so resorted to falsifications on such a scale that three "loyal" opposition parties represented in the State Duma staged a demonstrative protest by walking out of a plenary session last Wednesday. Medvedev held telephone conversations with their leaders and easily brought two parties to order, while leaving the stubborn communists to demonstrate their particular concern (Vremya Novostei, October 16). This parliamentary "crisis" will probably remain totally sterile, but Medvedev cannot fail to see that his assertion that "democracy needs to be protected" has been violated with impunity.
Elections matter little in the quasi-tsarist political system, over which Medvedev nominally reigns, but the power to promote and prosecute is crucial, and here again his performance is far from impressive. Putin's old cronies, like Deputy Prime Minister Igor Sechin, and more recent appointees, such as Deputy Prime Ministers Sergei Sobyanin or Viktor Zubkov, feel perfectly safe; and Luzhkov is positively triumphant. A few experts who are trying to put content into Medvedev's ideas –including Evgeny Gontmakher– insist on firing the deputy head of the presidential administration Vladisalv Surkov, but this courtier has made himself into the key minder of both United Russia and Nashi (Ekho Moskvy, October 15; Kommersant, October 17). A few minor replacements among his aides have not earned Medvedev any respect among political heavyweights, and rumors about the possible dismissal of Sergei Naryshkin as the head of presidential administration and the appointment of Aleksandr Konovalov are hardly insightful (Nezavisimaya Gazeta, October 12). A strong move for Medvedev could have been to dump Nikolai Patrushev, the Secretary of the Security Council (and the former head of the Federal Security Service –FSB), who earned his sacking by revealing –on the day of Clinton's visit to Moscow– that the new military doctrine will sanction preventive nuclear strikes (RIA-Novosti, October 14).
That "leak" added to the list of missed opportunities in foreign policy, where the key feature is the inability to respond in any meaningful way to the U.S. "reset" offer, which includes not only a new design for the strategic defense system but also a pronounced restraint in criticizing anti-democratic developments in Russia (www.gazeta.ru, October 16). The poorly-prepared and sparsely attended summit of the dysfunctional CIS in Chisinau, Moldova last week added to this list, and the "presidential" military exercises in Kazakhstan –formally under the aegis of the Collective Security Treaty Organization (CSTO), but in fact bilateral Russian-Kazakh exercises– showed yet again that Medvedev cannot cut a convincing military figure even by donning newly designed camouflage (Kommersant, October 17). Belarusian President Alyaksandr Lukashenka opted not to attend the exercises, which was another setback for Medvedev who had done his best to placate this difficult ally at another exercise earlier this month (Kommersant, October 7).
The area where Russia is most fragile is its economy, and all the key levers remain in the hands of Prime Minister Vladimir Putin. He emanates confidence that the recovery has already started, which implicitly undermines Medvedev's discourse on the need for extraordinary "innovations." Putin's persistent efforts to lure back foreign investors have however, proven unsuccessful –a net outflow of capital on the scale of $31.5 billion was registered in the third quarter (www.newsru.com, October 14). The smaller than expected decline in industrial production (-13.5 percent in three quarters) may provide some justification for official optimism, but most Russians feel greater pain from the recession (Vedomosti, October 16). Opinion polls show that 62 percent of families are now seriously affected by the crisis (compared with 51 percent in July), and only 28 percent of respondents believe that the government has a consistent anti-crisis program (www.levada.ru, October 14).
Putin may appear far more in charge of capital flow and in control of the bureaucratic apparatus than Medvedev could possibly aspire to, but his "manual management" amounts to nothing more than procrastination in the expectation that the time of plenty will return. The truth in what Medvedev is talking about is that Putin's "era" of petro-prosperity is over, and the decision about re-claiming the presidential authority, which his senior partner is apparently contemplating, is quite irrelevant. Medvedev's failures, therefore, signify not just his immaturity, but the disappearing and rare chance for Russia to pass through a major crisis without an upheaval.