U.S. Delegation Displays More Caution Than Usual on Georgia
Publication: Eurasia Daily Monitor Volume: 6 Issue: 191
By: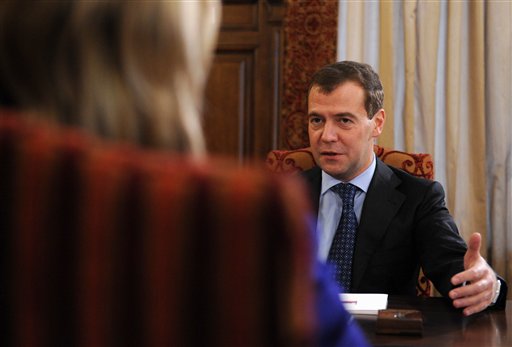 Also on October 13 the head of the Russian Federal Security Service (FSB), Aleksandr Bortnikov, publicly accused Georgia of harboring "al-Qaida" agents, arming and training "international terrorists," infiltrating them into Chechnya, and orchestrating "terrorist" sabotage of oil and gas pipelines in Dagestan. He offered no evidence to support the accusations (Interfax, international news agencies, October 13, 14; EDM, October 15). Bortnikov's accusations closely resemble those of past years when Moscow tried to fabricate a casus belli for "anti-terror" operations inside Georgia. The only novel claim is that Georgia orchestrates the sabotage of pipelines in Russian territory. This gives Moscow an option to blame those alleged "terrorists" in the event of a real attack on Georgian infrastructure near the demarcation lines.
Bortnikov's declaration, like Patrushev's on the military-nuclear doctrine, was designed and timed to test the U.S. delegation's response. The delegation kept silent on this score also. The Georgian government dismissed and ridiculed the accusations' content, but took the apparent intentions behind such accusations seriously: "They attempt to justify continuing aggressive actions against Georgia and their possible escalation." Accordingly, Tbilisi is asking Western governments to watch the situation closely (Rustavi-2 TV, October 13).
Clinton discussed Georgia publicly as part of an interview with Ekho Moskvy on the second day of her visit (October 14). According to the State Department's transcript, Clinton said:
"We [U.S. and Russian sides] talked about Georgia. Now we do have a difference here, and even though we work hard –not just to reset, but to deepen our relationship– we will disagree about Georgia. Georgia is providing troops in Afghanistan. We are training Georgian [soldiers] to be able to go to Afghanistan. But we are also making it very clear that we expect both the Georgians and the South Ossetians and Abkhaz and everyone else to avoid provocative actions, to deal with whatever problems they have through peaceful and diplomatic means."
She repeated that position almost word for word in a town-hall-type meeting at Moscow University:
"This [Georgia] is an area where we have a disagreement. And we have been very candid in expressing our concerns, and listening to Russian concerns. It is very important that neither Georgians nor South Ossetians nor Abkhaz do anything provocative. And we have told this to the Georgians, and I am confident that the Russian government has told that to the people [sic] of South Ossetia and Abkhazia. The first and most important goal must be to make sure that there is no more conflict. If there are problems to be resolved, they should be put within the diplomatic arena" (State Department transcript, October 14).
These statements brush over Russia's role as the orchestrator of instability and as occupying power in the two territories. They also ignore the fact that Abkhazia and South Ossetia have been turned into Russian military strongholds with offensive capabilities, while Georgia is for all intents and purposes disarmed. These statements also ignored the latest threats to Georgia through Bortnikov the preceding day. Clinton's statements place Georgia on an equal footing with Abkhazia and South Ossetia as possible sources of destabilization, notwithstanding the European Union Monitoring Mission's (EUMM) reports that clearly document Georgia's restraint.
In the run-up to Clinton's visit, a "senior State Department official's" background briefing had anticipated that: "She will reiterate our view in support of Georgia's territorial integrity and encourage the Russians to fully implement the ceasefires of August and September 2008, which we do not believe that they have done" (U.S. State Department, Background Briefing by Senior Official, October 8). In the event, there was no mention of Georgia's territorial integrity, Russian non-compliance with the armistice, or ethnic cleansing in Clinton's statements. Those issues may perhaps be implied in her advice to handle peacefully "whatever problems they have."
U.S. and E.U. policy concentrates on stabilizing the existing situation, not on remedial measures. In this regard, Western policy since August 2008 essentially resembles that pursued from 1994 to 2008, in international circumstances more favorable than today's. However, ambiguous statements made under Russian pressure may work against the declared goal of stabilizing the situation. Such statements can encourage those "provocations" that Western policy seeks to avoid.
On the Western side, it has almost become standard procedure for U.S. and NATO officials to declare "disagreement" with Russia over Georgia at the outset of meetings, only to move on to matters such as Iran sanctions where Russian "support" is deemed crucial to the West (though at NATO-Russia meetings, ironically, it is Russia that insists on discussing Georgia, expecting to score propaganda points or at least to derail the discussions). During the Moscow visit, the U.S. side also repeated its vow to never recognize Abkhazia and South Ossetia, although the pledge itself does not entail proactive measures toward correcting the situation.
As part of such stabilization measures, the United States supports the creation of buffer zones along the demarcation lines, with full access by international monitors –possibly under U.N. or OSCE aegis– inside Abkhazia and South Ossetia. The U.S. delegation raised this issue during the Moscow visit, but Lavrov turned it down. Again, "an issue that we see differently, and I think it is important that we talk through this," Clinton ruefully concluded.
Georgia can possibly discern a silver lining in Clinton's remark that the United States would "help the Georgian people to feel that they can defend themselves" (Ekho Moskvy, October 14). For the time being, the United States is training a Georgian battalion for deployment to Afghanistan, not for its homeland defense. Moreover, the United States has officially suspended "lethal" defense equipment deliveries to Georgia and is informing Russia officially about light arms delivered for Georgian soldiers to use in Afghanistan. It remains to be seen whether Clinton's passing remark presages a policy change toward enabling Georgia to defend its territory.