U.S. Delegation Returns Empty Handed From Moscow
Publication: Eurasia Daily Monitor Volume: 6 Issue: 191
By: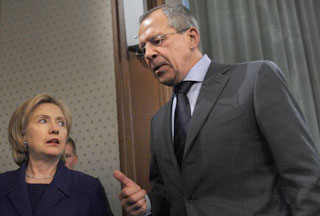 The Kremlin blindsided U.S. Secretary of State Hillary Clinton with unexpected challenges during her October 13-14 Moscow visit, her first to Russia in that official capacity. The Russian side distorted the agenda previously agreed with Washington and frustrated U.S. goals across the board. Moscow timed its surprise moves precisely to Clinton's arrival, so as to confuse the U.S. side and preclude a coherent timely response during Clinton's talks with Russian President Dmitry Medvedev and Foreign Minister Sergei Lavrov.
On October 13, the Secretary Security Council Nikolai Patrushev announced the Kremlin's intentions to change Russia's military doctrine with regard to the use of nuclear weapons. The amendments substantially lower the threshold for such use. They envisage the possibility of Russian nuclear strikes at an operational-tactical level in regional and local conflicts. Under the amendments, Russia explicitly reserves the right to carry out preventive nuclear strikes in such conflicts; and also the option of first use of nuclear weapons if necessary to prevail in a conventional regional or local conflict (Izvestiya, Interfax, international news agencies, October 14).
The U.S. delegation failed to respond to this well-publicized, clearly pre-planned, and apparently unanticipated challenge to core U.S. positions.
The Obama administration has made the political objective of nuclear disarmament a top priority of its Russia policy. It has also given up the planned anti-missile shield in Central Europe, hoping for a Russian quid-pro-quo on U.S. concerns in other theaters (a deal precluded, however, from the outset by the administration's own arguments for abandoning the shield). Nuclear disarmament and non-proliferation topped the agenda of Clinton's visit. Moscow's public response through Patrushev amounts to a rejection of the U.S. administration's nuclear disarmament and non-proliferation goals. It suggests that Russia will not cooperate in bestowing a nuclear disarmer's mantle on the American president; and that the anti-missile shield's abandonment has failed to restrain Moscow, while possibly emboldening it.
Relegating Georgia to the back burner and abandoning the missile shield in Central Europe has not elicited Russian cooperation on Iran sanctions. The U.S. delegation returned empty-handed from Moscow on the sanctions account. In the run-up to the visit, the White House and State Department had optimistically interpreted a highly ambiguous statement by Medvedev at the United Nations that Russia does not necessarily rule out support for another round of sanctions against Iran. With the administration's own timetable for imposing "crippling," or at least "biting" sanctions on Iran expiring, and with the missile shield's abandonment expected to elicit Russian cooperation at the last moment, the U.S. delegation hoped to demonstrate success on that account in Moscow.
Clinton argued that Russia could join the United States in "leadership that we can demonstrate for the rest of the world on issues [such as] Iran, North Korea, and nuclear non-proliferation and arms control -the important matters that the United States and Russia should be leading on, so that the rest of the world can see the level of cooperation" (Russian Federation President's website, October 14). Lavrov and the other Russian officials, however, rejected not only sanctions on Iran at this stage, but even the talk about sanctions as counterproductive.
Moscow also uses the threat to deliver S-300 surface-to-air missiles to Iran as a bargaining card with the United States. According to Clinton in a German press interview after the Moscow meeting, this issue "was of course raised there and we will continue raising it. Thus far, they [Russians] have not delivered any [such] missiles to Iran. We regard this as a good sign" (Die Welt, October 19). Among lesser goals, the U.S. delegation said that it had "reason to hope" (Reuters, October 13) that Boeing would land a contract to build aircraft for Russia's new state-controlled airline. Faced with multiple U.S. solicitations at every high-level meeting, Moscow feels that it can wait out and manipulate the process through arbitrary linkages and trade-offs.
The U.S.-Russia joint working group on civil society issues is widely seen as representing a U.S. unilateral concession, rather than a classical trade-off. The United States is receiving nothing in return for accepting the deputy chief of Russia's presidential administration, Vladislav Surkov, and other Kremlin "political technologists" to predominate on the Russian side of this "civil society group." Surkov, a godfather of Nashi, will be co-chairing the civil society working group alongside Michael McFaul, the U.S. White House senior adviser on Russia. In Moscow, Clinton said that she expects the Russia expert McFaul to manage this group effectively (Ekho Moskvy, October 14).