Merging Practice and Theory: Is Russia Planning Major Reform in Electronic Warfare Domain?
Publication: Eurasia Daily Monitor Volume: 14 Issue: 157
By: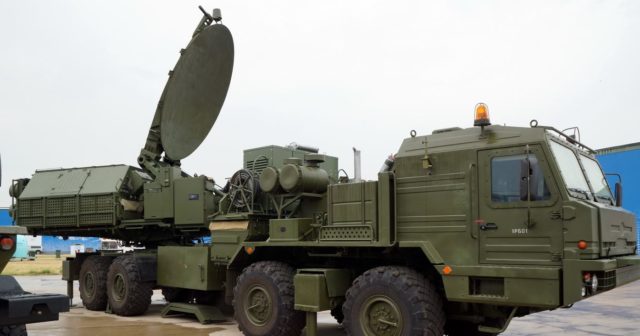 Russia's most recent advancements in Electronic Warfare (EW) capabilities (see EDM, September 8; July 19) were again underscored in remarks delivered last month by the chief of the General Staff, Army General Valery Gerasimov (Voenno-Promyshlennyy Kurier, November 14). But in contrast to how dynamically EW equipment has been reaching military units, Russian military theory pertaining to this domain has, until now, been developing at a relatively modest pace. That may finally be changing, however. In this regard, an article written in Voennaya Mysl by a group of notable Russian EW experts and practitioners (including the commander of the EW Troops, Major General Yury Lastochkin) could become a turning point in Russia's theoretical conceptualization of the role and meaning of EW forces in future conflicts (Voennaya Mysl, August 30). Their analysis centers on the argument that conditions are now ripe for EW troops to become a separate branch within the framework of the Ground Forces of the Russian Federation.
The authors of the Voennaya Mysl article point to the changing nature of contemporary warfare. In particular, they argue that cruise missiles (land- and sea-based) and precision-guided munitions (PGM) as well as weapons based on so-called "new physical principles" (oruzhiye na novykh fizicheskikh printsipakh) (Mil.ru, accessed November 25), such as wave, psycho-physical and genetic weapons, will increasingly constitute the essence of military operations. Yet, they note that the effectiveness and efficiency of these means will greatly depend on the level of development of EW capabilities, including reconnaissance as well as offensive and defensive potential. The insufficient development of these elements, the authors warn, will jeopardize the success of any military operations employing tank and motor infantry units and decrease the ability to protect military units and objects located in the rear. Thus, aside from independent actions, EW troops should play a coordinating role in the activities of the other branches of the Armed Forces, they contend. Notably, in their article, the authors extensively refer to the United States military and its experience. Namely, they note that impressive achievements integrating information technology (IT) and EW into US forces has directly resulted in their success and effectiveness "in some regional military campaigns" (Voennaya Mysl, August 30).
On top of that, the aforementioned article makes an important (yet implicit) allusion to Russia's experience in Ukraine (and, to a lesser extent, Syria). Analysts have previously argued that the ability to jam and suppress radio signals has changed the way EW will be used in terms of contemporary military operations conducted by the Russian Ground Forces (see EDM, September 26). Therefore, Lastochkin and his co-authors predict that the future of EW operations will consist of integrated use of unmanned aerial vehicles (UAV) with land-based means. At the same time, the authors express confidence that within the next several years the total share of the "electronic" component in military operations is likely to increase by 2–3 times, meaning that these will be heavily dominated by EW troops. Moreover, EW capabilities integrated into the Russian Armed Forces, which are already comparable (in terms of effectiveness) with other conventional means of warfare, in the near future will in fact become superior, the authors claim.
These aspects lead the authors to conclude that, by the end of the 2010s, "all necessary conditions for EW troops to drastically change their status will be achieved." On the basis of this, the tentative timeline for the reform might be expected to take place within 2018–2020. The success of this transformation must be secured by fulfilling a number of key criteria, they argue. In particular, the EW troops (as a separate branch) must:
1. have a specific operational task and be able to preserve dominance, once committed;
2. be used only under specific circumstances and possess skills allowing them to be used in different types of military operations;
3. have the most up-to-date means of EW at their disposal;
4. reflect the multifaceted nature of the tasks to be performed, at both general and specific levels, with the inclusion of all formalities intrinsic to other branches of troops.
If successful, this will have a drastic effect on the trajectory of development of Russia's EW troops/formations. For instance, previously, EW units were primarily used as part of a strategy aimed at disrupting an adversary's command-and-control (C2) capabilities. With the reform, their task will be chiefly concerned with assuming a pivotal role "in carrying out this strategic objective" (Voennaya Mysl, August 30).
According to the authors, the main operational tasks that will be taken up by EW troops include:
1. repelling an adversary's air strike via close integration with the Air Defense Forces;
2. defeat of an adversary's troops and destruction of enemy infrastructure, with specific emphasis on complex radio-electronic and IT objects/infrastructure;
3. securing Russia's C2 capabilities by suppressing adverse EW forces;
4. developing "specific aspects" (ingenuity and innovation) in EW in the course of military operations.
Finally, the Voennaya Mysl article draws on several issues that might impede effective implementation/conduct of the reform. One such aspect concerns the lack of clarity on how to carry out a radio/electronic-informational blockade of enemy C2 systems and sophisticated radio-electronic infrastructure. The problem was first identified in 2013, yet apparently no solution has been found thus far. Another point of uncertainty is linked to the broader pace of changes in the EW domain, both in Russia and among its foreign competitors. This once again points to the existing gap between practice and theory, which might have an adverse effect on training Russian EW specialists and personnel, currently seen as yet another strategic priority for Moscow (see EDM, November 7). Also, the authors point to the lack of theoretical work on a correlation between classical tactics for destroying IT objects/infrastructure and intellectual/special means of distortion (destruction) of IT and data using various means, including disinformation.
In the final analysis, a full implementation of the EW reforms will probably require a significant period of time, given both the objective and subjective traits of Russia's current development.