Crimea as a Playground for the Russian-Ukrainian Spy War
Publication: Eurasia Daily Monitor Volume: 14 Issue: 157
By: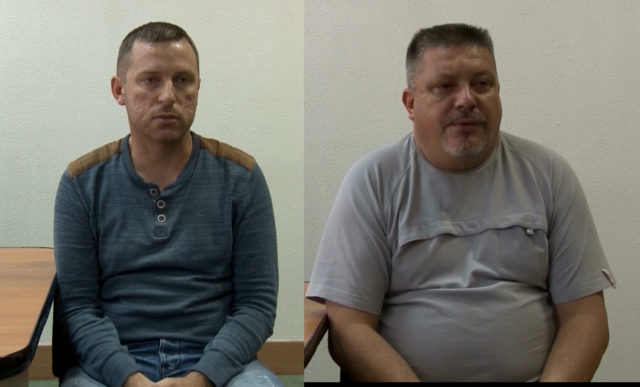 A Russian court in occupied Sevastopol sentenced Ukrainian former military expert Dmitry Shtyblykov, on November 16, to five years imprisonment in a strict penal colony (Regnum, November 16). Shtyblykov worked at the think tank Nomos, which, prior to the illegal annexation of Crimea in 2014, operated in Sevastopol. On November 9, 2016, he was apprehended in that Black Sea port city, together with two other suspects—Vladimir Dudtko and Alexey Bessarabov (the latter had also worked at Nomos) (Krymr.com, November 10, 2016). All three men are former Ukrainian officers. According to the Russian Federal Security Service (FSB), these "subversive and terrorist groups" of the Ukrainian Intelligence Service "were aiming to commit acts of sabotage on the military infrastructure facilities and livelihood of the Crimean peninsula" (Fsb.ru, November 10, 2016). The Ukrainian Ministry of Defense denied these allegations, labeling the Russian charges "fake-omania." The defense ministry in Kyiv further asserted that the Russian authorities were using a database of former Ukrainian officers to claim they were detaining spies and active-duty Ukrainian military personnel on the Crimean peninsula (Ukrinform.ua, November 24).
The Russian-Ukrainian spy war in and around Crimea dates all the way back to the initial annexation. Both sides have repeatedly accused each other of conducting such provocative acts; but because of the secrecy and sensitivity surrounding intelligence operations, it is particularly difficult for independent analysts to judge the veracity of any individual incident. Official allegations and counterclaims by the authorities are often all one can go by. Moreover, the reported cases appear in the media sporadically and tend to be analyzed only in terms of the human rights situation in Crimea. Nevertheless, it is possible to provide at least a partial list of the episodes reported on in the media over the past few years and try to draw some conclusions about the ongoing intelligence and counter-intelligence operations in Crimea.
Possibly the first reported case dates back to May 2014, when the FSB apprehended four Ukrainians members of the far-right group Right Sector—O. Sentsov, S. Afanasyev, A. Chirny and A. Kolchenko. They were convicted of attempting to commit "acts of sabotage and terrorism" (Fsb.ru, May 30, 2014), but Kyiv considers them political prisoners (Mfa.gov.ua, November 17, 2017).
A year later, in two minor incidents, the FSB captured an agent of the Security Service of Ukraine (SSU) and accused him of carrying out reconnaissance of the Black Sea Fleet in Sevastopol (RIA Novosti, May 19, 2015). Additionally, a member of the Ukrainian "Azov" volunteer battalion was arrested in Crimea for allegedly carrying out attacks on a mosque and planning to blow up a local prosecutor's office in Simferopol (News.sevas.com, May 1, 2015).
In mid-2016, Russian authorities claimed a Ukrainian "sabotage group" had tried to infiltrate Crimea and organize provocations and even terrorist attacks in order to disrupt the tourist season on the peninsula. According to the Federal Security Service, one FSB agent and a soldier died in the operation to capture the alleged saboteurs and several Ukrainians were arrested and were undergoing interrogation. Ukrainian officials denied all such allegations and accused the Kremlin of spreading disinformation (RBC, August 8, 2016).
Several incidents also came to light this year. In February, the FSB alleged a "diversionist" from the Crimean Tatar civil society group "Asker" tried to enter Crimea from the mainland (Krymr.com, February 21). Whereas, on June 30, two Russian border guards were caught by the Ukrainians in Kherson region and were imprisoned (Interfax July 11). Strikingly, on October 3, two Ukrainian border guards were arrested on Russian territory near Ukraine's Sumy region (northwest of Kharkiv). Kyiv's official position is that those border guards were abducted by Russia in order to exchange them for the two Russian border guards arrested by Ukraine in Kherson (Racurs.ua, October 25).
On August 12, Genadiy Limeshenko, identified as an agent of the SSU, was arrested by the FSB in Crimea and accused of trying to damage power lines in the Sudak-Novy Svet area as well as purportedly planning to start forest fires nearby (TASS, August 15). That same month, an extraordinary case was reported in Sevastopol, where the local FSB headquarters (formerly housing the SSU) was besieged by Russian Special Forces and the National Guard. The incident was apparently not a training exercise (Sevastopol.su, August 14).
In October, another example surfaced of apparent attempts by Ukraine to infiltrate the Russian military stationed in Crimea. Reportedly, two former Ukrainian nationals who decided to stay in Crimea after the annexation and took Russian citizenship were accused of spying for Kyiv and collecting information on the Black Sea Fleet (Novayagazeta.ru, October 2). Finally, on October 31, several natural gas pipeline explosions occurred near the coastal town of Alushta, and a number of power lines were destroyed. The FSB has not excluded sabotage as the cause (Gazeta.ru, November 1). Interestingly, in September 2016, Russia established anti-sabotage units in the 47th Territorial Defense Division, based out of Sevastopol (Voyennoye.rf, September 15, 2016).
Based on these cases, Russian authorities see a danger to Crimea coming from various sabotage and diversionary groups, including members of the Ukrainian military, representatives of Crimean Tatar organizations as well as members of Hizb ut-Tahrir both in and outside of Crimea, Ukrainians who still maintain their national identity in occupied Crimea, not to mention individuals who oppose or disapprove of the official political line. The types of operations Moscow sees itself guarding against vary broadly. They include attempts to undermine the security of the Kerch Bridge and Kerch Strait; bids to breach the security of military facilities in Crimea; as well as attempts to cross the Crimean border from the Ukrainian mainland or infiltrating Crimea's coastline and territorial waters—of particular concern being the bays of Sevastopol and Donuzlav, where Russia has installed its main naval facilities on the peninsula.
Since the annexation, Russia has invested substantially in building up Crimea as a military stronghold by restoring the bulk of the military facilities on the peninsula dating back to Soviet times (see EDM, December 9, 2014; November 14, 2017). Yet, alongside its military and geostrategic value, Crimea remains an important tourism destination, and many of its residents depend on this sector for their livelihood. Considering this vulnerability, Russia faces a political conundrum of how to safeguard "fortress Crimea" while keeping it open to civilians. How long Moscow will be able to maintain this balancing act clearly depends on both external and internal factors. And the periodic incidents stemming from the Ukrainian-Russian spy war underscore that both sides understand this dynamic.