Mikhail Gutseriyev and the Expediency of Russian Justice
Publication: Eurasia Daily Monitor Volume: 6 Issue: 206
By: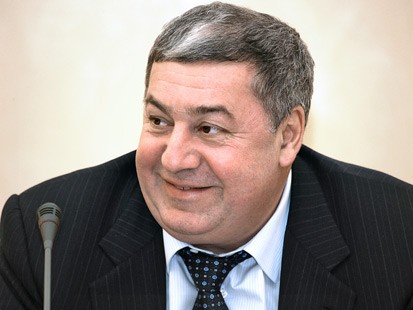 On October 28, two authoritative Moscow-based business dailies Vedomosti and Kommersant quoted sources as saying that the arrest warrant for Mikhail Gutseriyev, a top Russian banker and oil tycoon of Ingush origins, had been cancelled and replaced with "the promise not leave" (much as this sounds ridiculous in the case of a person who had long left). Still, legally, this decision makes it possible to drop Gutseriyev from the wanted list and let him return. In fact, according to Vedomosti (Vedomosti, October 28), sources said that the Russian authorities started discussing his return with Gutseriyev last summer. "He is a major authority in Ingushetia, so Ingush President Yunus-Beck Yevkurov pleaded with Russian President Dmitry Medvedev for making Gutseriyev's help available," sources told Vedomosti.
Unlike the former head of the Yukos oil company, Mikhail Khodorkovsky, who is now serving his sixth year in prison, Gutseriyev had never given any grounds to be suspected of disloyalty to the Russian leadership. Even his stint as a Duma deputy and then Vice-Speaker from the ever Kremlin-compliant Vladimir Zhirinovsky's token opposition Liberal-Democratic Party in the late 1990's and early 2000's was seen as a normal business venture of the kind much approved by the Kremlin.
However, once Gutseriyev's Russneft oil company firmly entrenched itself among the top ten Russian oil producers in the early 2000's, it inevitably followed the same route as Yukos: Russneft obviously was too lucrative an asset to be left in the hands of a businessman, who, however compliant, did not belong to the tight circle of Kremlin insiders, and rendered financial support to the Ingush President Ruslan Aushev (whom Moscow frowned upon for his stiff opposition to the Chechen war). Once Aushev was replaced as Ingush President with the Federal Security Service (FSB) General Murad Zyazikov, Gutseriyev's business ventures in Ingushetia upset the new leadership. In May 2007, Gutseriyev was charged with large-scale tax evasion, fraud, illegal entrepreneurship and having caused financial damage to the state (Kommersant, May 15, 2007).
Facing up to 12 years behind bars and multibillion dollar fines, Gutseriyev fled to Britain. Moscow issued an international warrant for his arrest and demanded his extradition (Vedomosti, October 28). Meanwhile, Russneft was sold for $3 billion to companies, controlled by the Kremlin's favorite Oleg Deripaska. While in London, Gutseriyev pointedly distanced himself from anti-Putin émigrés and kept probing the terms on which he could return to Russia. For their part, Moscow's authorities did not really push his extradition hard, as long as they had taken over the prized Russneft assets.
For its part, Kommersant noted that Gutseriyev has assets in Ingushetia, worth some $2.5 billion (Kommersant, October 28). Kommersant quoted Kaloi Alkhigov, the spokesman for the Ingush President Yevkurov, as saying that Gutseriyev could provide major help to his native republic. "For all practical purposes, all industrial objects in the republic have been built by Gutseriyev. He has valuable business experience here. I think that as a potential investor, he is quite interesting to our republic," Alkhigov suggested.
The Russian interior ministry confirmed to Kommersant that the arrest warrant for Gutseriyev was cancelled and replaced with the promise not to leave. In fact, the Gutseriyev case fits into the current Russian political and economic paradigm quite logically:
1. Russneft has been given to "the right people," while Gutseriyev has demonstrated total submissiveness and compliance with that.
2. Security in Ingushetia is rapidly worsening. Firefights and bombings are long the order of the day, with pro-Moscow forces losing ground. Yevkurov himself barely survived an attempt on his life last June, when a suicide bomber-driver attacked his convoy.
3. Ingushetia is going through a complete breakdown of law and order. On October 25, Ingush opposition leader Masharip Aushev was shot dead in broad deadlight. Commenting on his murder, Yevkurov told the Ekho Moskvy: "We realize that law enforcers could have done this. Law enforcers do take part in gang wars sometimes" (www.criminalnaya.ru, October 26).
4. The Ingush mess demands massive financial infusions, even if just to keep the regime afloat. Always tight-fisted, the Kremlin has long launched the practice of levying top Russian business to pay for whatever the Kremlin needs, be it Putin's maritime residence in Strelna, or the Olympic construction in Sochi. The ongoing economic crisis only enhances this strategy. Therefore, what could be more logical than dropping the charges against Gutseriyev in exchange for using his assets in an attempt to stabilize Ingushetia? Should he make any profit on that, he may always be sheared again. Nor are his current Ingush assets of $2.5 billion something that can easily be ignored.
The Gutseriyev case also serves as another reminder as to the expediency of Russian justice. Arrests and repressions have always been used as state and business management tools in Russia, the order of the day being expedience rather than justice. Be it the Vladimir Gusinsky case in 2000, when the billionaire Gusinsky "agreed" in his prison cell to surrender his most prized asset –the NTV television station– and was then released, or the Gutseriyev case now: ransom and expediency remain the cornerstones of the management paradigm in Russia.