Russian Energy Interests Target MOL on Bosnia and Croatia
Publication: Eurasia Daily Monitor Volume: 6 Issue: 206
By: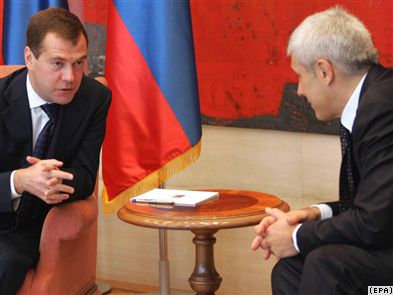 Russian economic and political penetration in parts of former Yugoslavia proceeds apace in the wake of President Dmitry Medvedev's visit to Belgrade. Serbia risks turning into an Armenia of the Balkans by accepting Russian economic tutelage (EDM, October 27, 28). On November 6 the government of Slovenia finalized an agreement (which it had been considering since last year) to join Russian Gazprom's South Stream project and is set to sign up imminently (Interfax, STA [Ljubljana], November 6). The recently reshuffled government of Croatia, lacking a clear policy on energy, is also considering the illusory South Stream option under Russian lobbying.
On November 5, Russian Foreign Minister Sergei Lavrov paid a working visit to Bosnia-Herzegovina, instigating the Sarajevo government to oppose U.S. and E.U.-proposed constitutional and economic reforms. The government in Sarajevo, which pursues the twin goals of E.U. and NATO membership, received Lavrov politely but coolly (Interfax, November 5, 6; BiH TV, November 5). Moscow, however, seeks to block Bosnia-Herzegovina's Western-oriented reforms by working with the government and legislature of the Republika Srpska [Serb Republic], one of Bosnia-Herzegovina's two entities (Interfax, November 2, 6). Medvedev held talks with Serb Republic Prime Minister Milorad Dodik to that effect during his visit to Belgrade. Russian energy companies seek to entice Republika Srpska with the prospect of oil and gas projects.
Russia's state-controlled oil company Zarubezhneft already owns the Bosanski Brod oil refinery in the Republika Srpska, along with an 88-strong network of fuel stations. Zarubezhneft operates through the local affiliate Optima in Republika Srpska. As part of Moscow's current Balkan political and economic offensive, Zarubezhneft promises to more than triple the refinery's annual processing capacity, from 1.2 million tons at present to 4. 2 million tons, and double the network of fuel stations to 180 in Bosnia-Herzegovina "and neighboring countries" (Oslobodjenie [Sarajevo], October 31; Vedomosti [Moscow], November 3).
Since Zarubezhneft's own crude oil production and reserves are meager, it presumably intends to partner with one of Russia's big oil producing companies. Of these, Lukoil is targeting the Balkans and Central Europe for acquisitions of refining capacities and fuel distribution networks.
In recent years, however, the better-performing Hungarian MOL clearly prevailed in the contest for refinery acquisitions and fuel-market share in Croatia as well as in the Bosniak-Croat Federation, which is the other entity in Bosnia-Herzegovina. MOL is the principal stakeholder of Croatia's oil and gas company INA since 2008, with a 47 percent stake and wide managerial authority. MOL, along with INA, is also the 67 percent owner of Energopetrol the main fuel-distribution network in Bosnia-Herzegovina's Muslim-Croat Federation.
Whether coincidentally or otherwise, the Bosniak-Croat Federation's government is now moving against MOL-INA in that territory. At the same time, the Zagreb government is pressuring MOL-INA in Croatia's natural gas business. Directly or indirectly, the goal appears to be to force MOL out of INA by inflicting losses on the Hungarian company (EDM, October 14).
Bosniak-Croat Federation Prime Minister Mustafa Muezinovic now proposes to cancel the privatization sale of Energopetrol to MOL-INA and return the company into state ownership. According to the Moscow business daily Vedomosti (November 3), "this would strike a decisive blow," inasmuch as Zarubezhneft seems poised to step in and take over.
At least some in the Bosniak-Croat Federation's government accuse MOL of having failed in its contractual obligation to invest 75 million Euros in Energopetrol within three years. However, the three-year period expires in 2010. According to INA's annual reports in 2007 and 2008, however, the company invested approximately 100 million Euros in Energopetrol (Wirtschaftsblatt [Vienna], November 4). In that case, the disagreement would seem to be over defining what constitutes direct investment in Energopetrol.
According to local media, MOL's legal position seems safe. Under the contract terms, any non-fulfillment of the investment obligation would be referred to arbitration court in Zurich, Switzerland. Moreover, any such non-fulfillment –if ascertained– would result in payment of damages, without prejudice to MOL's ownership of its Energopetrol stake (SAN [Sarajevo], November 3).
Again, whether coincidentally or otherwise, the Bosniak-Croat Federation's Deputy Prime Minister Gavrilo Grahovac has initiated the move against MOL-INA. According to local media, "Grahovac's SBiH party lobbied for the sale of Energopetrol to Austria's OMV" (Croatian news agency HINA, October 31).
OMV lost repeatedly to MOL in the market competition for refineries and distribution networks in Central and Southeastern Europe. Last year, OMV staged an unsuccessful hostile takeover against MOL. This year, OMV served as a Trojan horse for Russia's Surgut Neftegaz in another hostile takeover attempt on MOL. According to informed suppositions on stock markets, Moscow may offer a deal whereby Surgut desists, in return for MOL withdrawing from INA.
MOL's position in INA holds a strategic significance far transcending the Croatian and Bosnia-Herzegovina markets as such. Moscow seeks to outflank Central Europe through Croatia, so as to block access routes for non-Russian oil and gas supplies from Croatia's Adriatic coast into Central Europe. By contrast, MOL seeks to promote those alternative supply routes from Croatia to Central European countries, through existing and projected terminals and pipelines.