Military Psychology—New Pivot of Russian Military Strategy
Publication: Eurasia Daily Monitor Volume: 15 Issue: 39
By: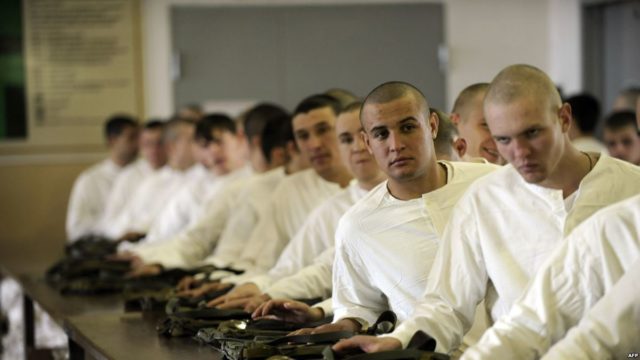 The Russian Duma (the lower chamber of the Russian parliament) adopted a law, on February 21, introducing requirements for a mandatory psychological evaluation for those who aspire to join the Russian military (TASS, February 21). This provision concerns not only private and contract soldiers, but will also pertain to candidates applying to military schools and universities. Reportedly, four selection categories have been set that will help distinguish potential candidates by their aptitude and war-related capabilities (Rossiyskaya Gazeta, February 21).
Commenting on this news, the head of the State Duma's Defense Committee, Vladimir Shamanov, stated that the selection criteria will not be universal and will vary for various categories of military personnel. He noted that more details would become available soon in upcoming legal acts. According to the high-ranking official, the new legislation aims to increase the quality of the human resources comprising the Russian Armed Forces, in general, and its special branches, in particular (Rambler.ru, February 21). One of the authors of the document and also a member of the State Duma Defense Committee, Ivan Teterin, stated that the law would lead to fewer people being accepted "with various deviations in mental health" (Ombudsman-lipetsk.ru, February 21).
In addition to the above-mentioned legislative initiative, the growing importance of military psychology can also be observed upon closer analysis of relevant developments in the Russian military districts (MD).
Following last September's strategic military exercise Zapad 2017, Kaliningrad Oblast (part of Russia's Western Military District) has taken a critical place regarding new innovative projects in the domain of military psychology. One of the main indications is the opening, on October 9, 2017, of a School for Military Psychologists in the city of Baltiysk, a major base of the Russian Navy's Baltic Fleet (Mil.ru, October 14, 2017). Kaliningrad oblast has also hosted a number of seminars that assembled leading Russian specialists. Aside from this, extensive practical exercises have been carried out in other parts of the Western MD (namely in Voronezh, Belgorod, Smolensk and Briansk oblasts). Perhaps, the most noticeable one was the unique experiment that involved top-notch military psychologists working with conscript soldiers. The essence of the experiment—overcoming a psychological challenge that included a simulated real-time military engagement and post-battle recuperation—aimed to increase the "moral-psychological preparation of young soldiers for battle and foster a 'unique microclimate' within units," thus improving the ability of military personnel to overcome stress caused by battle (Mil.ru, November 19, 2017). Similar challenges will be tested in various branches of the Russian military. As Russian sources have argued, this method is capable of boosting anti-stress capabilities 40 percent faster in comparison with other currently employed methods.
In the Eastern Military District, military psychologists, deployed in the Amur, the Jewish Autonomous Oblast and Khabarovsk Krai, have held extensive training sessions that also involved locally stationed military units. Similar to the Western flank, in the distant Far East, specific emphasis was put on young draftees, who joined the Russian Armed Forces during the Spring 2017 conscription campaign (Mil.ru, July 11, 2017). Arguably, this military district could be seen as one of the leading venues for testing innovative techniques in the domain of military psychology. For example, the Eastern MD has received a number of technological gadgets that allow psychologists to conduct a broad range of tests using the most advanced computer-based methods.
It appears that psychological tests will be made mandatory not only for military personnel, but also for military family members as well as the civilian staff employed by the military. Available information suggests that both the range of tests that can be conducted in an interactive or "blank" format as well as the "testing library" that allows specialists to assess various sides of human character and establish psycho-physical, social-psychological traits of character are extremely broad and comprehensive (Mil.ru, January 8, 2018). Reportedly, military psychologists were closely involved in the Osen 2017 (Fall 2017) military draft that commenced on the territory of the Eastern MD. The psychologists apparently employed "non-standardized" forms of training that, aside from other elements, included such simulative role-model games as "Conflict Situations," "Acknowledgement" and "Circle of Trust." Specialists have argued that these simulations are meant not only to measure the current psychological conditions of the military personnel, but also to foster closer ties between the soldiers, help overcome existing and prevent potential conflict situations within the military units, as well as to contribute to the process of decision-making at both team and individual levels. Other important elements—building effective communication skills, self-control and rapid decision-making under stressful conditions—were allocated particular attention (Mil.ru, January 4).
The Southern Military District was reported to have held 1,500 various group and individual tests, involving 15,000 military personnel, that mainly took place on the territory of Stavropol Krai and the Kuban. A growing number of exercises are related to the "increasing number of Russians aspiring to join the Russian Armed Forces" (Mil.ru, January 3).
The current wave of interest in military psychology is primarily related to Russia's strong desire to catch up with the United States, which has achieved impressive results in this domain. On the other hand, Russia's previous bitter experience in Afghanistan and Chechnya threatens to repeat itself with Russia's involvement in the Syrian civil war. With the growing number of military casualties in Syria, the Russian authorities are likely to turn military psychology into another strategic priority.