Minsk Props up Currency, Diversifies Foreign Policy
Publication: Eurasia Daily Monitor Volume: 13 Issue: 125
By: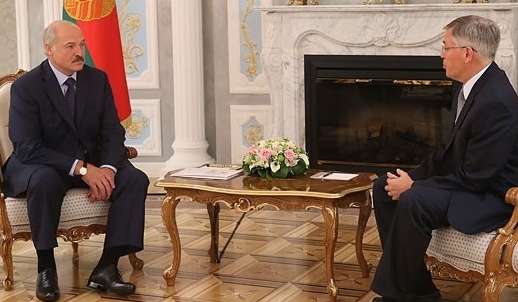 The Belarusian ruble was re-denominated on July 1. Over the next six months, the banknotes in circulation will be replaced with new banknotes and coins in proportion of 10,000 old Belarusian rubles per 1 new Belarusian ruble. Thus, the legendary number of zeros on Belarusian money, whereby one million rubles was equal to just under $50, will become a thing of the past. The general concept of the new banknote design reflects the motto "Belarus is my country." Each piece of paper currency is dedicated to one of the regions of Belarus and the city of Minsk. The old and new banknotes will remain in parallel circulation from July 1 to December 31, 2016 (Tut.by, July 1).
The long-expected ruble re-denomination occurred just two days prior to the major national holiday in Belarus marking the anniversary of the liberation of Minsk from Nazi Germany on July 3, 1944. In his July 1 speech at the solemn gathering devoted to the holiday, Belarusian President Alyaksandr Lukashenka observed that "owing to the strong role of the state in Belarus, all the revenues earned by the country do not end up on some foreign offshore accounts and are not spent on villas and yachts for the oligarchs; instead, they are invested at home in the economy and in the social sphere." He also mentioned that while the European Union and the United States have begun their dialogue with Belarus, they still "thoughtlessly or by inertia" use outdated methods resorting to crude pressure; thus, although most sanctions have been lifted, some still remain (Tut.by, July 1).
On the same day, however, US Secretary of State John Kerry warmly congratulated "the people of Belarus on the anniversary of Belarus' declaration of independence from the Soviet Union on July 27, 1990, and on the officially observed Independence Day on July 3." Kerry also underscored US support for Belarus's sovereignty and territorial integrity and expressed hope that the bilateral relationship will be normalized (State.gov, July 1). Kerry's remarks were the first of their kind since the turn of the 21st century, if not since the mid-1990s. Moreover, on July 6—while receiving the US chargé d'affaires to Belarus, Scott Rauland, who was paying a farewell visit to the Belarusian head of state—Lukashenka expressed the view that "without a normalization of the relationship with the United States, we [Belarus] will never have a full-fledged foreign policy." For his part, Rauland opined that on the basis of the progress achieved during his two years of service, a full normalization is quite possible (Tut.by, July 6). The two countries have not been represented by ambassadors since March 2008, when, in retaliation for the imposition of economic sanctions on Belarus Minsk, recalled its own envoy to Washington and recommended that the US ambassador leave for consultations.
Russia's daily Vzglyad, which usually expresses views close to those of the Kremlin, immediately tried to paint a geopolitical veneer over the Lukashenka-Rauland meeting, suggesting that the US government was trying to influence Belarus into distancing itself from Moscow. Citing Dmitry Bolkunets from the Moscow-based Higher School of Economics, Vzglyad opined that "under current conditions, Moscow cannot be the eternal sponsor of the Belarusian political regime. So Minsk is trying its best to find other donors" (Vzglyad, July 6).
Whether or not this view makes sense, Belarus's official stand on several international issues indeed tends to deviate from that of Moscow. For example, during his visit to Latvia, Foreign Minister Vladimir Makei declared that the deployment of North Atlantic Treaty Organization (NATO) forces in neighboring countries poses no direct threat to Belarus (Belta, July 7). He suggested that Minsk is not happy about this deployment, but it understands the motivation behind it. Responding to question about the potential Russian airbase in Belarus, Makei pointed to the resounding "no" expressed by Lukashenka months earlier and added that Minsk's position has not changed (Tut.by, July 7).
Incidentally, the June national survey by the Independent Institute for Socio-Economic and Political Studies confirmed that Belarusians have a mixed view of the United States. On the one hand, only 4 percent believe that the US is a friend of Belarus, whereas 52 percent believe it is a foe. On the other hand, Belarusians' attitude toward American business experience, music, films, science and technology is positive. Moreover, the overall anti-Americanism of Belarusians is much more modest compared with Egyptians, Turks and Greeks (as evidenced by Pew surveys of 2012–13). In overall terms, Belarusians' attitude toward the United States is close to the average of all NATO countries—not as positive as in Italy, not as negative as in Greece, and more along the lines of Spain (Tut.by, July 1).
According to the same survey, though, Belarus's best friend is Russia. In his recent interview, Belarus's ambassador to Russia, Igor Petrishenko, expressed satisfaction with many aspects of the Russia-Belarus Union State, such as the equal rights enjoyed by citizens of both countries in the areas of employment, migration, health care and education. But he also mentioned unresolved problems. These include existing barriers to the movement of goods as well as unequal access to state purchasing orders and to defense contracts. Also problematic are the transit of cargo by third-country carriers, the low efficiency of Union State–level programs, Moscow's excessive taxation (30 percent as opposed to 13 percent) of seasonal workers compared to Russian citizens, and of course the decline in mutual trade—i.e., a 26 percent decrease in 2015, compared to 2014. It appears, however, that if the exchange were denominated in Russian rubles, not in US dollars, trade would have shown growth of 17.7 percent. In fact, the physical volume of trade has not declined much, and there has been significant growth in Belarus's agricultural exports to Russia (Embassybel.ru, July 5).
Indeed, both the Russian and Belarusian ruble have been suffering from losses in intrinsic value. And Belarus is, therefore, on target with both its own currency re-denomination and with wanting to fly with two wings instead of one, a metaphor for a geographically equitable foreign policy long used by President Lukashenka.