Baltic Geography Presents Moscow With Three Distinct Challenges
Publication: Eurasia Daily Monitor Volume: 13 Issue: 125
By: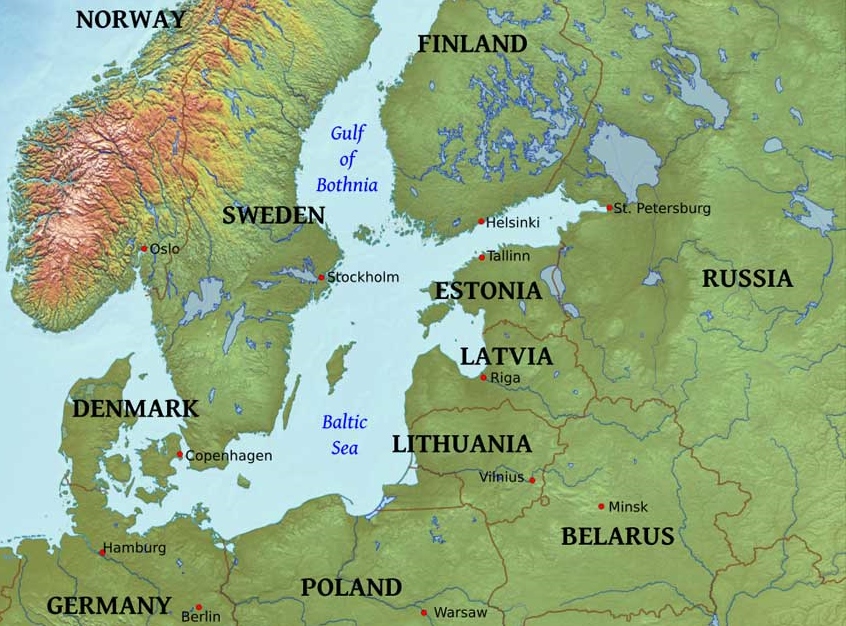 Many in the West typically think about the three Baltic countries of Estonia, Latvia and Lithuania as a single undifferentiated whole. But in fact, they are quite different despite being small and located next to one another (Paul Goble, "The Baltics: Three States, Three Fates," Current History, October 1994, pp. 332–336). Given the growing Russian military threat for the region, one particularly important difference to keep in mind is the Baltic States' distinctive geographies. Like demography, of course, geography is not destiny; but it does greatly define the playing field.
Russian strategists are presumably well aware of these differences, the challenges they present, and the ways in which Moscow must adjust its strategy. Baltic defense planners are equally aware of them and of both the drawbacks and advantages their geographic situations represent. But many leaders within the broader North Atlantic Treaty Organization (NATO) appear much less sensitive to these differences. These officials remain inclined, as the West has so often in the past, to take a one-size-fits-all approach to the Baltic frontline states.
Such a mistaken approach could prove disastrous. Consequently, a brief survey of the geography of the three, with particular attention to their borders, coastlines, topography, rivers and transportation networks is likely to be useful. At the very least, some familiarity with these differences will enhance communication and planning between Western capitals, on the one hand, and Tallinn, Riga and Vilnius, on the other.
Lithuania, Latvia and Estonia have many things in common: they are small and situated on the eastern shore of the Baltic Sea; they all have numerous rivers and lakes; they share borders with the Russian Federation; and they have a transportation grid that remains linked to Russia. But not only do the Baltic States differ in terms of almost everything else, they vary even in terms of these commonalities.
The key facts for each are as follows (Stat.ee, Csb.gov.lv, Stat.gov.lt, accessed July 11):
Estonia is a relatively flat country of 45,339 square kilometers, with a long and shallow coastline of 3,794 km and few deep-water ports. It is the only Baltic country with islands—it has more than 1,500 of them, but most are small and unpopulated. Moreover, it also has more than 1,500 lakes, large bog areas, and numerous rivers. Just under half of its territory is covered by forest, with the remainder meadowland or agricultural. And it has two foreign borders, one with Russia to the east running 324 km, and another with Latvia to the south extending 333 km. It has 57,600 km of roads, 12,900 of which are paved. And it has 1,200 km of rail lines, all of which were built to the Russian (broad—1,520 millimeters) rather than international (standard—1,435 millimeters) gauge.
Latvia is a country of low-lying but rolling hills covering 64,500 square kilometers. Its coastline on the Baltic is unique in that almost all of it rapidly drops near the shore to deep water. It has more than 12,000 rivers and streams and some 3,000 lakes. Approximately 40 percent of the country is covered with forests; the remainder is either urban or agricultural. Less than 10 percent is marshland. In the east, Latvia borders with Russia (332 km) and Belarus (161 km). In the north, it borders with Estonia (333 km) and in the south with Lithuania (544 km). Latvia has approximately 13,150 km of road, of which 2,600 km are paved. It has 1,934 km of rail line of the Russian gauge and 33 km of narrow gauge lines. Many local rail branches have been closed since 1991.
Lithuania is a country of 65,000 square kilometers, divided between low-lying and often swampy fields to the west and hills and numerous lakes in the east. It has a total of more than 2,800 lakes and 758 rivers. Its coastline has few good harbors and many marshy areas. Its only border with Russia is in the West—261 km between Lithuania and the Russian exclave of Kaliningrad. Its other borders are with Latvia, Belarus (640 km) and Poland (104 km), the last being the so-called "Suwalki Gap." Lithuania has 21,300 km of highways, of which 12,900 are paved. And it has 1,749 km of Russian-gauge railways as well as 120 km of international gauge routes. The adjoining Russian region of Kaliningrad also uses international rather than Russian gauge rail.
There are many things invaders or defenders can conclude from these facts alone. Five of the most important are the following:
Russian ground forces can attack Estonia and Latvia from Russia proper, but they can attack Lithuania only from the Kaliningrad exclave or via Belarus. That alone limits Moscow's options and makes any move against Lithuania less likely.
Russia could introduce land forces by sea in Latvia relatively easily because of existing ports and deep water along the entire coastline. It would have far more difficulty doing so in either Estonia, where ports are few and the coastal waters shallow, or Lithuania, which has a marshy coastline.
The existing rail and road networks in Latvia would also be the easiest for Russian forces to exploit: they are the largest and most redundant and almost all connect Riga, the target of any Russian advance, to the Russian Federation.
The large numbers of rivers and marshy areas in all three Baltic States mean that any Russian invading force would have to quickly seize the major bridges or be significantly slowed down if defenders are prepared to destroy them to hamper the Russian advance.
And what may be the most important fact of all: Each of the three Baltic republics has extensive forested areas into which defenders can withdraw and continue the fight until NATO comes to their aid, with Estonia having the most and Lithuania the least. Estonia also has islands, which it would take any Russian force a long time to completely occupy, again giving the North Atlantic Alliance time to respond.