Missile Defense in South Korea: Will President Yoon Heed China's Concerns?
Publication: China Brief Volume: 23 Issue: 10
By: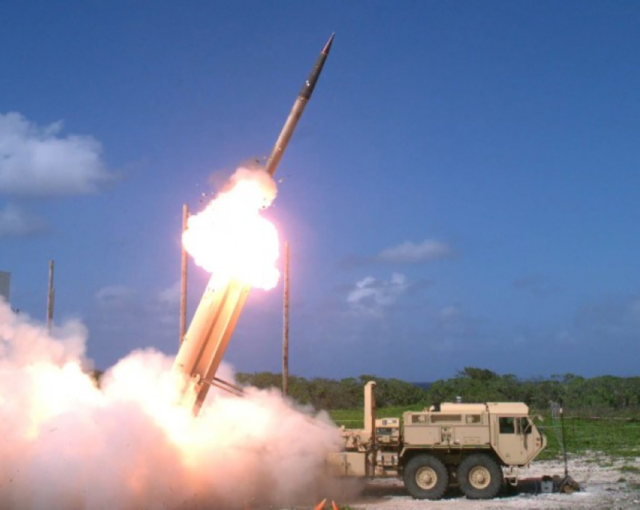 Introduction
Earlier this week, some residents of Seoul, South Korea, received an emergency alert to prepare for a potential evacuation following military reports that North Korea had fired a projectile southward (Yonhap, May 31). The alerts, which stemmed from an errant North Korean satellite launch that sparked grave but fleeting alarm, underscore the Republic of Korea's (ROK) growing apprehensions regarding the Democratic People's Republic of Korea's (DPRK) ballistic and cruise missile development and testing, coupled with its expanding nuclear arsenal (NK News, January 1).  In addition, North Korea's long-range artillery systems remain a persistent threat, which not only endanger counter-force targets in South Korea, but also threaten counter-value targets, in particular Seoul, the nation's capital and largest metropolis.
Countering a Diverse Threat
In order to counter threats from short and long range North Korean strikes, the ROK has sought to develop a layered missile defense system. However, the threat from artillery also remains a significant concern for South Korea. Efforts to field a defensive capability that could counter artillery threats have led the ROK to focus on developing an indigenous missile defense capability. Given its strategic and geo-economic considerations, the ROK has also fielded the U.S. Terminal High Altitude Area Defense (THAAD) capability. However, the decision to field the THAAD has adversely impacted South Korea's economic relations with China.
Under President Moon Jae-in, the ROK deployed the THAAD in 2017. The THAAD is a transportable missile defense system capable of intercepting missiles at high altitudes. The system is able to defend targets within a range of 150 to 200 kilometers and according to reports, can undertake both endo-atmospheric and exo-atmospheric interception. The THAAD system utilizes the Army Navy/Transportable Radar Surveillance (AN/TPY-2) radar to detect and track enemy missiles at ranges of 870 to 3,000 kilometers. [1]
Presently, the ROK possesses the Patriot Advanced Capability-3 (PAC-3). In 2020, the ROK Air Force received upgraded PAC-3 versions that are capable of directly hitting incoming missiles, strengthening its capability to better neutralize missile systems and reducing the chances of potential damage on the ground (Yonhap News Agency, December 12, 2020). (2) An advantage of the THAAD is that it offers area defense, as opposed to the Patriot systems that only provide point defense (Defense Industry Daily, January 15, 2016). The THAAD is also an interoperable system, which can work together the Patriots and also accept signals from the Aegis system (Army Recognition). Thus South Korea perceives many advantages attached with the fielding of the THAAD system.
Despite reassurance from Washington and Seoul that the system was solely intended to defend against the threat from North Korea and not configured to surveil and counter China's missile forces, the PRC undertook coordinated economic retaliation against South Korean business interests in response to its deployment (China Brief, March 31, 2017). Following China's economic retaliation, then President Moon, softened his stance and refrained from fielding any more THAAD batteries on South Korean territory. By the end of 2017, Moon was even calling for "a new era" of China-South Korea economic cooperation during his visit to China (Xinhua, December 13, 2017). A key element of Moon's policy was to seek inter-Korean rapprochement, working towards a normalized relationship with North Korea. In order to achieve progress toward this aim, Moon was well aware that he would need China's support in this endeavor. Consequently, for Moon the difficult challenge was maintaining and strengthening the ROK's ties with its primary ally, the United States, while at the same time, seeking to improve relations with China that had worsened as a result of the disagreement between Beijing and Seoul over the THAAD system. After 2017, Moon suspended any further deployment of the THAAD system but did not withdraw the existing two launchers that were already deployed (Indian Express, June 7, 2017).
These assurances to Beijing were possible because of ROK's efforts to put in place the indigenous low altitude defense system, Korean Air and Missile Defense (KAMD) system. KAMD forms integral component of ROK's layered missile defense. The system consists of an early warning system, command and control system, as well as an interception mechanism. The medium range surface to air missile (M-SAM) system, called Cheongung II, is a core element of South Korea's multi-layered anti-missile program employing "hit-to-kill" technology and having the capability to intercept adversaries' missiles coming in at altitudes below 40 kilometers (Business Standard, January 16, 2022) . The long range surface-to-air missile (L-SAM) system is designed to shoot down incoming missiles at altitudes of around 50-60 kilometers (Korea Herald, April 10, 2022). In addition, the low altitude missile defense (LAMD) is a system guiding projectile launch pads that have been installed at multiple sites to "create an air-defense network in the shape of a dome and intercept long-range artillery shells" (Janes, March 3, 2022). For tracking and detection purposes, the ROK fields the TPS-77 and the ELM-2080 Green Pine Radar. However, in 2021, ROK sought to procure a Long Range Radar system featuring gallium nitride cells and terrain capabilities for efficiency in mountainous region.
In its quest for a survivable missile defense capability, the ROK has also concentrated on developing sea-based missile defense systems. Its sea-based missile 'defense by denial' capabilities exist in the form of Aegis Ashore systems. In 2019, there were reports that South Korea would develop three more destroyers that would be equipped with Aegis combat systems and ballistic missile defense capabilities. These ships will carry SM-3 interceptors as opposed to the older ships that carry SM-2 interceptors for missile defense capability (AIN Online, February 9, 2021).
In April 2022, there were also reports that South Korea has approved a project to acquire SM-6 interceptors for the future KDX-III destroyers (Defense News, May 2, 2019). It must be noted that the ROK's at-sea naval assets are as much at threat as South Korean territory and hence, an upper tier missile defense capability would strengthen the ROK's sea-based conventional deterrence capability. The SM-6 interceptors have a range of 460 kilometers, which would allow ROK destroyers to operate further from the coast and increase their survivability (Yonhap, April 16, 2022).
A New Presidency Revives THAAD
As soon as Yoon Suk-yeol assumed the ROK presidency in mid-2022, he informed the U.S. that South Korea would move to full capacity operation of the military base hosting THAAD. Hence, in the future, the new government may not only reply on its indigenous missile defense capability, but also seek to deploy additional THAAD batteries, depending on its assessment of South Korea's security situation and strategic needs. During his run for the presidency, Yoon already expressed his willingness to acquire more THAAD systems from the United States in order to protect as many ROK citizens as possible from the North Korean threat (Yonhap, April 26, 2022). However, in May 2022, when the incoming Yoon administration released a list of one hundred and ten key national tasks, the deployment of additional THAAD launchers was not listed as a priority. Kim Tae-hyo, a transition committee member who was nominated as first deputy director of the National Security Office, justified this stance as a measure taken to maintain the "current circumspect approach" (The Korea Times, May 5, 2022).
In May 2022, soon after Yoon entered office, U.S. President Joe Biden visited South Korea and stressed the U.S.'s commitment to providing extended nuclear deterrence to the ROK (Hankyoreh, May 4, 2022). However, during the visit, Yoon hardly mentioned missile defense and instead stressed the importance of missiles, strategic bombers and submarines from the United States as key components of extended nuclear deterrence rather than just extending a nuclear umbrella. In October 2022, the United States Forces Korea (USFK) reported it was deploying new equipment to modernize the THAAD system (USFK, October 7, 2022). The USFK is also working on Joint Emergent Operational Need (JEON) that would improve interoperability between the PAC-3 and THAAD.
Yoon has focused on pursuing peace with North Korea as his main agenda, but has made a hard shift from Moon in his policy, which seeks "peace through strength" (NDTV, June 10, 2022). Focusing on strengthening military capabilities among which missile defense is one, would be a major step for the ROK to successfully implement Yoon's policy. However, Yoon may not be willing to frustrate China in order to advance THAAD, particularly given the PRC's past record or harsh economic retaliation against South Korea.
Conclusion
Little doubt exists that under Yoon, South Korea has become more focused on strengthening its deterrence with U.S. help. This is critical, as the ROK faces nuclear threats from North Korea but does not possess nuclear weapons of its own. Its nuclear security comprises the nuclear protection under the extended deterrence of the United States. However, missile defense is also a crucial element in the US extended deterrence strategy. [2]
Improved defensive capabilities would provide the ROK with a strengthened conventional deterrence that could limit North Korea's ability to threaten the country. However, the degree to which THAAD will play a role in the defense architecture depends in part on Seoul's ability to weigh its geostrategic and geopolitical limitations or benefits vis-à-vis the U.S. and China.
Debalina Ghoshal is a Non Resident Research Fellow with the Council on International Policy, Canada. She works on issues on nuclear, missiles, missile defense, artillery and space.
Notes
[1] See "Terminal High Altitude Area Defense," CSIS Missile Threat, June 30, 2021.
[2] See "Joint Statement on the Extended Deterrence Strategy and Consultation Group Meeting, U.S. Department of Defense, September 16, 2022, Joint Statement on the Extended Deterrence Strategy and Consultation Group Meeting > U.S. Department of Defense > Release