A Tale of Two Summits: G7 Displays Unity as China Courts Central Asia
By: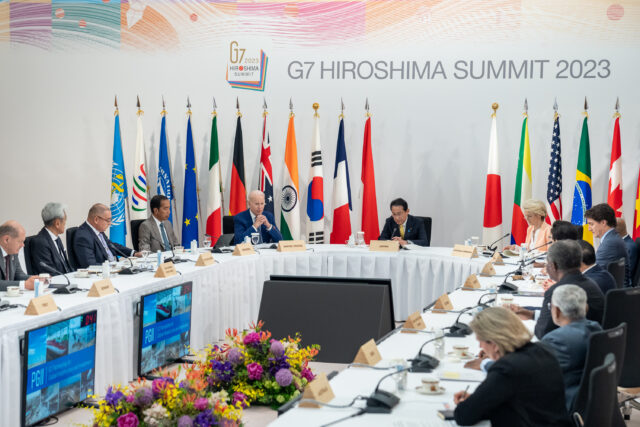 The U.S. appears to have succeeded in coaxing its European and Asian allies into adopting a united policy to counter China, even as the Xi Jinping administration flexed its muscle, demonstrating Beijing's increasing power and influence in Central Asia. At their meeting in Hiroshima, Japan this past weekend, the G7 countries condemned "economic coercion" and the "weaponization of trade," a clear dig at China even though the country was not named. The wealthy countries in the U.S.-led bloc also expressed opposition to unnamed nations using force to alter the status quo in the Indo-Pacific region, including in the Taiwan Strait (The White House, May 20; Radio Free Asia, May 20).
Also last week, President Xi hosted the first-ever China-Central Asia Summit in Xi'an, which showcased the People's Republic of China's (PRC) growing clout in the international arena (CCTV, May 19). The five Central Asian states, Kazakhstan, Turkmenistan, Uzbekistan, Kyrgyzstan and Tajikistan pledged to cooperate with China to achieve the goal of building a just global order based on "a community of a common destiny," while also ensuring the PRC's supply of oil and other key commodities (Newscentralasia.net, May 20; Ming Pao, May 19).
"De-risk and Diversify"
In an apparent attempt to blunt Beijing's efforts to drive a wedge between the U.S. and its European allies, the May 20 G7 communique noted that the U.S. and EU, in addition to American allies in Asia, fully agreed to strengthening "economic resilience and economic security" by means including limiting Beijing's exploitation and manipulation of foreign investments and supply chains. While stressing that they did not favor economic "decoupling," President Joe Biden and his G7 allies stated that "a growing China that plays by international rules would be of global interest" (Straits Times, May 20; CSIS, May 18).
In his press conference in Hiroshima, Biden reaffirmed that the U.S. and its allies had adopted a "united [approach]… and shared principles" in dealing with China, which he summarized as a coordinated effort "to de-risk and diversify." In an apparent attempt to counter PRC efforts to build dual-use infrastructure projects in several Pacific Island countries, Biden stated that senior U.S. officials would pay more visits to the region. Moreover, the G7 countries have confirmed their pledge to invest $600 billion by the year 2027 in the Partnership for Global Infrastructure and Investment (PGII), which is seen as a counterweight to China's Belt and Road Initiative (BRI).
Of critical importance to recent efforts to limit China's access to advanced computer chips and other high-tech components was the meeting between Prime Minister Fumio Kishida and the leadership of top chipmakers including Taiwan's TSMC, the U.S.'s Intel and South Korea's Samsung. Kishida doubled down on actions taken by the U.S. and its partners to persuade these chipmakers to relocate their production bases out of China to America and to curtail the supply of advanced technology components to the PRC (India Times, May 17; Nikkei Asia, May 12). Earlier this year, the U.S., Japan, Taiwan, South Korea and the Netherlands reached an agreement to restrict such high-end exports to the PRC (China Brief, April 4; South China Morning Post [SCMP], February 23).
While the PRC Ministry of Foreign Affairs blasted the G7 meeting for "interfering with China's internal affairs," there are indications that the two adversaries could re-open direct lines of communication and resume high-level meetings. Biden said in Hiroshima that he expected some kind of a "thaw" with China "very shortly." (Kyodo News, May 22; RFI, May 22). The U.S. leader was hinting at the possible resumption of direct contact with senior Chinese leaders. While Beijing has been lukewarm about rescheduling U.S. Secretary of State Antony Blinken's visit, which was postponed during the February "spy balloon" crisis and holding a proposed meeting between Secretary of Defense Lloyd Austin and his counterpart General Li Shangfu, Minister of Commerce Wang Wentao is due to visit Washington this week (VOAChinese, May 19; China Brief, February 13). Talks between Wang and U.S. officials, including Secretary of the Treasury Janet Yellen and Trade Representative Katherine Tai, are being arranged (Mainichi.jp, May 21).
A Changing of the Guard in Central Asia?
Even as high-level official communication with the U.S. resumes, Beijing is broadening an array of "anti-Western" coalitions that draw heavily from the Shanghai Cooperation Organization (which incorporates the five Central Asian states) and its burgeoning membership, as well as the BRICS (China Brief, April 25). During the China-Central Asia summit, Xi announced several China-backed infrastructure projects in addition to numerous accords to nurture closer economic cooperation in a region that was once Russia's privileged sphere of influence. "This summit has added new impetus to the development and revitalization of the six counties, and injected strong positive energy into regional peace and stability," Xi said at the conclusion of the three-day event in Xi'an, the terminus of the old Silk Road. "We will jointly foster a new paradigm of deeply complementary and high-level win-win cooperation." Foreign Minister Qin Gang added that enhanced China-Central Asian ties would "create a cooperation model that is profoundly complementary and highly win-win" (Xinhua, May 19; FMPRC, April 27).
Chinese social media, however, was replete with criticism that Xi's extension of 26 billion yuan ($3.7 billion) in financial aid to its five Central Asian "strategic partners" was improper given the reduction of social benefits to members of China's working classes (RFI, May 20). Beijing's investments in BRI-related schemes in Asia, Europe and Africa have also declined dramatically due to the financial difficulties besetting the Chinese government and state-owned enterprises heavily involved in overseas projects (CFR, April 6; VOAChinese, February 3).
Irrespective of the extent to which the Xi leadership succeeds in building up a kind of "axis of autocracies," many Western governments are eager to enlist Beijing's assistance in compelling the Kremlin to wind down the war on Ukraine. If anything, the China-Central Asia Summit is an indication of waning Russian power. Russian leaders were not invited to the event, despite the fact that all five Central Asian countries represented in Xi'an were under Soviet control. The apparent eagerness of Beijing to further erode Moscow's international influence may be an indication that the Xi government has reservations about unreserved support of the Russian war effort.
A Growing Divide
Ukrainian President Volodymyr Zelenskyy, who traveled to Hiroshima to attend the G7 conclave, has indicated that Kyiv is receptive to Chinese efforts to broker a peace agreement between Ukraine and Russia (FMPRC, February 24; Al Jazeera, February 24). This openness to dialogue comes despite signs of escalation in the Russia-Ukraine conflict, with Biden's announcement that the U.S. will participate in a joint  international training program for Ukrainian fighter pilots, including for F-16 fighter jets. This step, which could open the way for Ukraine to receive advanced fighter jets from NATO countries, is seen as a warning to Putin's Russia and its supporters, including the PRC.
With U.S.-China relations increasingly defined by fierce contention on both the geopolitical and ideological fronts, it is doubtful as to whether the resumption of high-level visits will succeed in lessening tension between the two giants. Secretary of Treasury Janet Yellen, who is seen in Beijing as a relative moderate on China, has previously called for "constructive" trade relations (France 24, May 19). The state-run Global Times cited Chinese experts as saying that while "trade cooperation is still the ballast of China-U.S. relations," whether the forthcoming talks between Wang and senior American officials would be productive "depends on the sincerity of the U.S." (Global Times, May 22).
Moreover, interactions between the two countries will, at least in the short term, be clouded by the just-announced U.S.-Taiwan Trade Initiative (Focus Taiwan, May 19; USTR, May 18). China's overall relations with G7 members such as the U.S., Canada, the U.K. and Germany have also been dented by widespread reports of Beijing's United Front efforts aimed influencing these nations' domestic politics. Several countries, including Canada and Germany, have claimed that "police stations" operated by Chinese agents are still active, despite Beijing's apparent promises to close them down (Global News, May 15; CBC Television, May 1).
Conclusion
The PRC's increasing isolation from mainstream international politics is also evidenced by its exclusion from a May 13 meeting in Stockholm that was attended by 60 foreign ministers from the EU and Indo-Pacific Region. A major theme of the EU Indo-Pacific Ministerial Forum was addressing growing tensions in hot spots in Asia, including the Taiwan Strait and the South China Sea (SCMP, May 12; Politico.eu, March 9). In spite of the PRC's "smile diplomacy" since the 20th Party Congress last October, Beijing continues to demonstrate insufficient commitment to international laws and norms, such as those contained in the various United Nations conventions. Moreover, if the Xi administration's determination to assume a more active role in global affairs is intended to divert domestic attention away from its mismanagement of the Chinese economy, rapidly dwindling financial resources—a result of the country's poor economic performance—could become a major impediment to Beijing's long-standing policy of buying favors and support from developing countries.
Dr. Willy Wo-Lap Lam is a Senior Fellow at The Jamestown Foundation and a regular contributor to China Brief. He is an Adjunct Professor in the History Department and Master's Program in Global Political Economy at the Chinese University of Hong Kong. He is the author of six books on China, including Chinese Politics in the Era of Xi Jinping (2015). His latest book, The Fight for China's Future, was released by Routledge Publishing in 2020.