Mistral and Other Arms Sales to Russia Mark NATO's First Post Summit Defeat (Part Two)
Publication: Eurasia Daily Monitor Volume: 8 Issue: 2
By: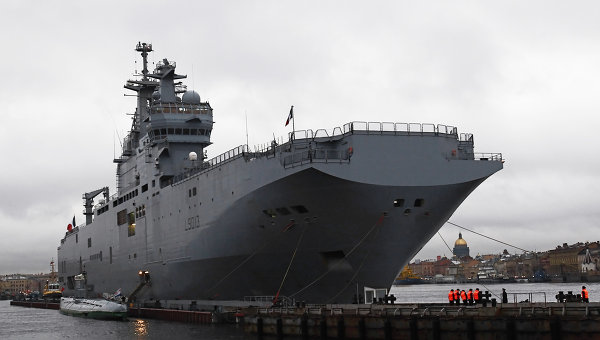 Russia's procurement of French Mistral-class warships, as agreed at Christmas 2010 (EDM, January 3, 2011), is by far the largest among ongoing transactions between West European arms producers and Russia. The military industries and governments of France and Italy are rushing ahead of others for the business of modernizing Russia's ground, air, and naval forces. The Netherlands and Spain had expressed interest in competing against France for the warship deal with Russia, but lost the tender that Moscow had apparently pre-programmed in favor of the French model.
Russia is dealing bilaterally with individual West European countries, which for their part systematically circumvent NATO in negotiating arms deals with Russia. Such transactions are ongoing without correlation to NATO's collective military planning, or the concerns of the Alliance's members and partners in Europe's East. The process seems to be spiraling out of NATO's ability to control or regulate. For complex political reasons, NATO's top authorities have precluded debate on this issue and discouraged some member countries from discussing it within the Alliance. Even the US, long the Alliance's trend-setter, seems reluctant to raise this issue within a NATO framework. The overall net effect can erode the Alliance's cohesion and authority. NATO's November 2010 Lisbon summit, its new Strategic Concept, and other documents adopted at the recent summit omit altogether the issue of arms deals between individual member countries and Russia.
Moscow's shopping list for military equipment, outlined in general terms by mid-2010, is now taking a somewhat clearer shape. It includes:
1. Italian "Lynx" multipurpose light armored vehicles. A product of the Industrial Vehicles Corporation (Iveco, a division of the Fiat concern in Turin), the first batch of 10 units are due to be assembled in 2011 at Russia's largest truck manufacturer, the KamAz plant in Naberezhnye Chelny, for testing and comparing with other foreign models. If this proves satisfactory, Iveco and KamAz intend to set up a joint enterprise on a parity basis for serial production in Russia. They envisage producing 2,500 units, gradually to replace Russia's own BTR-80 and Tiger armored vehicles. Prime Ministers Vladimir Putin and Silvio Berlusconi reached this agreement in December 2010 in Sochi, delegating the implementation to the respective defense ministers (La Stampa, December 4; Izvestiya, December 23, 27, 2010).
2. French "Felin" [abbreviation for "infantryman with integrated equipment and communication gear"], also known as the "soldier of the future" combat kit. France is now starting to equip its troops with this state-of-the-art gear while also envisaging its selective export. Russia's defense ministry has acquired a batch of the Felin for testing and possible procurement of the French equipment, or joint production under license (Agence France Presse, December 9; Trud, December 24, 2010).
3. French Sagem avionics. Russia's defense ministry plans to upgrade the obsolete MiG and Sukhoi fighter planes with modern avionics technology produced by the Safran-Sagem company. Prime Ministers Putin and Francois Fillon confirmed this intention during Fillon's recent Moscow visit (Agence France Presse, December 9, 2010).
As latest additions to its shopping list, Moscow is discussing possible acquisition of the French Thales thermal imager for Russian T-90 battle tanks, as well as German mountaineering gear for the troops of two divisions in Russia's North Caucasus. A more theoretical wish list includes air-independent propulsion plants, from either France or Germany, for diesel-powered submarines of Russia's Navy (Trud, December 24),
Russian military procurement in Europe is advancing beyond the precedent-setting Mistral case, to a full-fledged process. Contributory factors include:
1. The Kremlin's wide political leeway to draw on its oil and gas revenue (much of it originating in Europe itself) for building up Russian military power;
2. Western Europe's financial problems, with deep cuts in military procurement budgets and pressure on arms producers to seek new customers, including Russia;
3. Political rhetoric about strategic partnership with Russia, along with perceived need of Russian help to extricate the US and NATO from current predicaments, all of which inhibits resistance to arming the Kremlin.
Historically, Russia's modernization cycles have invariably focused on building up military power, and resulted in policies of expansion. In the current phase, Western "modernization partnerships" with Russia, and incipient trend of arming Russia, coincide with Western passive acceptance of Moscow's deeper military entrenchment in Armenia and Ukraine, and its exploitation of the "frozen conflicts." The arming of Russia seems to have become politically unchallengeable in the wake of, and despite, its invasion of Georgia. While the latter country is subject to an undeclared embargo on basic defensive equipment, Russia is building up its military strength opposite its neighbors in Europe.