Mogadishu's Dilemma: Who's in Control?
Publication: Terrorism Monitor Volume: 11 Issue: 12
By: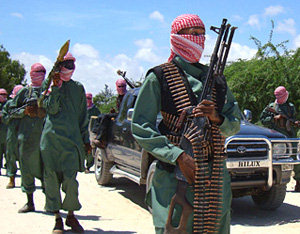 Over the past two years, Somalia's fragile security has improved slightly following the retreat of the al-Qaeda-associated insurgent group al-Shabaab from the Somali capital of Mogadishu and other urban areas of south and central Somalia.
Because of the pressure coming from the African Union Mission in Somalia (AMISOM) and Somalia's national army, al-Shabaab has chosen to switch to a guerrilla-style warfare that is better suited to the movement's strengths than attempts to seize and hold territory at a time when the movement is experiencing a military decline and growing divisions in its leadership.
Though Somali government officials heralded the group's withdrawal from Mogadishu as the end of an era, the reality remains different.   Al-Shabaab has evacuated its known military bases but continues to maintain a presence there.  Control of the city is divided between two shifts in which government soldiers and al-Shabaab alternate as the dominant force according to the time of day.
Speaking to a pro-Shabaab radio station in Somalia on May 9, senior al-Shabaab leader Shaykh Abdulkadir Ali Mumin mocked the Somali government's calls for foreign investment and the return of diaspora Somalis, both based on the government's alleged control of the capital. Shaykh Mumin claimed that his group still controls Mogadishu's southern districts of Huriwaa, Yaqshid and Dayniile during the night (Somaliweyn.org, May 9). This is not just a claim; it is a fact that residents in these areas will affirm. When the sun goes down, government soldiers in these districts rush to their bases to avoid taking casualties in the dark from al-Shabaab's fighters.
During al-Shabaab's "nightshift," members of the group who were present in the streets of these districts as ordinary people during the day punish those who assisted government soldiers during the "government's shift." For instance, Somali president Hassan Shaykh Muhammad's May 5 visit to the southern district of Dayniile only increased the number of people who were punished by al-Shabaab during the night. Two days after the president's visit, al-Shabaab fighters attacked the house and took the life of a traditional elder who was among the people who welcomed the president. His body was recovered in the morning (Somaliweyn.org, May 9).
The Dayniile district is a home turf of al-Shabaab spokesman Shaykh Ali Muhammad Raage and remains one of the group's strongholds in the capital. A number of people, including government soldiers and young residents thought to be members of al-Shabaab, have been killed in the district since the militants' withdrawal from Mogadishu. District chief Muhammad Abdi Yusuf confirms al-Shabaab's presence in Dayniile and their intention to use the district as a base from which to plan suicide attacks and bombings in the capital (warqabad24.com, December 18, 2012).
There are clear indications that al-Shabaab is still capable of destabilizing Mogadishu and providing a significant challenge to the government's efforts to restore security in the capital. In April, al-Shabaab fighters seized the country's Supreme Court complex in Mogadishu for several hours in a surprise attack before blowing themselves up, killing more than 35 people, mostly civilians (Hiraan.com, April 14). The attack happened just days after British intelligence agencies warned of a possible terror attack in the capital, but Somalia's government downplayed the warnings through its minister of information, Abdullahi Hersi Elmoge, who said the Somali security forces had not identified any threats out of the ordinary (Africa Review [Nairobi], April 7).
In another attack, eight people were killed on May 5 when an al-Shabaab suicide bomber crashed into a government convoy transporting a Qatari aid delegation on Mogadishu's busiest road, the KM4 leading to the airport. One of the vehicles belonged to Somali Interior Minister Abdikarim Hussein, though the minister was not in his car at the time. The attack happened one day after the city's main roads were reopened after a four-day closure by government soldiers due to a high level security alert (Garowe Online, May 5).
The recent attacks have raised questions regarding the government's ability to provide security, a task the Somali president said was his government's "first, second and third priority" during his inauguration last year (Hiraan.com, September 16).
The Somali government is now planning to launch a special military operation in the capital's southern parts, where the militants are believed to have hideouts. According to military sources, a recently trained 1,000-strong elite force is expected to deploy in the capital this month in 120 distinctively colored military vehicles equipped with advanced radio and alarm equipment (Sabahi Online, April 18; May 2).  Efforts have been made to ensure that the new Somali army is free of tobacco use, alcohol use and the use of drugs, particularly qat, a chewable plant popularly used as a stimulant in Somalia, Yemen and parts of the Horn of Africa.
Addressing the army at their base in southern Mogadishu on April 18, President Mohamud urged the troops to defeat al-Shabaab, saying the future of the nation is in their hands. There is, however, another foe that must be defeated first – the continuing indiscipline of the Somali armed forces. The former militiamen, who often go unpaid for months, routinely take to the estates and streets of Mogadishu to rob the people and city they are supposed to protect, thus becoming yet another element of Somalia's security challenges.
Some members of the army have gone so far as to construct illegal roadblocks in Mogadishu to extort vehicles moving through the capital. Just last year, there were more than 60 illegal roadblocks in and around Mogadishu run by government soldiers, pro-government clan militias and freelance militias. A few months after being dismantled, some of these checkpoints are now back in place. In November, the president himself noticed that most rape cases in Mogadishu involve government soldiers who often kill their victims and witnesses to their crimes (Hiiraan.com, November 25, 2012; Daily Nation [Nairobi], February 22).
The indiscipline of Somalia's security forces may be one reason that some residents of Mogadishu prefer al-Shabaab fighters over government soldiers. Under al-Shabaab control, residents might only feel insecure if they had links with the government or disobeyed the militants' orders, but in the government controlled areas there are hundreds of reasons to be insecure, including fear of being caught in an exchange of bullets between factions of the government army. As long as government troops remain undisciplined, al-Shabaab will remain a preferred choice for some people. What matters most now is not necessarily the numbers and tactics of the military, but rather the government's ability to impose discipline over the security forces and provide salaries in a timely fashion that would help discourage alternative and illegal methods of obtaining funds needed to survive.  
Muhyadin Ahmed Roble is a Nairobi-based analyst for the Jamestown Foundation's Terrorism Monitor publication.