Moldova Hopes to Boost Military Ties With Romania Amid Tensions With Russia
Publication: Eurasia Daily Monitor Volume: 15 Issue: 26
By: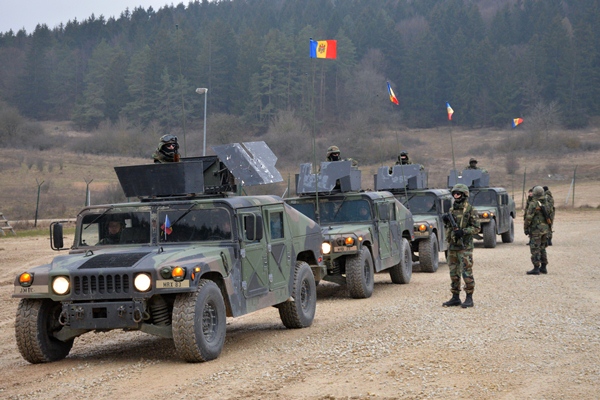 On February 4, Romanian Defense Minister Mihai Fifor arrived on an official two-day visit to Moldova. In a joint press conference, Moldovan Defense Minister Eugen Sturza thanked his counterpart and the Romanian government for its support in modernizing and developing the defense legal-strategic framework, educating 800 National Army service members in military institutions in Romania, as well as training Moldovan service members through participation in bilateral and multinational exercises alongside their Romanian colleagues.
Yet, the bigger news of the press conference was that the two ministers agreed to resume talks about a joint military battalion for deployment in emergency situations, similar to the Romanian-Hungarian-Ukrainian-Slovak Multinational Engineer Battalion Tisa. Strangely, this item was not included in the follow-up press release of the Moldovan defense ministry (Army.md; Deschide.md February 5). One reason was possibly that the idea of a joint Romanian-Moldovan battalion was first introduced in May 2015 by then Defense Minister Viorel Cibotaru (Army.md, July 21, 2015). It was subsequently promoted by his successor Anatol Salaru (Euroactiv.ro, August 20, 2015). Initially envisaged as a multinational peacekeeping battalion, it has failed to materialize to this day for several reasons.
Viorel Cobotaru's tenure as minister lasted only six months. Meanwhile, Anatol Salaru held the position for a year and a half during highly turbulent political times that also spilled over into the national army with Salaru vying for influence with the Chief of the General Staff (see EDM, March 28, 2016). During 2015-2016, the country was rocked by mass protests triggered by a billion-dollar corruption scandal (the equivalent of 12 percent of GDP was embezzled from three banks). This scale of corruption brought down the pro-European governing coalition, only to be replaced by one of the constituent parties of that very coalition in a de facto one party government controlled by oligarch Vladimir Plahotniuc. He took over the leadership of the Democratic Party on December 24, 2016 (Realitatea.md, December 24, 2016), a day after a pro-Russian president Igor Dodon was sworn into office. Three days later, upon losing the support of his Liberal Party, the ostensibly pro-NATO Defense Minister Anatol Salaru was dismissed by the newly elected pro-Russian president (see EDM, October 24, 2017).
The subsequent institutional deadlock between the government and the president left the defense portfolio vacant for ten months, until another pro-NATO defense minister was appointed following a controversial Constitutional Court ruling (see EDM, November 16, 2017). Needless to say, the general political instability, coupled with institutional deadlock and anti-Romanian rhetoric coming from the pro-Russian President Dodon, limited the space for Moldova's defense cooperation with Romania, despite hopes that a bilateral agreement on military cooperation signed in 2012 would foster such ties (Army.md, April 20, 2012).
Nonetheless, as Moldova's diplomatic relations with Russia are becoming ever more strained (Mfa.gov.md, January 31; see EDM, February 7; Hotnews.ro, February 8), Moldova's de facto decision maker, Vladimir Plahotniuc, is seeking Western backing. Given his questionable legitimacy and anti-democratic record (see EDM July 25, 2017, Part 1 and Part 2), the response from the West has been less than enthusiastic. Still, thanks to his personal and political relations with Romania's ruling Social Democratic Party, Plahotniuc can count on Bucharest. Romanian authorities and intelligence services, in turn, may believe that they can control Plahotniuc via several criminal files opened against the Moldovan oligarch-turned-politician (Adevarul.ro, February 13, 2014; Adevarul.ro, November 13, 2017).
Meanwhile, Plahotniuc has pleaded not guilty and accuses the Russian Federal Security Service (FSB) of plotting against him by using the Romanian court system (Realitatea.md, November 20, 2017). This hardly contributes fertile ground for deeper military cooperation between Romania and neutral Moldova, especially during an emotionally charged centennial anniversary of Moldova's unification with Romania in 1918.
This is why the largely technical issue of a joint Romanian-Moldovan emergency response battalion has stirred harsh reactions from the pro-Russian opposition, with President Dodon vowing to block the initiative (Adevarul.ro, Unimedia.info; February 7), as he has successfully blocked several Moldovan contingents from taking part in military exercises abroad earlier this year. The government then decided to ignore the president's ban, while drafting a legislative workaround the president's powers (Ziare.ro, September 6, 2017; Agora.md, September 13, 2017). Thus, a contingent of 60 service members and 12 vehicles from Moldova was dispatched to join the Platinum Eagle multinational exercises on February 12-16 in Romania's Babadag military range without, this time, causing a domestic political standoff (Army.md, February 8; RFERL.org, February 10).
At end of the day, the government's effort to boost military ties with Romania remains a largely symbolic gesture, aimed at creating the perception that Romania is backing Vlad Plahotniuc, and by extension, the West does too. Meanwhile, as the ruling Democratic Party, driven by electoral calculations, continues its controlled escalation of tensions with Russia, it keeps on subsidizing the separatist regime in Transnistria via energy imports from the region and remains coy about the possibility of Moldova exiting the Commonwealth of Independent States (CIS). Newly appointed Minister of European Integration Iurie Leanca said it could happen once Moldova submits an EU membership application, which is not in the cards for the time being (EuropaLibera.org, January 25; February 9). Thus, despite all the tough talk coming from Chisinau, the Moldovan government shows no political commitment to boost its own defense capabilities and, unlike Georgia and Ukraine, remains part of the CIS—a relic of Russian dominance in the post-soviet space.