Moldova: Russia's Next Target if the West Falters in Ukraine (Part One)
Publication: Eurasia Daily Monitor Volume: 11 Issue: 98
By: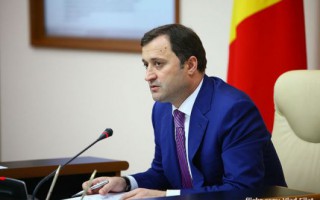 Viewed from Moldova, the Kremlin's assault on Ukraine (like the earlier one on Georgia) aims to prevent the country permanently from joining Europe and the West writ large. To defeat those aspirations, Russia acts to destabilize Ukraine's Western-oriented government and to break up the country's territory.
The Kremlin is implementing a region-wide strategy, focusing on Ukraine at the present stage. That strategy also targets Moldova, where Russia pursues similar political objectives. It aims to derail Moldova's association agreement with the European Union, influence the upcoming parliamentary elections, and change the composition of Moldova's pro-Europe government. If the West and Ukraine together falter in that country, Russia will be able to focus its efforts on Moldova sooner and more effectively.
In Washington with a working visit on May 19–24, Moldovan Liberal-Democrat Party leader Vlad Filat (prime minister, 2009–2013) shared those concerns with senior US government officials and Congressional leaders. Filat is leading Moldova's largest pro-Western party in the parliamentary election campaign now starting.
Moldova's governing Pro-Europe Coalition under the current Prime Minister Iurie Leanca also includes two smaller parties: the low-polling Democratic Party, whose leaders' business interests have all along conflicted with the European agenda; and the firmly Western-oriented Liberal Reformer Party, which seems unlikely to re-enter the parliament unless mentored by fellow-Liberal parties in the EU. Thus, the Liberal-Democrat Party continues to represent the mainstay of pro-Western political forces in Moldova.
Pro-Russia political and "civic" organizations have proliferated in Moldova recently with Russian media support and financing (see EDM, February 5, 19, 20). They have joined the campaign for reorienting Moldova from the EU toward the Russia-led Customs Union and its planned Eurasian Union. The Moldovan Communist Party and Socialist Party have led that campaign. Moscow undoubtedly wants to see a post-election government with the participation of one or both of those parties.
Russia also holds significant economic levers to influence Moldova's internal political situation in the run-up to elections, and potentially the elections' outcome. Those levers include:
• Situation of Moldovan guest workers in Russia. Remittances from those workers probably exceed $1 billion annually ($987 million above-board through bank transfers in 2012), forming a large chunk of Moldova's $7.5 billion annual GDP. Last year, Russia introduced significant changes to its labor migration legislation. Chisinau accordingly proposes adjusting the pre-existing bilateral agreements, so as to bring the situation of Moldovan guest workers in Russia into compliance with those changes. However, Moscow is demonstratively ignoring Chisinau's requests (Unimedia, May 19). This tactic gives Russian authorities a free hand to start sending Moldovan workers back home, timing such a move for maximum political effect in Moldova.
• Access of Moldovan agricultural exports to Russia's market. Russia re-imposed (yet again) a ban on the import of Moldovan wines in 2013. On-and-off bans, being negotiable, constitute an effective form of political leverage. The Russian government holds in reserve the option of restricting imports of Moldova's traditional cash crop of apples and other fresh fruit. Russia can announce such a move at harvest time, amid Moldova's electoral campaign. Russia's Deputy Prime Minister Dmitry Rogozin (Russian co-chair of the Russia-Moldova inter-governmental cooperation commission), has warned that he "will insist on revising economic relations with Moldova," if the present government signs the Association Agreement with the European Union (Kommersant, May 12).
• Energy dependence on Russia. Moldova is one hundred percent dependent on Russian natural gas supplies, entering Moldova via Ukraine and Transnistria. Prior to the outbreak of the Russia-Ukraine conflict, the EU and Romania decided to finance the construction of an interconnector pipeline from Romania to the Moldovan border, but not further. Any non-Russian gas entering from Romania would still have to be transported through Gazprom-controlled pipelines within Moldova. This situation still allows full scope for Russian political manipulation of gas supplies to Moldova. Moreover, the Russia-Ukraine conflict can jeopardize Russian gas supplies to Ukraine itself and transit via Ukraine. For Moldova, this necessitates an early start to building a continuation pipeline from the Romania-Moldova border to Chisinau. The Moldovan government urgently seeks financing for this project from the US Millennium Challenge Corporation (Unimedia, May 24).
• Vulnerability of Moldovan assets to Russian raiding. It was after Vlad Filat's departure from the post of prime minister that the government approved two major Russian raiding operations in Moldova's economy. A Kremlin-connected Siberian company has obtained a long-term exclusive concession to Chisinau Airport (the country's only international airport). And Russia's state-owned VneshEkonomBank has acquired a large part of the Moldovan government's stake in the country's Banca de Economii (on top of share packages already acquired by obscure individuals from Russia in this and other banks). The Moldovan government needs US and EU assistance for investigating the dubious circumstances of Russian acquisitions of those banking assets. It also needs to freeze the airport deal ahead of the elections; and cancel it afterward, if reelected. The airport's cession poses a security risk, considering Russia's use of Crimean civilian airports for blitzkrieg operations, the unresolved Transnistria conflict, and Russia's Novorossiya project targeting nearby Odessa (see Part Two).