What to Expect From Petro Poroshenko in National Security?
Publication: Eurasia Daily Monitor Volume: 11 Issue: 98
By: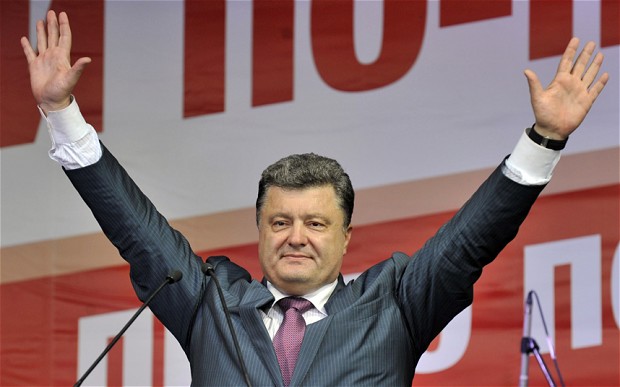 The swift and overwhelming victory of Petro Poroshenko in the May 25 Ukrainian presidential elections (ITAR-TASS, May 25) raises questions about the new president's security policy. In fact, he now faces multiple national security challenges:
• Insurgency in the east supported by Russia and some local businessmen/politicians. Ukraine has been conducting a laborious Anti-Terrorist Operation (ATO) in Donetsk and Luhansk oblasts from the beginning of May. Yet, there may also be challenges to national cohesion elsewhere, including western Ukraine or even Kyiv as the political deal to bring peace to eastern Ukraine would require extensive compromises (The Ukrainian Week, Issue 21 [341], May 23–29). Alongside the internal insurgency supported by Russia, there remains the threat of a direct Russian invasion of mainland Ukraine—though less likely, it is still not impossible to rule out.
• Problems within the security and defense sector. The need for comprehensive reform alongside the need to respond to the insurgency requires finding an optimum policy mix and balance among long-term strategic and urgent operational issues.
• Overcoming economic hardships to raise Ukraine's power base. Ukraine's GDP is expected to fall by 5 percent in 2014, while the need to finance military spending is also a fiscal burden for the country. Overcoming these economic difficulties would require restoring economic ties with Russia in the energy sector, the defense industry and machine building, not to mention defending market access for Ukrainian food producers including Poroshenko's own confectionery business Roshen.
• Governance and institutions issues, including systemic corruption as well as integrity and competence issues. To compensate for the lack of integrity and professionalism in the Armed Forces, Ukraine recently created numerous volunteer militia units (see EDM, May 15) and called up reserves from the old Soviet military school cadres. Military governance has consequently become more complex in relation to the state's monopoly on the use of force.
• The security vacuum that Ukraine find itself in and how it will affect talks with Russia over Ukraine maintaining "non-bloc" status. This is, in fact, questionable: at the moment, Ukraine is not able to defend itself on its own. Yet, a path toward membership in the North Atlantic Treaty Organization (NATO) would be a "red line" for the Russian government and is not likely to find support among some European states, foremost Germany. Furthermore, what Ukraine perceived as legally binding territorial integrity guarantees in the 1994 Budapest Memorandum turned out to be non-binding assurances—Russian Prime Minister Dmitry Medvedev said Moscow never guaranteed Ukraine's territorial integrity (https://lenta.ru/news/2014/05/20/medvedev/).
National security, in its two dimensions of security policy and security sector reform, was important to Petro Poroshenko's campaign. In fact, he proposed an initiative to replace the notorious Budapest Memorandum with an international treaty that would contain security guarantees for Ukraine. Such a security treaty for Ukraine would also make it possible, in Poroshenko's view, to negotiate a "lend-lease"–type international military assistance program for the Ukrainian military (https://interfax.com.ua/news/general/206602.html).
Advantageously, Poroshenko's background is in international relations. He graduated from the elite Institute of International Relations at Kyiv-based Taras Shevchenko University, with a degree in International Economics in 1989. He was Ukraine's foreign minister from October 2009 to March 2010, and was one of the most active sponsors of the Association Agreement between Ukraine and the European Union.
The president-elect is seen as a moderate politician, able to reach a deal with Russia. Throughout his political career, he has not been perceived as "anti-Russian." Yet, since he became a strong proponent of Ukraine's EU integration, his Russian confectionery exports and two factories that belong to his Roshen Group inside Russia were periodically disrupted (ITAR-TASS, May 20).
On May 25, Poroshenko told journalists he believes without Russia's participation, stabilizing southeastern Ukraine is not possible, and he hopes to meet with Russian President Vladimir Putin. He insists, however, that there are two issues Ukraine would defend firmly in any bilateral talks: a non-recognition of the Crimean referendum and Ukraine's right to pursue EU integration. (https://zn.ua/POLITICS/poroshenko-vstrecha-s-putinym-obyazatelno-sostoitsya-145817_.html). For now, Poroshenko opposes NATO membership for Ukraine. He said on April 2, "The level of popular support for the idea of Ukraine joining NATO is currently too small to put […] on the agenda" (https://en.interfax.com.ua/news/general/198839.html).
The next Ukrainian president's national security and defense team is unknown at present, though his top campaign foreign policy staffer was the former deputy minister of foreign affairs and deputy director of the think tank Razumkov Center, Valery Chaly. Poroshenko's views on the security situation indicate that he understands the need to reform the security sector and to raise the professionalism level of Ukraine's security forces. During his campaign, he criticized the "partisan quota" principle dominating management-level personnel appointments, and promised to change it. Poroshenko also advocates a significant increase in Ukrainian defense spending and believes that the domestic defense can provide the bulk of the military requirements of the Ukrainian military as well as become a major driver of the country's economic modernization (The Ukrainian Week, Issue 21 [341], May 23–29, p. 16).
Ukrainians widely believe he can end the war in Donetsk and Luhansk oblasts. His first official visit will be not to Brussels or Moscow, but to the troubled Ukrainian east. Moreover, he has promised amnesty for insurgents not implicated in grave crimes. Equally importantly, Poroshenko was perhaps the only Ukrainian politician or interim government leader who has spoken publicly about the need "to provide security guarantees to all Donbas residents" (https://www.ukrinform.ua/ukr/news/poroshenko_v_ukraiini_zakinchitsya_viyna_1941914). This political support of the population is, in fact, vital to a successful counter-insurgency operation.
Poroshenko has also promised to amend the Anti-Terrorist Operation. He said the ATO "will change cardinally. It will be more efficient and shorter. The equipment and terms of payment will change cardinally" (https://www.ukrinform.ua/ukr/news/poroshenko_obitsyae__kardinalno_zminiti_ato_1941899).
There are certainly inherent risks in delivering on this promise, particularly because of Poroshenko's lack of hard security sector experience. Even though he was secretary of the National Security and Defense Council in 2005 under President Viktor Yushchenko, this was not the post he wanted; his position was probably masterminded by Yulia Tymoshenko. Ukrainian Policy Institute Director Kost Bondarenko told Jamestown on May 23, that the only security experience Poroshenko had at that time was successfully preventing a political crisis Tymoshenko sought to generate in August 2005. Tymoshenko allegedly conspired with some political activists of the 2004 Orange Revolution and certain security forces personnel, aiming to remove then-president Yushchenko from power and hold early presidential elections.
Petro Poroshenko's strongest qualities seem to be his professional managerial approach, a fair degree of foreign policy pragmatism and his moderate nationalist stance. And thanks to his robust, first-round victory, he can now also claim the people's trust, allowing him to act promptly and without hesitation to strengthen Ukraine's position.