Moldovan Government Finally Burns Bridges to Russia (Part Two)
Publication: Eurasia Daily Monitor Volume: 20 Issue: 49
By: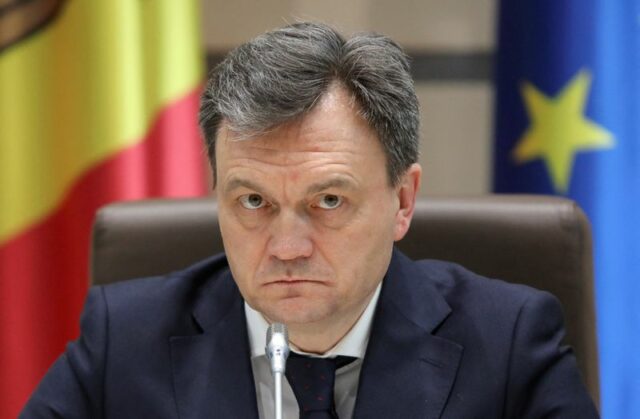 Moldovan President Maia Sandu's March 17 speech represents the official launch of Moldova's reconstructed policy toward Russia. The lengthy address was delivered in Parliament but was explicitly intended for the country at large. Some of its line items had been voiced by senior officials in the run-up to the March 17 event, but Sandu's speech is the most comprehensive exposition of the policy thus far (Ziarul National, March 17).
The salient points include:
"Russia is attempting to overthrow the constitutional order in Moldova."
Since "heroic and freedom-loving Ukraine has stopped the Russian army from reaching Moldova … the Kremlin resorts to destabilizing Moldova from within, using its dirty money to hire Moldovan gangsters."
Pro-Russia parties (meaning primarily former president Igor Dodon's Socialist Party and Ilan Shor's "Shor Party") "are in the Kremlin's service; their only goal is to provoke violence, chaos and war." Refusing to condemn Russia's war against Ukraine, "they side with the killers, but Moldova can never side with killers." These parties are "scrambling to sell the country to the Kremlin. … They share the Kremlin's goal to undermine and subordinate Moldova."
"Shor's grouping has a clear task from the Kremlin and Russia's Federal Security Service: to violently topple Moldova's democratically elected government."
"Does Russia offer developmental or humanitarian assistance to Moldova? The Kremlin only offers threats, trade embargoes, energy blackmail, poverty and ultimately war."
The International Criminal Court's arrest warrant "confirms that [Russian President Vladimir] Putin bears the responsibility for the war crimes that were perpetrated in Ukraine."
Top officials around Sandu had, in effect, prefaced her address in anticipation of its delivery. Samples of this include:
Parliament Chairman Igor Grosu—"Organized criminal groups agitate to overthrow the legitimate government, place Moldova at Russia's disposal, stop Moldova's European integration and use Moldova in Russia's war against Ukraine" (Moldovan Public TV Channel One, March 12).
Prime Minister Dorin Recean—"These protest actions are not authentic, they are paid by criminal groups aligned with pro-Russia parties and Moscow's interests" (Ziarul National, March 1).
Foreign Minister Nicu Popescu—"The Russian Federation's authorities work together with Moldovan fugitive oligarchs to destabilize the country. We work with our partners to thwart these attempts" (Moldovan Public TV Channel One, March 2).
On March 2, the Moldovan parliament adopted the measure, "Declaration on Russia's Aggression Against Ukraine," which it could have issued 12 months earlier. The document amounts to a criminal indictment of Russia: the "brutal war of aggression," initiated in 2014 and expanded since 2022; the "atrocities, war crimes and grave violations of international humanitarian law"; and the "forcible transfer of Ukrainians to the territory of Russia." Moldova supports instituting a special international tribunal to establish responsibility "for the crime of aggression and war crimes perpetrated by Russia since 2014. … Negating the existence of the Ukrainian nation reveals the intent to liquidate the Ukrainian state. … Russia must unconditionally withdraw all its forces from Ukraine's internationally recognized territory." The pro-presidential Party of Action and Solidarity (PAS, 63 parliamentary seats) supported the declaration, while the Socialist, Communist and Shor parties (38 seats between them) walked out (Ziarul National, March 3).
The Moldovan government is re-evaluating its year-old decision to not join the European Union's sanctions against Russia. It will now align itself with the EU's personal sanctions, though not yet with the economic sanctions (RFE/RL, March 17).
Moldova is also taking steps to withdraw from the Russia-led Commonwealth of Independent States (CIS). It has begun recalling its remaining representatives from CIS intergovernmental bodies in Moscow, has skipped a number of recent meetings of those bodies and is reviewing the collective agreements it has signed these past 30 years to determine whether they are useful or relevant. Moldova has declined to take up the CIS co-chairmanship this year, though it is Moldova's turn in the rotational order. And it has refused to host the CIS-wide "Cultural Capitals" program this year in Comrat (the Gagauz autonomy's administrative center) (RIA Novosti, January 25; RFE/RL, March 17). These steps are symbolic but (or all the more) dent Russia's ambitions as leader of the bloc. Moldova will not quit the CIS in one fell swoop, but it is already fading away from it.
The Moldovan government has just offered one of Chisinau's most prestigious buildings to the Orthodox Metropolitanate of Bessarabia to be used as its headquarters. The Metropolitanate, affiliated with the Romanian Orthodox Church, lacked an appropriate headquarters in Chisinau until now. This ecclesiastical organization is a rival to the much larger Metropolitanate of Chisinau and Moldova, subordinate to the Patriarchy of Moscow and All Russia, which holds sway in the Republic of Moldova. A more dignified headquarters will add to the Bessarabia Metropolitanate's visibility in Chisinau and is another step in Moldova burning its bridges with Moscow.