Moldovan Prime Minister Returns with Full Hands from Brussels
Publication: Eurasia Daily Monitor Volume: 9 Issue: 126
By: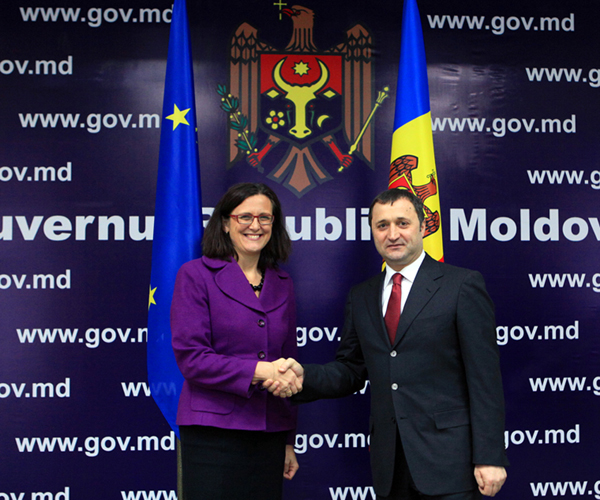 On June 27-29 in Brussels, Moldovan Prime Minister Vlad Filat wrapped up four agreements between Moldova and the European Union, advancing his country's European integration process. Filat led a governmental delegation to the high-level annual meeting of the EU-Moldova Cooperation Council. The sectoral agreements just signed help pave the way toward Moldova's goal of signing an association agreement with the EU. This process is developing bilaterally between Chisinau and Brussels, outside the framework of the EU's ailing Eastern Partnership program for six neighborhood countries. With these agreements, Moldova becomes the fastest-advancing among the Eastern Partnership countries aspiring to conclude association agreements with the European Union.
EU Council President Herman van Rompuy and the European Commissioners for enlargement and neighborhood policy, home affairs, transport, industry and entrepreneurship, energy, and agriculture and rural development participated in the EU-Moldova Cooperation Council's meeting. The agreements (Moldpres, June 27-30, July 1; EU-Moldova Cooperation Council press release, ec.europa.eu, June 29) pertain to:
1) Visa facilitation/liberalization.
The EU's Home Affairs Commissioner, Cecilia Malmstrom, and Prime Minister Filat signed an amended agreement on visa-regime facilitation for Moldovan citizens. The agreement expands the categories of Moldovan citizens eligible for exemption of visa taxes, simpler visa application procedures, multiple-entry visas, and long-term visas for up to five years. The eligible categories include businessmen, academics and students, participants in cultural exchanges (including artistic ensembles), civil-society representatives, journalists, and some other occupational categories (Moldovan state service passport holders may henceforth travel visa-free to the EU). To qualify, Chisinau had to meet not only the usual technical conditions, but also an EU-imposed political precondition – namely, adopting legislation on equal rights before the law for homosexuals, despite opposition from Orthodox clergy, the still-strong Communist Party, and initially from elements within the governing coalition. Within that governing coalition, Filat's party pushed through this legislation and spent domestic political capital for it.
To mark the signing in Brussels, the European Commission hosted an international conference on the "EU's Mobility Partnerships," holding up Moldova as a front-runner on the implementation of technical measures. The agreement just signed advances Moldova to the second phase of "dialogue" (negotiations) toward visa liberalization. Satisfied with Chisinau's implementation of the first phase (Progress Report, June 2012), the EU has now approved an action plan for implementing the second phase, which may be completed as soon as 2013, if Chisinau fulfils the technical measures under the action plan. The next goal will be visa liberalization, with the final goal of visa-free travel. Those phases will be critically important to Moldova's economy, dependent on guest workers' remittances.
2) Aviation common area.
The EU's Transport Commissioner, Siim Kallas, and Filat signed an air services agreement that should gradually integrate Moldova into the common European market for air services. Under the agreement, Moldova and the EU will develop a "common aviation area" based on EU rules in aviation safety and aviation rules, air traffic management, environment, consumer protection, as well as regulation and competition issues for civilian air transport. As a result, all EU airlines will be able to operate direct flights to Moldova, and vice-versa for Moldovan carriers (European Commission press release, ec.europa.eu, June 29). On the Moldovan side, this is a commitment to liberalizing its air services sector. Within the governing coalition, Filat's party overcame the vested interests of another party, which initially resisted the liberalization of air services. This agreement and the visa-facilitation/liberalization agreement (see above) are mutually complementary in their functions, opening up greater access for Moldovan citizens to the EU.
3) Agricultural trademark protection.
The EU's Agriculture and Rural Development Commissioner, Dacian Ciolos, and Filat signed an agreement on protecting designations of origins and geographical indications of agricultural products and foodstuffs. These are Moldova'a main exports (European Commission press release, ec.europa.eu, June 29). The agreement can help Moldova in marketing quality agricultural products and wines within the EU (albeit a small share of Moldova's total agricultural and wine production). This agreement is one of the prerequisites to concluding a Moldova-EU Deep and Comprehensive Free Trade Agreement.
4) Electricity system rehabilitation.
Moldova has now received a third installment of European financing on soft terms to rehabilitate Moldova's electricity transmission system. After the European Bank for Reconstruction and Development's investment of €20 million ($25.2 million) and the European Commission's €8 million ($10 million), the European Investment Bank (EIB) has now added €17 million ($21.4 million), raising the total to €45 million ($56.7 million) for financing Moldova's power transmission grid. EIB vice-president Wilhelm Molterer and Filat signed this agreement. The financing will help rehabilitate Moldova's transmission lines, substations and transformers that have reached the end of their service life, increase the Moldovan system's capacity and reliability, and bring it more closely into line with the standards of the European Network of Transmission System Operators for Electricity (ENTSO-E) (EIB press release, www.eib.org, June 29).
The European Commission further granted a non-reimbursable €28 million ($35.3 million) to Moldova on this occasion to support various reform programs during the remainder of 2012.
In a concluding statement, the high-level EU-Moldova Cooperation Council cited the stabilization of Moldova's internal political situation. The Cooperation Council "positively assessed" the progress in negotiations toward a Moldova-EU free trade area and association agreement. In connection with the trade agreement negotiations (ongoing on a separate track), the Cooperation Council welcomed the participation of delegates from Transnistria in the capacity of observers together with Moldova's delegation (press release, ec.europa.eu, June 29). Chisinau's consent to such participation reflects its outreach to Tiraspol in hopes of gradually unfreezing the negotiations toward a political settlement, which Moscow wants to remain perpetually frozen.