Moldova's EU Candidate Status Exacerbates Transnistria Tensions
Publication: Eurasia Daily Monitor Volume: 19 Issue: 93
By: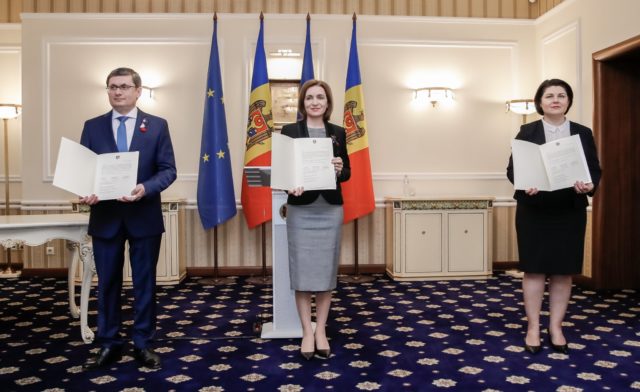 Today or tomorrow (June 23, 24), Moldova is expected to formally be awarded the status of candidate for membership in the European Union. This outcome will not only emphasize the East European country's increasing turn away from the Russian Federation and toward the West but will also increase long-standing tensions over the future of Transnistria, the Moscow-backed breakaway republic in the northeast of Moldova (RIA Novosti, June 22).
Chisinau believes that candidate status and eventual membership in the EU will help it to reintegrate Transnistria because the region's residents will want access to the full benefits of living and working within the European bloc. Tiraspol, the capital of Transnistria, in contrast, says that Moldova's EU membership candidacy will prompt them to immediately seek complete independence or integration with the Russian Federation. In turn, Moscow, which has long used Transnistria as a means of maintaining Moldova in its orbit, is counting on EU accession dragging on—Moldovan officials say it may take a decade (Regnum, June 23)—or never resulting in membership at all. This will permit Russia to continue leveraging Transnistria against Chisinau and the West (Nezavisimaya Gazeta, June 19).
Because these three positions are so at odds, each party can be expected to take actions that may turn the neuralgic problem of Transnistria's status into a new hotspot, with Moldova seeking (and likely receiving) more diplomatic, economic and military support from the West, and Tiraspol and Moscow attempting to counter by playing for time. In particular, Transnistria and its Russian patron will probably alternatingly threaten to provoke a crisis and feign willingness to accept a compromise that would allow Moldova to reabsorb Transnistria or become a member of the EU, all the while hoping that as a result of these extended vacillations Brussels will ultimately reverse course on Moldova's integration with Europe just as it had in the case of Turkey. In short, Tiraspol and Moscow are likely to respond with the tactics they have used in the past—but in the context of worsening relations between Russia and the West, with the risks of these disagreements growing into a more serious conflict (see EDM, April 12, May 3).
Writing in the EU Observer today, Moldovan President Maia Sandu says that if, as she hopes and believes, the EU extends candidate status to her country, it will not only lead to an expansion of European values, an enhancement of security, and an improvement in the lives of all Moldovans, but that it may also lead to the peaceful resolution of the Transnistrian conflict. This assertion reflects the position she and her government have taken since Chisinau applied for EU candidate status in March of this year. In her article, Sandu further argues that three factors give her confidence in this regard: 1) the shared interests residents of Transnistria and right-bank Moldovans have in integrating with the West, 2) the assistance Moldova has provided to Ukrainians fleeing from Russian aggression (thus demonstrating its readiness and ability to act as an ally of the West), and 3) the increasing willingness of the West to back Moldova militarily (EU Observer, June 23).
This last point is both especially important for Chisinau and particularly concerning to Tiraspol and Moscow. Last week (June 15), French President Emmanuel Macron visited the Moldovan capital and promised Chisinau 40 million euros ($42 million) in military assistance, a sum that would allow Moldova to double its relatively small defense budget. At the same time, Sandu pressed for a supply of lethal weapons. Officials and analysts in Transnistria and Russia view this request by the Moldovan head of state as presaging some kind of Western military move in Transnistria—especially now, given that the Russian advance in Ukraine has stalled and the possibility of linking up Russian-held territory with Transnistria appears to have been at least temporarily prevented (Politexpert.net, U-F.ru, June 22; Nezavisimaya Gazeta, June 19).
Analysts and officials in Transnistria say that Moldova's candidate status in the EU will have exactly the opposite effect Chisinau hopes for, making the reintegration of their region into Moldova impossible. They have been making that argument since Moldova applied for EU candidacy this past spring (Mid.gospmr.org, Novostipmr.com, March 4). In the last week, they have reiterated their arguments.
The cultural and political divide between the two regions is simply too deep, they argue; the 5+2 negotiations format (United States, Russia, Ukraine, the Organization for Security and Cooperation in Europe, the EU, and Moldova and Transnistria) will collapse; Moldova will move quickly to join Romania and thus violate existing agreements; and Transnistria will be compelled to declare complete independence or seek to become part of the Russian Federation (TASS, Regnum [1] [2], June 22; Tsargrad.tv, June 23). Tiraspol underlined those positions by celebrating the anniversary of its founding as a "republic" last week, Soviet style, even as Chisinau blocked Russian television news to Moldova as a whole (RIA Novosti, Riafan.ru, June 22).
Finally, Moscow commentators are taking an even more dismissive line about Moldova's odds of becoming an EU member, let alone reintegrating Transnistria. Vladimir Zharikhin, the deputy director of the Institute for CIS (Commonwealth of Independent States) Countries, posited that if Chisinau wants to become a member of the EU, it will have to give up Transnistria because the cultural and political divides between the two are too great. At the same time, Moldova will never give up its pretensions to rule Transnistria because if Chisinau did so, its authority among Moldovans would collapse. Moreover, Zharikhin continued, even if the EU can arrange things so that the standard of living in Moldova rises to the unprecedented heights Sandu is counting on, that will not convince Tiraspol to subordinate itself to Moldovan rule. Consequently, he argued, EU candidacy is likely nothing more than a public relations stunt to try to shore up the Moldovan president's regime. His position is shared by Natalya Kharitonova of the Russian Academy of Economics and State Service as well as other Moscow experts and officials (RIA Novosti, June 22).
Taken as a whole, this suggests that by gaining EU candidate status, Moldova will be more confident of its ability to act even as Tiraspol and Moscow become more disturbed by the possibility that such actions will be successful. As a result, the situation around Transnistria could rapidly deteriorate into provocations or even a larger military conflict. And precedents exist for both possibilities.