Moldova's European Choice Vulnerable to Russian Economic Leverage
Publication: Eurasia Daily Monitor Volume: 11 Issue: 34
By: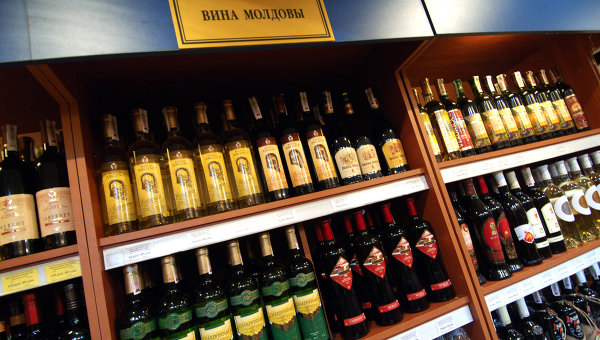 Russia's economic leverage on Moldova has tended to diminish in recent years, but it remains strong on several key dimensions, and can be used with short-term devastating consequences, if the Kremlin decides to use this leverage punitively. The European Union and the Moldovan government worry that Russia could retaliate economically against Moldova, so as to disrupt the signing and ratification of the EU-Moldova association agreement.
Moscow's leverage is simply coercive in its nature. Thus far it is not accompanied by positive incentives that might reward Chisinau for any concessions. All sticks and no carrots is an approach that may not work out for Russia in the end; but, if used, it could prove very painful before it proves ultimately ineffective. Russia would calculate any punitive economic measures for their political impact in Moldova. By using such measures the Kremlin would hope to forestall the agreement's signing and ratification, provoke an anti-government backlash, and boost the Leftist-Russophile parties' chances in the parliamentary election campaign (see EDM, February 18, 20).
The Russian government is well positioned to use coercive leverage on Moldova with regard to market access, natural gas supplies, and labor migration, if the Kremlin takes the corresponding political decisions.
Moldovan fruit and wine, the country's prime export products, are potentially at risk in Russia, mainly for political reasons (product quality assessments being politically colored there).
Moldova lost its 30-percent share of Russia's total wine market, in one fell swoop in 2006 under Russian sanctions (which also targeted Georgia). Russia lifted the sanctions in 2010 for Moldova, but has reintroduced them on and off since then, playing a cat-and-mouse game. Although Moldova has in the meantime diversified the export destinations to some extent, Russia remains the single largest market for Moldovan wines, and can hit Moldova hard by closing that market completely.
The risk is potentially higher still for Moldova's fruit exports, which remain overwhelmingly oriented toward Russia. Meanwhile, Russia's market has become far more competitive than it was, and Moscow could block the entry of Moldovan fruit in retaliation to Moldova choosing the EU over Russia/Eurasia. According to Chisinau officials, Moscow is well aware that it could hit Moldova with maximum impact during the period between July and October, when Moldova's massive harvest of fruit and grapes is due for shipment to Russia.
The European Union has recently authorized easier access of Moldovan wine and fruit to the EU market. However, only a symbolic portion of those Moldovan products can meet EU standards and be competitive there. Moldova will need several years to adapt a more meaningful portion of those products to EU market requirements and correspondingly to reduce its dependence on the Russian market.
Similarly, it would take four or five years until Moldova can receive non-Russian natural gas through a pipeline from Romania, partly to be financed by the EU. Gazprom's relations with Chisinau have stabilized recently (Adevarul-Moldova, February 3), after Moscow arm-twisted Chisinau to postpone the implementation of EU energy market legislation in Moldova (the European Commission understood the situation and accepted the postponement). Meanwhile, Gazprom will retain the monopoly on supplies to Moldova; sitting astride that supply pipeline is Transnistria's Tiraspoltransgaz. This situation, too, can generate potential vulnerabilities for Moldova.
Chisinau officials roughly estimate that 300,000 to 400,000 Moldovans were working in Russia as of 2013. Migrant workers normally send home more than $1 billion annually in remittances from Russia, vitally needed to keep Moldova's economy afloat. Supposedly one half of those workers are in breach of Russia' rules on residency and work permits (Russia's chaotic and corrupt labor market predetermines such breaches by foreign workers generally, and precludes reliable statistics). In January 2014, the Russian government announced long-overdue measures to bring at least some order to foreign workers' employment system. Russia can be expected to enforce such measures selectively, reflecting at least in part political considerations. The top official in charge of this program is Deputy Prime Minister Dmitry Kozak, of Kozak Memorandum fame in Moldova.
According to the latest data, communicated by Russia's migration authorities to the Moldovan government, 21,500 Moldovan workers have recently been either repatriated outright, or slapped with interdiction to return to Russia, after breaching labor or residency regulations. Another 288,000 Moldovans are now categorized as a "risk category" in Russia in legal terms, presumably implying some liability, and at least some checking of their status by Russian authorities (Moldova.org, February 19).
That might well imply a wave of repatriations from Russia and interdictions to return. Mass unemployment would hit Moldova in that case. For its part, the European Union is about to allow visa-free travel for Moldova's citizens to the Schengen area. But this arrangement does not allow Moldovans to be employed in EU countries.
According to Russia's embassy in Chisinau, the two governments are due to sign three new agreements on migration during 2014, including a new labor migration agreement. This opens scope for Moscow to instrumentalize the issue politically. Russia can also be expected to introduce entry visa requirements for citizens of countries that refuse to join the Russia-led Customs Union, reserving the privilege of visa-free entry to Russia for citizens of Customs Union countries. As Chisinau analyst Viorel Cibotaru observes, Moldova would be the prime target for selective enforcement in that case (Noi.md, February 19).
Moldova's economy remains deeply vulnerable to trade barriers and labor migration restrictions on Russia's part, at least in the short term. The EU can at best mitigate those vulnerabilities to some degree at this stage: the Russian government can impose those economic measures at its discretion, should it choose to derail Moldova from the European course.
The process of signing and ratifying the Moldova-EU association agreement coincides with Moldova's parliamentary election campaign. The Kremlin can be expected to use those economic levers in fomenting social discontent against Moldova's pro-Europe government, discrediting the European choice as such, and influencing the electoral campaign in favor of opposition forces. This scenario is not seen as pre-determined or a foregone conclusion. However, European Union authorities and the Moldovan government prudently reckon with such developments and are planning ahead accordingly.