Moldova's Leftist President Moving Steadily Toward the Political Center (Part Three)
Publication: Eurasia Daily Monitor Volume: 17 Issue: 23
By: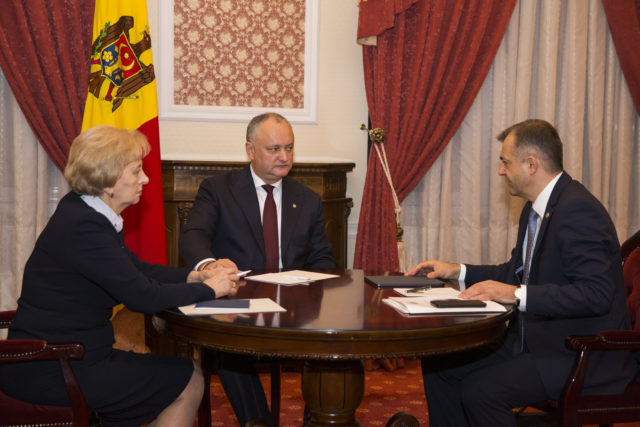 Lacking a parliamentary majority and facing elections later this year, Moldovan President Igor Dodon and his Socialist Party are staking out a more centrist political position for themselves, which also translates to a number of important foreign policy stances (see Part One and Two in EDM, February 13, 20).
– Moldovanism and Romanianism: Earlier in his presidency (2016–2018, and still earlier as Socialist party leader) Dodon had energized his electoral base by promoting "Moldovanism" against "Romanianism," these identities being associated in Moldova with the "Left" and the "Right," respectively. In those years, Dodon had called for replacing Romanian history with Moldovan history in the school curriculum and for renaming the language and literature textbooks accordingly; he polemicized with Bucharest over the primacy of the Moldovan versus the Romanian language and statehood; called for outlawing "unionist" parties (those advocating Moldova's unification with Romania); and had surrounded himself with Moldovanist advisors. Such attitudes are portrayed as "Romanophobic" in Romania.
In recent months, however, Dodon has muted or backtracked on those earlier messages. He now suggests that politicians should refrain from raising those sensitive issues of national identity that divide Moldova's society. His minister of education and culture, Corneliu Popovici (a Moldovanist), has announced that there would be no Moldovanist changes to the school curriculum (see above). Dodon and Prime Minister Ion Chicu have attended Romanian National Day observances at the Romanian embassy in Chisinau, calling for "fraternal" relations between the two states, albeit "each brother in his own house." The president and prime minister have publicly invited their Romanian counterparts to visit Moldova or alternatively to meet in Romania for marking the tenth anniversary of the "strategic partnership for Moldova's European integration" (a bilateral treaty signed in 2010 that has mostly remained on paper). Dodon, Chicu and other government officials have demonstratively laid flowers at the monument to Romania's national (and nationalist) poet Mihai Eminescu (Ziarul National, January 17, 23, 29; RFE/RL, February 8).
While executing their move toward the political center, Dodon and the Socialist Party must reassure their own hardcore Left and keep it in line. To do so the Socialist leaders have scheduled an event-filled "year of Moldova in Russia and of Russia in Moldova," complete with a Dodon family trip to Moscow's Red Square on May 9 (Russia's Victory Day celebration).
– Moldova-Romania relations: The Romanian government is turning a cold shoulder to those overtures. It suspects this new discourse to be a temporary tactic, related to Moldova's elections and aimed at unlocking Romanian financial assistance. Bucharest looks set to support former prime minister Maia Sandu and vocal unionist groups against Dodon and the Socialists in this election year. Thus, another round of Moldovan-style polarization, of Right versus Left coterminously with West versus East, seems in the offing.
Sandu and her allies in the ACUM ("NOW") bloc have often criticized the use of electoral strategies that deliberately exacerbate society's polarization. Sandu's allies, however, will come under pressure to move rightward and geopoliticize the electoral campaign with the vocal unionists. This would leave the political center open to Dodon's inroads, in line with his current strategy of moving from the left toward the center.
The breakup of the Socialist-ACUM parliamentary majority (in November 2019, after five months of governance) was not preordained, and it damaged both sides. It triggered, moreover, a split between ACUM's two parties as well as some personal defections, in contrast with the Socialists' cohesion (see EDM, November 13, 14, 2019). ACUM ended up forfeiting a major share of power; while the new, presidentially affiliated government is left to its own devices for delivering credible reforms and gaining political access to the West.
Romania seems to consider a halt in inter-governmental relations with Moldova, pending the latter country's elections. Bucharest, however, is prepared to unlock financial assistance directly to some towns and districts in Moldova, bypassing the latter's government, and not without regard to the political impact of such targeted assistance on Moldova's elections.
Moldova's most peculiar vulnerabilities as a state and society are often underappreciated or even overlooked. They stem mostly from Moldova's underdeveloped national identity (in either the Moldovan or the Romanian version) and nearly-extinct traditions of statehood.
From the six countries in the European Union's Eastern Partnership, Moldova alone lacks the experience of national resistance or national liberation movements. It is also the only European country to have generated mass-based pro-Russia parties in government from the 1990s to date (the Moldovan Communist Party and the Moldovan Socialist Party).
Among the EU Eastern Partnership's three frontrunner countries (Ukraine, Georgia, Moldova), Moldova alone has lifted Russian President Vladimir Putin to the top of this country's popularity ratings, has shown no tendency for emancipation from the Russian Orthodox Church's Moscow Patriarchy (with which the great majority of Moldovan faithful are affiliated), is still divided over preferences for the European Union or Russia/the Eurasian Economic Union, and gives NATO low popularity ratings.
When viewed in that light, the unique case of the Communist and then Socialist party's preeminence in Moldova is hardly a surprising or unnatural phenomenon. Even so, the Communist Party moved from the pro-Russia Left toward the center after 2001, rejected Russia's plan for Moldova-Transnistria federalization, and launched Moldova on a European course (later derailed by Moldova's center-right governments). At present, a Socialist head of state and his government are moving from the Left toward the center in Moldova, in a more challenging international context than that of 15 years ago, and in the lead-up to elections in Moldova with a highly uncertain outcome.
President Dodon will undoubtedly continue capitalizing on the images of President Putin, Orthodox Patriarch Kirill, and other symbols of Russia, using these as electoral props to sew up his voter base in Moldova. But at the same time, Dodon is clearly preparing to break out from the Socialist electorate's confines and attract mainstream voters.