Moldova's Political Landscape on the Eve of General Elections: Part Two
Publication: Eurasia Daily Monitor Volume: 6 Issue: 53
By: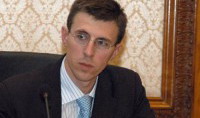 Moldova's opposition parties are small and leader-centered. Most of the opposition parties compete against one another for the same segments of the electorate or for overlapping segments.
In these cases party labels are also often irrelevant or misleading. For a country that does not have anything resembling a bourgeoisie, Moldova has no fewer than four self-described liberal parties: three with the word "liberal" in their title and another one without that word, but with an application pending to join the Liberal International. The career backgrounds and current discourse of the four groups do not indicate an acquaintance with liberal doctrines.
The Liberal Party surged from an outer fringe to center stage in 2007, when 29-year-old Dorin Chirtoaca won, albeit with a minority of the votes in a low turnout, Chisinau's mayoral election against a Communist candidate. From that point onward, however, Chisinau City Hall became a byword for chaos, with the municipal council splintered among multiple warring factions and the minority Liberals incapable of coalition-building. Mayor Chirtoaca nevertheless remains an electoral asset as a "fresh face" and perceived victim of scurrilous Communist polemics. He is, however, dominated by his uncle, the party leader Mihai Ghimpu, a confrontational personality, whose insistence on chairing the municipal council (alongside his nephew as mayor) has sparked constant strife with other non-communist parties.
The party draws its support mainly from "unionist" voters, i.e, those who favor privileged relations or, if possible, unification of Moldova with Romania. Many of those voters switched to the Liberal Party from the Christian-Democrats, after the latter had abandoned the "unionist" and anti-communist program. The Liberal leadership itself has its origins in the Romanian-minded movement of the 1990s and continues to practice an irredentist rhetoric. The party suggests postponing negotiations on Transnistria almost indefinitely, until Moldova "gains energy independence" and other distant goals (Infotag, March 2). Such suggestions reflect a traditional belief that abandonment of Transnistria could facilitate Moldova-Romania unification.
Thanks to Chirtoaca on its electoral slate, the party hopes to pass the 6 percent threshold into parliament, although Chirtoaca himself is not telling voters whether he would enter the parliament or stay on as mayor (Moldovan Public TV live debates, March 9). The Liberal Party rejects cooperation not only with Communists but also with their allies, with former nomenklatura members, and with "corrupt" politicians. These strictures target specific non- and anti-communist parties, seemingly ruling out coalitions with them in the new parliament. Meanwhile, Romanian President Traian Basescu periodically invites Chisinau's Liberal leaders to Romania and has also found other ways to demonstrate his support for this party.
A Liberal-Democrat Party, created in late 2007 in Moldova, competes with the Liberals for moderately pro-Romanian voters. Liberal-Democrats subscribe to the Romanian ethnic identity, and some party leaders are well connected in Romania, but the party does not propose anything like unification with Romania. The party's founding leader Vlad Filat, a wealthy businessman, was a government minister during the 1990s and has all along been accused of corruption in the press and parliament, but the accusations have never been proven in the courts. A wealthy business entity, Ascom, is also believed by many in Chisinau to sympathize with this party. Ascom has denied the suppositions, however (Timpul, March 13).
The Liberal-Democrat campaign is more professionally staffed and organized than the other opposition campaigns and has held several street rallies. The party's electoral slate includes some well-known lawyers and former diplomats. The party's number two leader, Alexandru Tanase, is currently the defense lawyer to former State Security Minister Valeriu Pasat. Widely seen as a pro-Moscow politician in Moldova, and accused of involvement in a coup attempt in 2005, Pasat was framed by Moldovan prosecutors in that year on false charges, until Russia's then-president Vladimir Putin pressured Voronin to release Pasat to Russia. Some local observers speculate that a return of Pasat to Moldova is being prepared for the post-election period.
The National Liberal Party and the European Action Movement are small Romanian irredentist groups running on a joint list. Initially hoping to siphon off votes from the Christian-Democrat People's Party, they could ultimately affect the Liberals in the same way.
Of all the self-declared liberal parties, the Alliance [for] Our Moldova is the least touched by modernity. Holding 13 seats in the outgoing parliament, Our Moldova has been described as a group of "angry old men" [pun on the British "angry young men" of 50 years ago] by local wit. Its power base consists mainly of mayors and councilors in rural districts, with incumbencies dating back many years. Our Moldova thus enjoys access to administrative resources in the countryside. The party is positioning itself as pro-European but also stressing good relations with Russia and reserving a role of "East-West bridge" for Moldova (Jurnal de Chisinau, March 6).
Our Moldova leader Serafim Urecheanu, a long-serving former mayor of Chisinau, was an unsuccessful presidential candidate in 2005, when he headed a larger party with support from Russian state television and Moscow advisers. Urecheanu's group attempted to contest the outcome of the 2005 elections even after the OSCE and Council of Europe observers had validated the results. This year again, a party billboard features "Urecheanu [for] President" and he sounds eager for another presidential run. Meanwhile, he has already accused the authorities of rigging these elections and pre-programming falsification of the numerical returns (Infotag, March 10).
Yet another hyphenated liberal party, the Social-Liberals, has now merged with several other small parties into the Democratic Party. Former president Petru Lucinschi's son Chiril, a wealthy businessman, has recently joined this party.
All the liberal-captioned parties support Moldova's "European Integration," vying with each other, as well as with the Communists, to show European credentials. This situation reflects a broad Moldovan consensus that has finally taken shape in the country on this issue. The liberal-titled parties (save Our Moldova) also would like Moldova to work toward joining NATO, although any Moldovan government declaring this goal would only reinforce Russia's resolve to hold on to Transnistria.