Moldova's Post-Communist Government Takes Office Amid Crisis
Publication: Eurasia Daily Monitor Volume: 6 Issue: 181
By: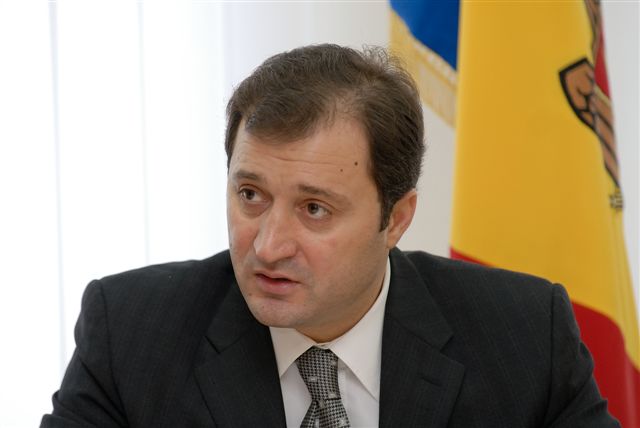 A new Moldovan government finally took office on September 25 and the new Prime Minister, Vlad Filat, undertook his first visit abroad in that capacity on September 29 to Brussels, reflecting this government`s top priority to advance relations with the European Union (Moldpres, September 29, 30, October 1).
Meanwhile, since September 11 for a 60-day period as the constitution dictates, the office of state president is held by the new chairman of the parliament, Mihai Ghimpu. The state presidency became vacant upon the expiry of Vladimir Voronin's term as acting president (Voronin's regular term of office, his second and final, had expired already in April). Ghimpu then exercised his interim powers to nominate Filat as prime minister. Ghimpu and Filat retain their posts as leaders of the Liberal Party and the Liberal-Democrat Party, respectively. They are components of the Alliance for European Integration (AEI) that also includes Marian Lupu's Democratic Party and Serafim Urecheanu's Our Moldova.
The new government is an arduously negotiated power-sharing arrangement among the AEI's four parties. Parliament approved the new government's composition and program with the 53 votes of AEI's deputies while the 48 communist deputies boycotted the voting. The Communist Party is vociferously opposing the new government and threatens to block the election of the head of state by parliament, so as to force new parliamentary elections.
Filat, born in 1969, graduated in law from the Iasi University in Romania and became a successful businessman on both sides of the Romanian-Moldovan border during the 1990's. Filat was implicated in a cigarette-trading scandal, widely reported in the Romanian media at that time, but he was never found guilty of any wrongdoing by the Romanian courts. He was minister of state and privatization minister in Moldova in 1998-99 and made a spectacular business career afterward, reputedly as one of Moldova's wealthiest individuals. Filat founded his Liberal-Democrat Party in 2007 in opposition to the Communist Party. Several leaders of smaller parliamentary parties, however, complained bitterly that Filat was using his resources to lure those parties' district organizations into his party. Filat's party ran well-financed operations in this year's two parliamentary election campaigns.
The new Minister of Foreign Affairs and Deputy Prime Minister, Iurie Leanca, is part of Filat's Liberal-Democrat team. Leanca is a career diplomat and a consistently pro-Western figure. He was deputy minister and first-deputy until 2001, before he left the ministry for the duration of the communists' tenure in power, and spent most of that period as a senior manager for the oil company Ascom, Moldova's probably largest business entity. Leanca is now embarking on an effort to restore the foreign affairs ministry's once-respectable professional standards, which were allowed to deteriorate significantly from 2001 to date.
The new Defense Minister, Vitalie Marinuta, is an army officer with multiple graduate and post-graduate courses in U.S. and NATO institutions to his credit as well as service stints on several NATO and U.S. multinational staffs. This is Moldova's first modern and Western-oriented defense minister. The predecessors were either Soviet-schooled officers or civilian cronies of sitting presidents. The new Intelligence and Security Service (SIS) Director, Colonel Gheorghe Mihai, worked in the Moldovan SSR KGB from 1979 onward and for independent Moldova's National Security Ministry (currently the SIS) from 1991 onward (Moldpres, NewsIn, September 25).
The government's program as approved by parliament for 2009-2013 focuses strongly on relations with the European Union. It sets the goals of signing an association as well as a visa liberalization agreement, and a deep and comprehensive free trade agreement with the E.U., all contingent upon accelerating Moldova's own internal reforms. Not unlike Voronin's government, the AEI government declares that its agenda of building relations with the E.U. is in fact a domestic reform agenda. The AEI government, however, pledges to implement those declared goals more effectively than Voronin's government ever did.
Under this program, the government will propose a strategic partnership between Moldova and the United States. At the same time, the document pays lip service to Moldova's "strategic partnership" with Russia under the 2001 bilateral inter-state agreement, a Voronin legacy from which the new government cannot openly disengage. Nevertheless the program sets the goal of ridding Moldova of Russian troops and having an international civilian observer mission replace the existing "peacekeeping" operation.
The government's program further envisages normalizing relations with Romania (a process underway already) and resuming Moldova's implementation of the Individual Partnership Action Plan (IPAP), (which Voronin practically shelved recently) with NATO, without prejudicing Moldova's neutrality status (Moldpres, September 25).
The initial reaction in Brussels seemed, on the whole, unedifying to the new Moldovan government. The E.U.'s Council and Commission Presidents, Javier Solana and Jose Manuel Barroso, were busy elsewhere and did not honor Filat's requests for meetings. Second-tier E.U. officials spoke encouragingly, but anti-crisis assistance to Moldova from the E.U. seems slow to materialize, even as Russia has promised Moldova a $500 million state loan (Moldpres, September 30).