Moldova's Tycoon Plahotniuc Gaining Political Influence
Publication: Eurasia Daily Monitor Volume: 10 Issue: 78
By: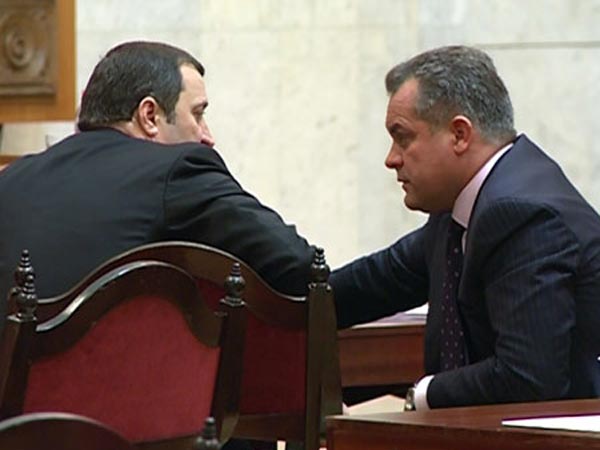 Moldova's wealthiest businessman, Vlad Plahotniuc, is expanding his influence over state institutions. The power struggle, pitting Plahotniuc along with his Democratic Party (officially led by Parliament Chairman Marian Lupu) against Prime Minister Vlad Filat's Liberal-Democrat Party, has torn apart the governing Alliance for European Integration (AEI). The AEI, tenuously in power since 2009, collapsed on March 5, 2013, in the latest of its periodical crises.
This crisis has now precipitated a redistribution of power in Plahotniuc's favor, revealing the political system's dysfunctions to unprecedented depths. This risks derailing the Moldova–European Union agreements on association, deep and comprehensive free trade, and visa liberalization, which Chisinau and Brussels plan to initial at the EU's Eastern Partnership summit in autumn 2013.
On April 17, Plahotniuc pressured Acting Prime Minister Filat into a bilateral deal on a personal basis. Chisinau observers generally believe that Filat bargained from a position of vulnerability to "Kompromat" (compromising materials about a politician or other public figure), which Plahotniuc's allies in law enforcement bodies had publicly brandished against Filat and his allies. Corruption is widespread, but Filat's circle has been targeted in a highly selective and arbitrary manner. It is also widely supposed that more Kompromat is being held in reserve for possible use in the same selective fashion.
Under such pressures, Filat conceded major positions in the law enforcement system to the Plahotniuc-Lupu party quota; and he agreed with changing the electoral code in ways that would maximize the power of Plahotniuc's campaign finance apparatus. In return, Plahotniuc promised to tolerate a reconstituted AEI coalition with Filat as prime minister. By April 22, Filat had hurriedly delivered his part of that bargain (see accompanying article).
But, also on April 22, a politicized Constitutional Court invalidated Filat's mandate to reconstitute the government. The head of state, Nicolae Timofti, who had conferred that mandate to Filat, has now designated Filat's well-respected teammate, Foreign Affairs Minister Iurie Leanca, as Acting Prime Minister on April 23, pending the formation of a government—presumably a reconstituted AEI (Unimedia, Moldpres, April 22–24).
The Constitutional Court's ruling, in one of its practical effects, releases Plahotniuc from delivering on his part of the deal with Filat. But Plahotniuc has already pocketed the concessions received for promising to support Filat's now-defunct premiership. Those concessions strengthen Plahotniuc's influence on the law enforcement system, along with a new electoral code presaging major gains to his political machine in the 2014 parliamentary elections.
Plahotniuc's worldview and his positions (if any) on specific policy issues are nowhere on the public record; perhaps they are not yet developed. An enigmatic figure until recently, with far-reaching and somewhat intriguing business activities, Plahotniuc's public statements are extremely rare and deal with party politics, never yet with policy issues. Filat, himself a former oligarch-type businessman (on a far lower scale than Plahotniuc's), had largely redefined his own role since 2010 as leader of a Western-oriented government, with an ambitious European integration timetable, high-level support from the EU, and—another rarity among Moldova's politicians—a mature concept of state interests. But that concept seemed to fail him when Filat made the personal deal with Plahotniuc and ordered his Liberal-Democrat Party to vote in favor of that legislation.
While Filat and Plahotniuc were negotiating their bargain, AEI's third member—the Liberal Party under Mihai Ghimpu—called for the removal of government officials "suspected" of corruption (all but one from Filat's camp), foreshadowing the Constitutional Court's ruling. Ghimpu's Liberals along with the Communist Party threatened to impeach President Timofti for having re-designated Filat as prime minister. However, a Reform-Liberal wing revolted against Ghimpu on April 12, calling on Chisinau's mayor Dorin Chirtoaca, who is also the party's first-deputy chairman, to replace Ghimpu. But Chirtoaca is also Ghimpu's nephew, and he stuck with his uncle. The Reform-Liberals, including seven of the party's 12 parliamentarians and two of the party's four ministers, sealed on April 21 an agreement to join a coalition government with Filat. This contribution could have mitigated the pressures on Filat's party to some degree, but could not mitigate the faits accomplis created by the Filat-Plahotniuc deal.
Meanwhile, on April 11, Ghimpu's Liberal wing petitioned the Constitutional Court to assess the constitutionality of Timofti's mandate to Filat. The petition argued that the mandate was unconstitutional, and those arguments were reprised in the Court's April 22 unanimous ruling.
The Constitutional Court had for some time been unable to issue rulings because it lacked a quorum. The AEI's parties were finding it difficult to designate justices on the parliament's quota, a matter of partisan bargaining. But, on March 29 and April 5, desperate to conciliate its intra-AEI rivals, Filat's party cleared the appointment of two Constitutional Court Justices on the informal quotas of Ghimpu's party and of the Lupu-Plahotniuc party, respectively. Some commentators termed Filat's consent a "suicidal" one (www.unimedia.info, Alex Cozer's blog, April 23).
The Court's chairman, Alexandru Tanase, had been first vice president of Filat's party until 2010, but turned against Filat and left that party. He is widely supposed to be an adversary of Filat, without proof to that effect, but mainly in light of the fact that the newspaper Timpul, directed by Constantin Tanase, Alexandru's father and Moldova's foremost pamphleteer, campaigns against Filat's Liberal-Democrat Party. The elder Tanase has repeatedly denied any family motivations in this regard. The Court assigned Justice Victor Popa, who was a Ghimpu Liberal parliamentary deputy until March 29, to draft the ruling on Filat's mandate, and Popa read it out in the Court's April 22 session. Without naming names, the ruling found Timofti's mandate to the prime minister–designate unconstitutional, on the grounds that some government officials had "fallen under suspicions" of corruption and had failed to show the suspicions to be unfounded. The Court's ruling is final and not appealable to any domestic or international instance (full text in Unimedia, posted on April 23).