Mongolia's Currency Crisis: Made in China?
Publication: China Brief Volume: 22 Issue: 10
By: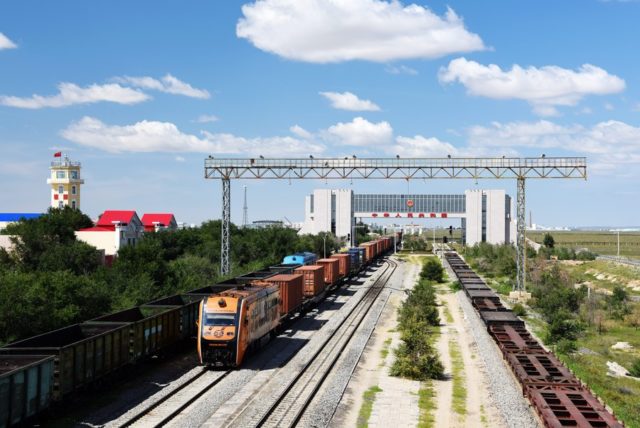 Introduction
When COVID-19 lockdowns closed the People's Republic of China's (PRC) borders in 2020, imports entering Mongolia came to a grinding halt, leading to domestic inflation and product shortages. Exports also declined significantly, further constricting the flow of U.S. dollars into the country. More than two years later, China continues to pursue its "Zero-COVID" policy and the Russia-Ukraine war is driving up global gas and energy costs. An unwitting victim of decisions made in Beijing and Moscow, Mongolia is facing currency devaluation, high inflation, and a shortage of dollars.
Deep Economic Ties to China
As Mongolia entered 2022, the economy was already in a bad state, as domestic COVID-19 lockdowns, combined with the ongoing stringent epidemic prevention measures in China, had done severe damage. Government stimulus programs increased the country's public debt to 81 percent of  gross domestic product (GDP) in 2021 (World Bank, April).
Mongolia's economy is extremely dependent on mineral exports, such as Coal Briquettes, Copper Ore, and Iron Ore, with the majority bound for China (Observatory of Economic Complexity [OEC], accessed  May 19). In 2019, Mongolia's total exports stood at $7.62 billion, of which China accounted for $6.6 billion (OEC, Accessed May 9). After China closed its borders in early 2020, Mongolian exports to the PRC fell to $5.49 billion (Trading Economics, Accessed May 9). As a result, the economy contracted 4.6 percent in 2020 (Asian Development Bank, April 6).
During the first quarter of 2021, pandemic-related restrictions began easing on both sides of the border, which, combined with a rise in private investment, led to an increase in raw material exports (Mongolbank.mn, March 2021). As a result, Mongolia's economic growth rebounded. However, President Xi Jinping's rigid adherence to the "Zero-COVD" policy hampered its economic recovery. In 2021, Mongolia's economy grew just 1.4 percent (ADB, April 6). Mongolia is also highly dependent on China for imports, which accounted for over 39 percent of its imports in the first quarter of 2021 (Xinhua, April 15, 2021). Global supply chain disruptions caused by the border closures pushed inflation to 13.4 percent, as of December 2021 (Asia & The Pacific Policy Society, February 21). Since the beginning of this year, the situation has worsened. Mongolia lacks domestic oil refineries, and as a result relies on Russian gas and fuel. According to recent reports, the ongoing war in Ukraine has caused gas prices in Mongolia to rise 64.2 percent year-on-year (Macau Business, April 16).
As Moscow Invades, the Tugrik Falls
In addition to dampening economic growth and increasing gas prices, the Russia-Ukraine conflict has also adversely impacted Mongolia's official currency- the tugrik. While the tugrik has been in decline against the U.S. dollar since January, this trend greatly accelerated following Russia's invasion of Ukraine in late February (Exchange Rates, Accessed May 9). The owner of Credit Dash LLC said: "Do you know what the selling price of a dollar is right now? We're selling at about 3350 tugriks. If you'd asked me the same question a few months ago, I'd have said 2850 tugriks. Things aren't looking so good for the Mongolia tugrik and the economy." [1]
The impact of tugrik's collapse has been especially bad for the average Mongolian, as higher gas prices around the world have resulted in increased real-prices for imports. Meanwhile, a falling tugrik means Mongolians are forced to use larger quantities of their weaker currency to buy more expensive goods. Furthermore, the average inflation rate hardly tells the whole story. Solongo, a senior manager of business processes at Ard Securities, reported that for some products, prices had increased by as much as 70 percent over the past year. "The main reason for this would be transportation. Transportation prices have increased by 1.5 times," she explained. [2] 
Faced with surging import prices, companies are scrambling to convert their cash holdings into dollars. Similarly, private citizens, who have seen their savings steadily depreciate, are attempting to buy dollars, but supply is running low. Bilguun, a department head at Golomt Bank, reported that people are converting tugriks to dollars. He explained: "They think that, because the tugrik is being devalued, by converting it to another currency, they're able to prevent their money from being devalued.  The flight from the tugrik is causing banks to limit the amount of foreign currencies available." [3] Galsanbat Narantogtoh, manager at Uran Uurgach, a non-banking financial institution, confirmed this trend, saying: "There's been an increase in demand for U.S. dollar, but also a lack of supply from the banks." [4]
Bat-Orgil, who works at Tsagaan Sumiin Gol currency exchange, said this about the tugrik: "It's been falling a lot lately. Banks have set a daily limit for the dollar. This is why it's been going up. We're selling dollars at an even higher rate than the banks." [5]
High Demand for Limited U.S. Dollars
The three main markets for foreign currency in Mongolia are commercial banks, currency exchange kiosk markets, and Facebook. When the dollar gets particularly high, private citizens sell limited numbers of dollars, a few thousand at a time, via a Facebook group called ВАЛЮТ АРИЛЖАА ТОХИРОЛЦОО ("Currency Trading Negotiations"). The three markets' rates can vary by hundreds of tugriks (news.mn, April 14). On a given day, when the Bank of Mongolia's (BOM) official buy rate was 3,250 and sell was 3,551, traders on Facebook were offering to buy dollars for 3,150 and sell for 3,160. At the same time, a commercial bank was buying for 3,470 and selling for 3,530. Money changers were buying between 3,420 and 3,460, and selling for 3,510 to 3,550. In theory, one could earn a profit by buying on Facebook and selling at the bank.
The BOM issued several statements, the conversion of dollars has not been limited (news.mn, April 14; news.cn, April 12). Both the commercial banks and the Naiman Sharga currency exchange market, however, were permitted to impose whatever restrictions they deemed necessary (news.mn, April 14). The daily limit dropped from 50 million Mongolian tugriks (about $16,550) in March, to 300,000 tugriks (about $99) in April (news.cn, April 12).
Sharav Battur, manager at Nomin-Tsengel currency exchange, complained that: "Inflation is going up in Mongolia… Gas prices are at an all-time high…The past few months, the change has been very noticeable to the point where they [the people] are starting to rebel against the government." [6]
Protests in Ulaanbaatar
In April, Mongolians gathered in Sukhbatar Square in central Ulaanbaatar, and began demonstrating in front of the Parliament building (News.mn, April 8). Led by young people, the citizens protested the state of the economy, particularly skyrocketing inflation. The protestors also called for greater transparency and a reduction in government corruption.
Many Mongolians blame China for the currently adverse situation. Bataa, the owner of Arvijih Guur, a non-banking financial institution, stated: "It's China's fault that there's a shortage of goods in Mongolia. Prices have gone up too much. We should have more riots at the square." [7]
From time to time, Mongolians turn out to protest what they consider their government's over-conciliatory attitude toward Beijing (Reuters, September 15, 2020). However, due to Mongolia's near-complete economic dependence on the PRC, the government in Ulaanbaatar generally refrains from openly criticizing Beijing, and will sometimes silence outspoken China hawks (France24, February 22). Regardless of the geopolitical perils of biting the hand that feeds one, Mongolian citizens are not shy about blaming China for their nation's woes. According to Sharav Battur, the disruption of supply chains from China is the main reason for shortages and price increases. [8] Oyuttsetsen, CFO of Ard Financial Group, also blamed supply chain disruption from China, stating it has increased the costs of services and products. "It also has an emotional effect which further makes inflation higher," he said. [9]
Conclusion
 Many Mongolians consider the current economic outlook quite bleak. When asked how Mongolians can protect their money, S. Gantulga, co-owner of Noyon Tugrik Hiimori currency exchange, recommended that citizens take their money out of the banks, because "no one can guarantee that your bank will still be here tomorrow morning in these unstable times." [10]
The owner of Credit Dash LLC had a similarly negative outlook. He stated, "Hopefully things will turn out alright for the country, but at this point the future seems very unstable." This opinion was seconded by N. Batbayr, a currency trader, who said: "This trend will not stop for the next two or three years."
Antonio Graceffo, PhD. China-MBA is an American economist and university professor who works as a China economic analyst. He spent 20 years in Asia, including 7 in China and 3 in Mongolia, publishing over 10 books, including three about the Chinese economy. He has also published numerous articles and papers on the Chinese economy, as well as the Mongolian economy.
Notes
[1] Interview with the owner of Credit Dash LLC. Currency Exchange, (preferred to keep his name private), Ulaanbaatar, currency exchange market, Date:19 April 2022
[2] Interview with Solongo, Senior Manager of Business Processes at Ard Securities, Ard Securities, Ulaanbaatar, Mongolia, Date 17 April, 2022
[3] Interview with Bilguun, Department Director,  Golomt Bank, Golomt Bank, Ulaanbaatar, Mongolia, Date: 17 April, 2022
[4] Interview Galsanbat Narantogtoh, Manager at Uran Uurgach LLC, Ulaanbaatar, Mongolia, Date: ​​18 April 2022
[5] Interview with Bat-Orgil, Tsagaan Sumiin Gol currency exchange, Ulaanbaatar, Mongolia, Date 19 April
[6] Interview with Sharav Battur, manager of Nomin-Tsengel currency exchange, Ulaanbaatar, currency exchange market, Date: 21 April, 2022
[7] Interview with Bataa, the owner of Arvijih Guur, a non-banking financial institution, at Arvijih Guur, Ulaanbaatar, Date:19 April 2022
[8] Interview with Sharav Battur, manager of Nomin-Tsengel currency exchange, Ulaanbaatar, currency exchange market, Date: 21 April, 2022 
[9] Interview Oyuttsetsen.B, CFO, Ard financial group, Ulaanbaatar, Mongolia, Date April 11, 2022
[10] Interview with S. Gantulga, co-owner of Noyon Tugrik Hiimori currency exchange, Noyon Tugrik Hiimori currency exchange, Ulaanbaatar, Date:20 April 2022