Future Global Policeman? The Growing Extraterritorial Reach of PRC Law Enforcement
Publication: China Brief Volume: 22 Issue: 9
By: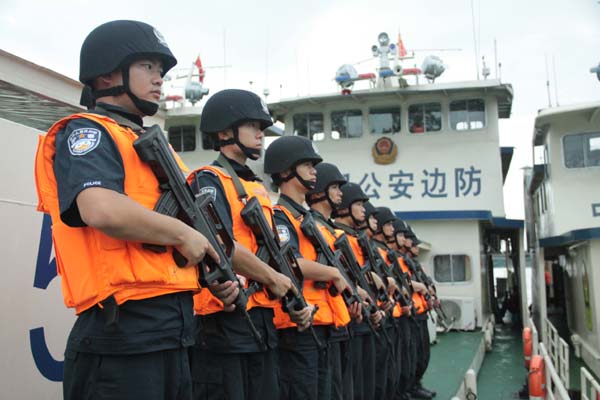 Introduction
The recently signed security agreement between the Solomon Islands and the People's Republic of China (PRC), along with the support of Chinese police to the Solomon Islands government to suppress social unrest in November 2021, highlight the increasing international deployment of PRC law enforcement (China Daily, April 2). This deployment follows several decades of expanding PRC international law enforcement activity, which is intended for extraterritorial enforcement action, seeking the return of fugitives, and as part of China's engagement with other countries.
The 2021 violence in the capital, Honiara, led to destruction in the local Chinatown and the subsequent deployment of Chinese police officers, who have previously provided equipment and training to the Solomon Islands. The China Police Liaison Team is led by Zhang Guangbo, an officer of the rank of Commissioner third class, who stated that the deployment is intended to protect the safety of Chinese communities in the Solomon Islands as well as to contribute to the overall stability in the islands (Embassy of the PRC in the Solomon Islands, March 4). There has been considerable unease in wider region over the expanded deployment of Chinese police officers to the Solomon Islands. The governments of Australia, Japan, and the United States have all criticized the security pact, and have raised concerns that the deployment of Chinese police officers could lead to a future military presence. Australian Minister for Foreign Affairs Marise Payne stated on March 25 that "Australia is aware of the proposed draft Security Cooperation agreement between China and Solomon Islands…We would be particularly concerned by any actions that undermine the stability and security of our region, including the establishment of a permanent presence such as a military base" (Australian Ministry for Foreign Affairs, March 2022). In response to these concerns, the Solomon Islands High Commissioner to Australia has said that if Chinese police officers were called on for assistance they would be under the command of the Royal Solomon Islands Police and stated that "We will try and do our best in terms of dealing with them to make sure that what is happening in other countries where, like Hong Kong, doesn't happen in our country" (Solomon Times, 6 May 2022).
The Chinese police deployment to the Solomon Islands is part of the PRC's efforts to develop closer ties with the Pacific Islands through the Belt and Road Initiative (BRI), which is described as "a reflection of the indomitable spirit of the Chinese people and the symbiotic relationship with the Communist Party of China (CPC) that they can help Pacific nations in their sustainable development goals" (National Development and Reform Commission, July 27, 2021). However, these official statements neglect to note that the influence of the PRC agencies is not necessarily welcomed by ethnic Chinese in the Solomon Islands, many of whom are from families that have resided there for generations and who became Christians during British colonial rule. Most importantly, the presence of PRC police is likely to grow as part of efforts to ensure that the Solomon Islands does not reverse its September 2019 decision to switch diplomatic recognition of the Republic of China (Taiwan) for China, which ended 36 years of diplomatic relations with Taiwan.
As the PRC has expanded its economic power through the BRI, it has also exported criminality, including online fraud, online gambling, human trafficking (for slavery and prostitution), animal or animal parts trafficking (for use in traditional Chinese medicine), and money laundering (China Brief, March 25). This growing regional Chinese organized crime problem has led PRC law enforcement agencies to expand their operations outside of their national borders and increase collaboration with police in other Asian countries.
PRC overseas law enforcement operates in three main areas: enforcement action against crime in neighboring countries that affect  citizens living abroad or within China; the overseas "Fox Hunt" search and apprehension of suspects wanted for crimes in the PRC, most often corruption; and finally, the pursuit of political dissidents or opponents of the Chinese Communist Party (CCP).
Crime Affecting Chinese Citizens Overseas
Crime affecting Chinese citizens in neighboring countries is illustrated by the People's Armed Police (PAP) joint armed patrols along the Mekong River. These patrols, which occur outside of China's borders with police forces from Laos, Myanmar, and Thailand, have been underway since 2011. In March, these countries undertook the 115th joint Mekong River patrol involving 81 officers sailing over 680 kilometers, and including two Chinese law enforcement vessels from Yunnan Province (Ministry of Public Security, March 29). The deployment of PAP patrols has created a "pax sinica" on the Mekong River, which is important for PRC economic interests in neighboring countries (Asian Affairs, February 15, 2018).
The Mekong River is a vital geostrategic waterway for cross-border shipping as it runs through China, Myanmar, Laos, and Thailand, but the area suffers from significant crime including drug smuggling, arms trafficking, and piracy. In October 2011, the discovery of two deserted Chinese cargo ships carrying 920,000 amphetamine pills and the murder of 13 Chinese crew members triggered greater action by the PRC authorities. The culprit for these acts of murder and piracy was  "Naw Kham," an ethnic Burmese former officer in the Mong Tai Army of the late warlord Khun Sa, and his 60 to 100 gunmen known as the "Hawngleuk militia" based in eastern Shan State. The group patrolled the Mekong on speedboats trafficking drugs, and committing robbery, kidnapping, and murder without being interdicted by Myanmar, Laos, and Thailand authorities (The Irrawaddy, October 13, 2011).
Authorities targeted Naw Kham and his gang with Chinese and Lao police officers raiding locations in Laos, leading to his arrest in April 2012 (The Irrawaddy, May 11, 2012). Following his arrest, Naw Kham and his associates were sent to China and tried in Kunming, where they were convicted of the murder of the 13 Chinese sailors on the Mekong River, which highlighted the influence of Chinese authorities vis-à-vis its neighbors. In March 2013, Naw Kham and his colleagues were executed in Kunming by lethal injection, showing that the reach of PRC law enforcement is not only long, but also deadly (China Daily, March 1, 2013).
Overseas Crime Targeting Chinese Citizens in the PRC
In recent years, Chinese organized crime groups have exploited the PRC's international economic expansion to increase their overseas presence (China Brief, March 25). This has driven PRC law enforcement agencies to pursue Chinese criminals in other jurisdictions. Key areas of this transnational organized crime include gambling and fraud targeting PRC citizens inside China. In April, authorities reported that in the past year they have destroyed 2,500 gambling platforms and over 1,900 illegal payment platforms and underground banks. These included criminal groups with revenue of over 1.6 billion yuan ($251 million) in Jilin and Heilongjiang Provinces, and 15 billion yuan ($2.3 billion) in Chongqing, Sichuan Province (Ministry of Public Security, April 1, 2022).
Over the past decade, the PRC has also been plagued by telecommunications and cyber fraud, perpetrated by Chinese gangs operating across Asia. Six of the ten alleged masterminds of telecom and cyber fraud who established bases in the Philippines, Cambodia, and Myanmar, allegedly recruited gang members from the PRC to solicit people in China for fraudulent investments and gambling (Ministry of Public Security, October 24, 2020). For China, the extent of economic loss from telecommunications fraud is huge, reportedly amounting to 35.37 billion yuan ($5.5 billion) in 2020 (Ministry of Public Security, June 22, 2021).
Law enforcement action against Chinese criminals overseas does not even have to involve leaving the country. The Public Security Bureau (PSB) in multiple provinces reportedly threatened fugitives in Myanmar that they would suspend pensions and medical coverage of their relatives in the PRC if they did not voluntarily return home to face trial (Reuters, June 2021).
Corruption – "Fox Hunt" and "Sky Net"
The PRC's huge economic growth over the past two decades has resulted in systematic corruption and a large number of fugitives from justice. At the onset of General Secretary Xi Jinping's tenure (2012-), the Ministry of Public Security launched "Fox Hunt" (猎狐,lie hu) for Chinese fugitives wanted for corruption. The driver of the "Fox Hunt" operations was the huge number of fugitive officials facing corruption charges as a result of Xi's anti-corruption campaign. From 2012-2014, around 18,000 officials reportedly fled overseas taking over 800 billion yuan ($125 billion) with them, largely to Asia Pacific countries with large Chinese communities (China Daily, November 12, 2014).
Launched in 2015, "Sky Net" (天网,tian wang) involved a division of labor among multiple agencies. The State Supervisory Commission led the international pursuit of fugitives and stolen goods for duty-related crimes. The Ministry of Public Security carried out the "Fox Hunting" special operation to track down officials in hiding abroad. The People's Bank of China, together with the Ministry of Public Security, worked to target offshore companies and underground banks that transfer illicit money overseas. Finally, the Supreme People's Court and the Supreme People's Procuratorate undertook judicial action against those apprehended for crimes (Central Commission for Discipline Inspection, March 3).
Both "Fox Hunt" and "Sky Net" are problematic for several reasons. First, the conviction rate for criminal charges in the PRC is reported to be 99.9 percent and only 30 percent of defendants are represented by lawyers, indicating insufficient legal protections for individuals and no presumption of innocence until proven guilty. The presumption of guilt is even greater in cases concerning politics, for instance, trials of dissidents. Countries with a system that provides legal rights for all individuals have great difficulty extraditing suspects to the PRC. This leads to the second problem, which is that many of the fugitives wanted by the PRC authorities may also be subject to politically-related arrest.
By 2015, the PRC had signed extradition treaties with 39 countries, judicial assistance treaties with 52 countries, and agreements for cooperation with 91 countries. In addition, the PRC had entered police cooperation with 189 countries and sent 62 police liaison officers to 36 Chinese embassies in 31 countries (China Daily, March 20, 2015). However, some countries where fugitives may have fled have either avoided signing extradition agreements with the PRC or have rescinded them following the introduction of the National Security Law to Hong Kong in 2020. These include Australia, Canada, Germany, Finland, Ireland, the Netherlands, the UK, and the United States.
The lack of formal extradition arrangements with so many countries has forced the PRC authorities to use alternative means to apprehend fugitives. "Persuasion" has become a common tactic, which human rights groups have called "involuntary returns." Such returns are achieved by threats against family members in the PRC, directly approaching and intimidating the fugitive overseas, or outright kidnapping (Safeguard Defenders, January 18). Involuntary returns of Chinese nationals to the PRC comprise a mix of genuine criminal fugitives, officials who have fallen out of favor with the CCP leadership, and others pursued for their religious or political beliefs. The latter includes Falun Gong practitioners, Uyghurs from Xinjiang, Tibetans, and more recently, protesters from Hong Kong. The resultant lack of clarity regarding which cases relate to genuine criminality is worsened by the involvement of multiple PRC government agencies.
In January 2017, Chinese billionaire Xiao Jianhua, founder of the Tomorrow Group, was taken by a group of people from the Four Seasons Hotel in Hong Kong and has not been seen in public since (South China Morning Post (SCMP), January 31, 2017). There were multiple unconfirmed reports that Xiao may have been abducted by Ministry of State Security officers, possibly because of his close financial connections to senior PRC leaders. Similar concerns were raised in late 2015, when five Hong Kong booksellers linked to the Hong Kong publisher Mighty House, known for selling books critical of China's leaders, disappeared and were later found to have been held by PRC authorities. All five later appeared in Mainland China and were reported as being under investigation for illegally delivering banned books to customers across the border. Swedish national Gui Minhai, the owner of the publishing house, was sentenced to 10 years imprisonment for "illegally providing intelligence to overseas entities." One of the imprisoned booksellers later claimed that his confession was coerced (SCMP, June  21, 2020).
Conclusion
The systematic international pursuit of fugitives by PRC authorities since 2014 shows a determination to apprehend corrupt officials, political critics, and political opponents. Legal channels for extradition have narrowed as a result of the reticence of many governments to have formal return of suspects to face the legal system in the PRC. The result has been a widening of extraterritorial activities by the PRC authorities, employing coercion, rendition, and even kidnapping to ensure repatriation of suspects. As the economic and political influence of the PRC expands, it is likely that the extraterritorial work of its law enforcement and state security agencies will rise as well. The growing deployment of PRC law enforcement officers to other countries also raises the question of whether China may become the world's policeman in the near future.
Martin Purbrick is a writer, analyst, and consultant. He spent over 32 years in Asia working in the Royal Hong Kong Police serving in Special Branch and the Criminal Intelligence Bureau, followed by senior leadership roles managing financial crime risk with several major companies.