Moscow and Tehran Dramatically Expanding Economic and Security Cooperation
Publication: Eurasia Daily Monitor Volume: 18 Issue: 88
By: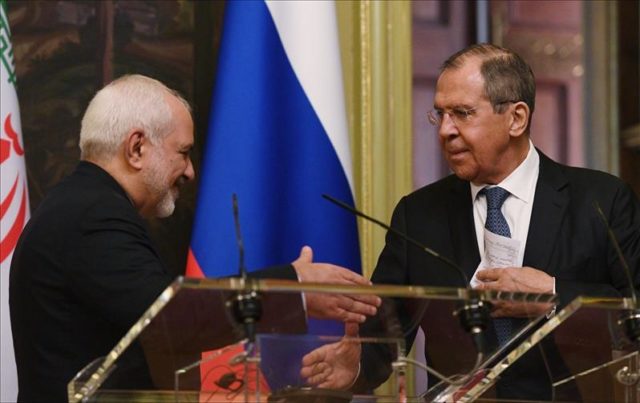 Among the most important developments since the end of last year's fighting between Armenia and Azerbaijan has been the dramatic expansion in consultations and cooperation between Russia and Iran. This development reflects their common opposition to border changes, shared concern about the expansion of Turkish influence in the South Caucasus and Central Asia, as well as their desire to do an end-run around Western sanctions by promoting north-south trade at a time when east-west trade has been curtailed. The complementary geopolitical calculations of the two countries have long been recognized (see EDM, March 24, 2020 and February 25, 2021; Nezavisimaya Gazeta, June 3, 2021), but the extent to which Moscow and Tehran have sought to realize them, culminating in a decision two days ago (June 1) to expand bilateral military cooperation talks and Russian arms sales to Iran, have not.
Almost immediately after the November 2020 Karabakh war ceasefire declaration, both Russian and Iranian officials at a variety of levels launched a transparent effort to broaden and deepen links between the two countries. The rapid expansion of such contacts has been striking, beginning with sectoral economic ties, trade policy and efforts to resolve problems on the Caspian Sea. It subsequently extended to discussions about the possibility of including Iran as a member in the Eurasian Economic Community, receiving Russian assistance in building a trans-Iran canal system from the Caspian to the Persian Gulf, upgrading Iranian ports to expand trade with Russia, as well as modernizing the Iranian navy to reduce Russia's need to maintain a large fleet in the Indian Ocean (Mcx.gov.ru, May 27; Kaspiyskiy Vestnik [1][2][3][4][5][6][7][8], June 3; Tehran Times, May 8).
What this means and what the June 1 military cooperation meeting in Moscow clearly shows is that Russia and Iran are moving beyond a simple recognition of matching geopolitical calculations. In the past, the two sides made similar statements but had their own reasons for avoiding concrete steps toward closer cooperation. They are now consciously approaching something much deeper and, indeed, closer to a full-fledged alliance—one that gives every sign of continuing to expand. Moscow and Tehran have welcomed the agreement to pursue tighter military ties and to arrange for Iran's purchase of more Russian weapons (TASS, Regnum, Vestnik Kavkaza, June 1). Both are open to expanded Russian investment in Iran and, ultimately, to the inclusion of Tehran as a full-fledged member of the Moscow-led Eurasian Economic Union. The two countries are also showing willingness to cooperate in the South Caucasus, each supporting the inviolability of borders and the exclusion of outside powers. Iran, thus, has acquired a seat at the table at least informally, and Russia has acquired an ally to oppose Turkish and Western influence in the region (Newsarmenia.am, February 23).
The expansion of Russian-Iranian relations was signaled at the start of this year, when Iranian Foreign Minister Mohammad Javad Zarif visited Russia and made clear that Tehran wants to work with Moscow in the post–Karabakh war environment to expand economic and security ties not just in the South Caucasus but more broadly (Kommersant, June 3). The Russian government has proved more than receptive. It welcomed the Islamic Republic's support on Karabakh and willingness to cooperate with Moscow's plans to develop a reinvigorated transportation network there (see EDM, March 24, 2020). Moreover, the two sides held a pair of military maneuvers in the Caspian Sea (The Caucasus Post, February 24). Finally, Russian officials discussed including Iran in Eurasian regionalist institutions, which would allow both countries to more easily oppose the West (see EDM, March 4; Kaspiyskiy Vestnik, June 3).
Following the June 1 agreement, the Russian-Iranian partnership is especially likely to expand in three areas. First, Moscow will sell more weaponry and other goods to Tehran, possibly realizing plans discussed earlier to refit or replace many of Iran's naval vessels (Nezavisimaya Gazeta, June 3; Vzglyad, February 20). Second, Russia is likely to help Iran develop the river and canal system it wants between the Caspian and the Gulf—a project the Russian side is also increasingly interested in because of its own commitment to build a cross-Caucasus canal between the Caspian and the Black Sea (see EDM, June 1). And third, the two countries are likely to work together to ensure that a new war does not break out between Armenia and Azerbaijan either northward into Russia's restive North Caucasus or southward into Iran, where millions of ethnic Azerbaijanis live.
At the same time, a variety of events could upset these possibilities. Both countries have broader agendas that may undermine further cooperation, just as they have in the past. For example, Russia could decide to sacrifice its ties to Iran as a price for achieving some breakthrough it may want with the West. In turn, Iran might scale back cooperation with the Russian government in order to expand its influence among Muslims inside the Russian Federation; or bilateral relations could cool if Tehran concludes that Moscow is attempting to pressure Beijing into choosing an exclusively trans-Russian path to Europe instead of developing transit corridors that would involve Iran. But as the relationship between Moscow and Tehran deepens with ever more projects and trade involved, incentives will also continue for both governments to extend their ties in order to counter the West. Therefore, this trend can be expected to persist as long as opposition to the West remains the most important foreign policy goal of each.