Including Iran in Moscow-Led Economic Group Will Upend Former Soviet Space
Publication: Eurasia Daily Monitor Volume: 18 Issue: 37
By: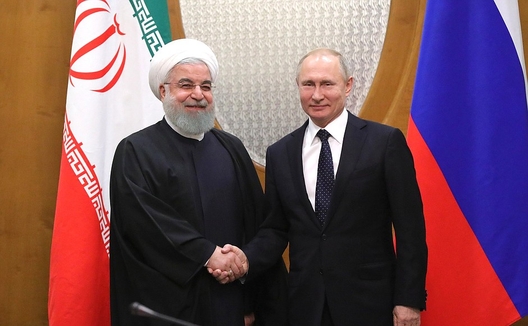 Reports claiming that Russia will, within a few weeks, welcome Iran as a new member of the Eurasian Economic Union (EEU) may be premature, but they are still likely to be realized in the not-too-distant future, some Russian analysts argue (RitmEurasia, February 26). These reports are liable to be confirmed, first and foremost, because Iran's accession to the EEU would help both countries to more readily counter Western sanctions as well as to cooperate in the Caucasus in the wake of the Armenian-Azerbaijani conflict. At the same time, including Iran in this Moscow-led political-economic grouping would have profound geopolitical consequences. For one thing, the EEU is Russia's primary tool for integrating the former Soviet space, so the accession of the first non-post-Soviet country to the grouping would already be noteworthy—to say nothing of the Islamic Republic's pariah status internationally. But even more importantly, Iran's membership in the Moscow-led Eurasian bloc would represent a new challenge to Western and especially Turkish efforts to promote east-west trade across the Caucasus and Caspian, by buttressing Moscow and Tehran's rival interest in supporting north-south trans-regional routes.
After the disintegration of the Soviet Union, Moscow took the lead in fostering the creation of the Commonwealth of Independent States (CIS), which it hoped would help manage relations among the former Soviet republics and perhaps ultimately become the basis for their reunification. But over time, the CIS has lost influence and members, most recently with the exit of Ukraine from its ranks. As a result, Moscow has pushed other structures for those within the CIS that remain open to closer ties with Russia. These include inter alia the Union State of Russia and Belarus as well as the EEU, which came into existence in May 2014 and now has five members—Russia, Belarus, Kazakhstan, Kyrgyzstan and Armenia. The Shanghai Cooperation Organization is not really an exception to this approach. It does include countries other than former Soviet republics (co-founding member China as well as India and Pakistan), but its collective agenda deals mainly with foreign policy and security matters rather than economic and political integration (see EDM, May 29, 2014 and March 2, 2016).
The possibility that Moscow might welcome Iran into the Eurasian Economic Union was thrown into sharp relief following Iranian Foreign Minister Mohammad Javad Zarif's visit to Moscow at the end of January (Kommersant, January 21). On his return to Tehran, Zarif said that in addition to discussing cooperation between Russia and Iran to counter Turkey and the West, the two sides had discussed how his country could take steps to join the EEU (IA REX, March 3). That comment touched off a firestorm of discussions in Moscow and Western capitals not only because Iran was involved but also because it appears to represent a change in Moscow's approach to regional integration by extending it beyond the borders of the former Soviet Union. Iran's accession would also set the stage for an intensification of geopolitical competition in the Caucasus and around the Caspian.
Because of Tehran's support for terrorism and its nuclear program, the West opposes any move that would give Iran greater international support and freedom of action, as membership in the EEU certainly could. But Iran and Russia have been working ever more closely together in recent months to escape sanctions on both countries and to be in a position to promote their interests in the South Caucasus. That cooperation has already grown to the point that some in the West and many in the region fear it will lead to open conflict (RitmEurasia, December 19, 2019; see EDM, February 18, 2021 and February 25, 2021).
The consequences of including Iran in the Eurasian Economic Union are also obvious for former Soviet republics. On the one hand, by implicitly downgrading the political significance of the former Soviet space as a political unit, this move may prompt more countries to think about expanding cooperation across the former Soviet border and entering into more organizations and alliances that include states without a Soviet past. GUAM, the anti-Moscow grouping of Georgia, Ukraine, Azerbaijan and Moldova, for example, could seek to include new members from outside the former Soviet space—an idea they have floated before but abandoned because of extreme Russian opposition (Windowoneurasia2.blogspot.com, November 21, 2013). And alternatively, including Iran within the EEU might lead some countries—such as Armenia in the first instance—to consider joining the tighter Moscow-dominated Union State of Russia and Belarus. This would allow them to show their loyalty and maintain sufficiently close relations with Moscow in order to help defend their positions against others both within the CIS and outside. Indeed, a group has now been formed in Armenia to promote precisely that outcome (Regnum, January 4).
The most immediate consequence of Iran's becoming a member of the EEU, however, will be in the Caucasus and around the Caspian. Moscow and Tehran almost certainly would step up their efforts to promote north-south trade routes and jointly dominate that region in order to ensure that Turkey and the West do not peel away from Moscow any more former Soviet republics or use those republics to launch possible military actions against Tehran (see EDM, February 26, 2019, March 24, 2020, February 22, 2021).
However that may be and however long it may take for Iran to join the EEU, some Russian analysts are already celebrating Tehran's expected accession as a geopolitical victory for Moscow. IA REX news agency commentator Vladimir Pavlenko, for example, argues that the economic advantages Iran's membership would bring pale in comparison to the geopolitical ones. The latter would include, among others, a blocking move against Turkey and the West, an expansion of Russian influence southward to India and the Middle East, and even Russia's acquisition of something it has long wanted, a warm-water port to the south (IA REX, March 3). For those reasons, he and others suggest, the Russian government is quite prepared to take a step at odds with its past policies and, in this way, upend the geopolitics of the region and the world as a whole.