Moscow Angered but Not Deterred by Newest Round of Western Sanctions
Publication: Eurasia Daily Monitor Volume: 18 Issue: 37
By: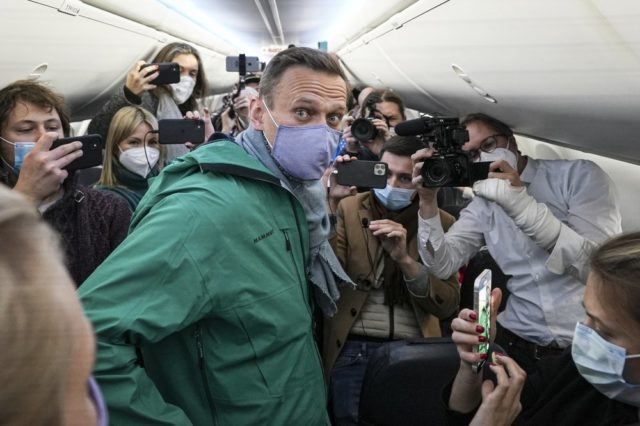 After repeatedly and unsuccessfully pleading with the Kremlin to release imprisoned opposition leader Alexei Navalny, the European Union and the United States, in a coordinated move, imposed additional sanctions packages against Russia. Seven top security, defense and Kremlin administration officials were personally blacklisted. Some of those same officials had been sanctioned by the EU before, in October 2020, for their alleged role in Navalny's poisoning by the nerve agent Novichok, in Tomsk, in August 2020. Two days after falling ill, Navalny was evacuated, in a coma, from Siberia to Germany, where he recuperated. Navalny was arrested immediately upon returning to Moscow from Germany on January 17, 2021; he was later sent to prison for more than two years for ostensibly breaking parole rules on a previous suspended sentence by staying in Germany for medical treatment and convalescence. The incarceration of Navalny and the heavy-handed suppression of mass pro-Navalny public protests in Moscow and other Russian cities initiated the latest Western sanctions, but the blacklisted top officials will hardly notice them: They have been blacklisted before, they do not seem to have any bank accounts or real estate abroad, and the travel/visa restrictions imposed on them affect only personal/leisure travel. When on official business, previously blacklisted Russian officials have not had any apparent difficulty arriving to the West to meet with their Western counterparts (Kommersant, March 3).
In addition to blacklisting top Russian officials together with the EU—a move officially in response to Moscow violating the human rights of Navalny and his supporters—the US added a number of organizations allegedly involved in making chemical weapons such as Novichok, which was used not only to poison Navalny but also, on March 4, 2018, former Russian double agent and military intelligence colonel Sergei Skripal and his daughter Yulia in Salisbury, United Kingdom. Furthermore, the Joseph Biden administration announced it was banning any transfer of military/defense technologies or arms sales to Russia. Before 2014, Moscow had been spending billions of petrodollars to acquire Western dual-use and military technologies, electronics, special plastics and other compounds for its aerospace and defense industries. Sometimes, this even involved buying off-the-shelf Western-made weapons and dual-use satellites—not US-produced, but containing US components. These value-chain connections dried up after the annexation of Crimea and the war in Donbas. The Russian state arms trading agency (Federalnaya Sluzhba Voenno-Tekhnicheskogo Sotrudnichestva— FSVTS) announced that since there is no arms trade between Russia and the US, Washington's sanctions in this area were senseless. Russo-US space cooperation will be exempt from the latest sanction package, since both countries jointly exploit the International Space Station (Interfax, March 3).
Russian officials and the Kremlin have denounced the transatlantic community's latest sanctions packages as a hostile move and promised tit-for-tat retaliatory actions against Western top officials and institutions; at the same time, they insisted Moscow has already fully adapted to existing Western sanctions and will not be significantly affected by new ones. The reality is more complex. Last fall, President Vladimir Putin angrily denounced Western contractors who stopped supplying components for the new Russian MC-21 passenger jet, which caused production delays of at least a couple years (Interfax, September 23, 2020). According to Vasyli Shpak, the director of the electronics industry department at the Russian Ministry of Industry and Trade, Russia is working hard to lessen its dependence on foreign electronic elements in its defense and aerospace industries to gain immunity against political pressure and sanctions. "A lot has been achieved, but the situation is still critical," Shpak said, last autumn, adding, "In all, some 60 percent of electronic components are today Russian-made; though in different cases, the picture is different" (Interfax, September 30, 2020).
Moscow is putting on a brave face, and the latest "Navalny sanctions" package does not seem too intimidating. And yet Russia's defense and aerospace industries—even if they, indeed, have managed to begin domestically producing more than half of their required electronic parts—will still need to source the rest from somewhere. During the Cold War, Soviet industry worked to find cracks in the West's export control regime and sought out willing Western collaborators to obtain needed contraband. A potential further tightening of export controls by the West (the US) today could, therefore, turn into a serious hazard for Russian high-technology producers. The US State Department has called on Moscow to come clean, admit it used a nerve agent to poison Navalny, and then register and destroy it; if it does not, Russia will face another round of punitive measures under the 1991 US Chemical and Biological Weapons Control and Warfare Elimination Act. Kremlin spokesperson Dmitry Peskov outright rejected such a notion, repeating that Russia has fully destroyed its chemical weapons arsenal "unlike the Americans, who have not concluded the process yet." Russia, according to Peskov, has no nerve agents, nothing to declare or to destroy, while the West is unfairly using the Navalny case to punish Moscow (Interfax, March 4).
The joint synchronized action by the US and the EU reflects the political push by the Biden administration to reinforce weakened transatlantic links, and this signal of newly found unity has been noticed in Moscow (Kommersant, March 3). But the EU is not internally united in how to deal with Russia. A number of countries, like Italy, Spain, Portugal, Germany and France, insist on the need to not only continue to speak to Moscow but also actively seek compromises to lower tensions. Unpleasant issues like the incarceration of Navalny or his alleged nerve agent poisoning are impossible to ignore, but apparently, they still cannot be allowed to obscure more important themes of trade and international security. The collective West has made its move, and Russia observers have not been particularly impressed by the performance so far. The ball is now in Russia's court, and its response may not be what Moscow's Western friends expect: under pressure, the Kremlin might move to escalate on all fronts to try to magnify the strains and splits within the Euro-Atlantic alliance instead of scaling down East-West tensions.