Kyrgyzstan Preparing for Constitutional Reform in Search for Stability
Publication: Eurasia Daily Monitor Volume: 18 Issue: 36
By: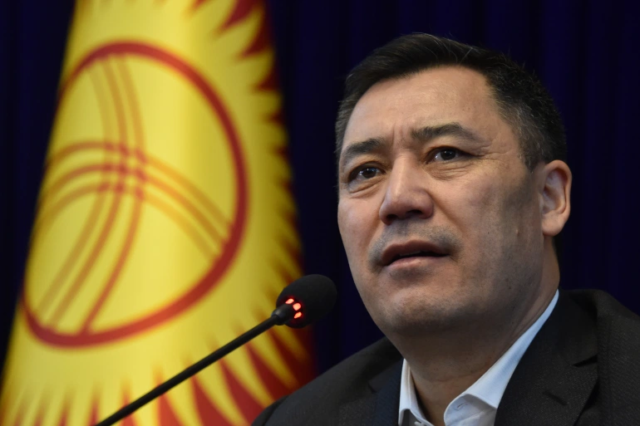 On January 11, the leader of Kyrgyzstan's most recent revolution, Sadyr Zhaparov, won the presidency in what turned out to be a largely uncontested election. He obtained nearly 80 percent of all ballots cast, compared with only 6.74 percent that went to the runner-up, Adakhan Madumarov—the chair of the opposition party Bütün Kırgızstan ("United Kyrgyzstan"). A highly experienced politician, Madumarov had been a member of parliament (MP) from 1995 until his appointment, in April 2005, as deputy prime minister in a post-revolutionary cabinet, following the ouster of the country's first president, Askar Akayev. He later served as state secretary (2006–2007), speaker of the parliament (2008) and secretary of the Security Council of Kyrgyzstan (2008–2009). Madumarov ran unsuccessfully for president twice before, in 2011 and 2017. He was born in the southern province of Osh, where his nationalist party always enjoyed popular support. Yet it was Zhaparov, a native of the northern and heavily Russian-speaking Issyk-Kul region, who managed to capture the sympathies of the swelling ranks of southerners over the course of his shorter political career (Knews.kg, Vb.kg, Akipress.org, 24.kg, January 10, 11).
Zhaparov first rose to relative prominence nationwide in 2005, when he was elected to the legislature. He was catapulted to the pinnacle of power as a result of last October's nearly two weeks of turmoil and political crisis in Bishkek. He was made prime minister on October 10 and president ad interim five days later, when then-president Sooronbay Jeenbekov agreed to quit power peacefully. On November 14, Zhaparov officially declared his candidacy for the presidency and stepped down as caretaker head of state while retaining the prime minister's mandate. However, responsibility for the smooth functioning of the entire cabinet was immediately ceded to Deputy Prime Minister Artyom Novikov. Zhaparov's interest in the presidency had been instigated by his avowed desire to reshape Kyrgyzstan's institutional setup by rebalancing the distribution of powers among the branches of government and reforming the party system (Vb.kg, November 14, 2020; Kloop.kg, October 15, 2020; see EDM, October 20, 27, 2020).
On the same day as the early presidential election, registered Kyrgyzstani voters were asked to decide whether to stick with the parliamentary form of government, which was established by the 2010 constitution, or to revert back to the presidential one. According to the official ballot count, almost 90 percent opted for the latter. As President-elect Zhaparov said on January 11, a full-fledged constitutional referendum ought to take place before June 2021; the voters would again be asked to express their views on the political future of their country, albeit with the yet-to-be-finalized definitive draft of the constitution in hand. The original draft was unveiled on November 17, 2020, and was first amended in late January. Further amendments are likely as public hearings near their final stage (Radio Azattyk, Vesti.kg, Novosti.kg, January 11).
When president Kurmanbek Bakiyev was toppled in April 2010 and a new constitution approved in a referendum later that year, Kyrgyzstan transitioned to a parliamentary democracy. As part of the changes to the political system, the length of any given presidency was reduced to a single six-year term, though the head of state retained many prerogatives normally unavailable to presidents in Western-style parliamentary regimes. The latest draft of the main law would grant President Zhaparov unchallenged oversight over all ministries and other key governmental bodies as well as extensive veto powers, among other proposed changes. Yet the biggest novelty lies in the composition and mode of elections of the country's unicameral legislature. The number of MPs would be reduced from 120 back to 90, as before 2011, and lawmakers would no longer be elected based solely on party lists—half of them would be elected under a majoritarian system in single-member constituencies (For.kg, Vb.kg, January 11, 2021; Knews.kg, December 20, 2020; Tazabek.kg, November 17, 2020).
Despite Zhaparov's strong grip on power less than three months since his inauguration, the forthcoming referendum and new parliamentary elections could be a genuine test of his popularity and ability to control the volatile situation. In a clear win for the new president, acting MPs overwhelmingly voted, on March 3, in favor of holding the crucial referendum on the same date as the planned elections to the local legislatures, on April 11. Back in October–November 2020, there were fears in certain corners of society that the accompanying draft constitutional law on presidential and legislative elections might result in a setback for democracy. In particular, the 2011 constitutional law on elections to the Supreme Council, as Kyrgyzstan's parliament is formally known, dictates that no party can control more than 65 seats at a time. While Zhaparov's critics have repeatedly accused him of authoritarian tendencies, the draft amendments to the above law, dated December 2020 and currently also subject to public consultations, do not aim to revisit this guarantee of pluralism (Vb.kg, March 3, 2021; Tazabek.kg, February 5, 2021; Kenesh.kg, December 4, 2020).
Assuming that the Zhaparov administration can hold this year's general election without hiccups, the key challenge faced by the incumbent will be to impart a degree of stability to the Kyrgyzstani political system, which would ensure steady economic growth and internal peace for the foreseeable future. A major plank of his reform agenda is a more vigorous crackdown on corruption, an area where the president claims deep expertise after having served as chief corruption fighter in 2008–2010, under the Bakiyev regime. All of these distinct areas are fraught with risks, with three former presidents having lost power to embezzlement, poverty and continuous political turbulence. It is by no means certain that Zhaparov will ultimately prove more successful than his predecessors.