Moscow-Dependent Moldovan Government Turns Blind Eye to Russian Military Activities in Transnistria
Publication: Eurasia Daily Monitor Volume: 17 Issue: 21
By: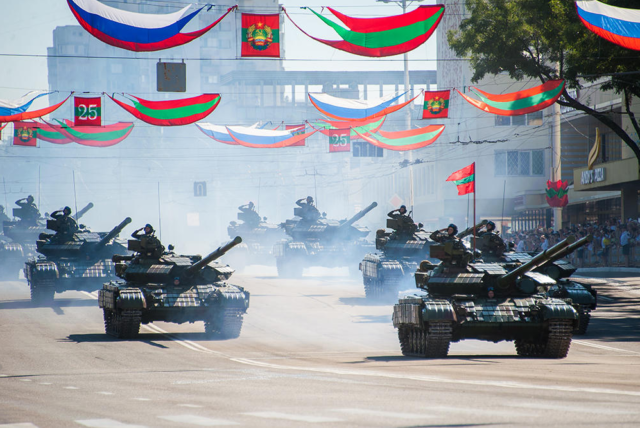 On February 13, the breakaway Transnistria region's representative to the Joint Control Commission (JCC) demanded that Russian "peacekeeping" forces be augmented from the current size of over 400 personnel to 4,200. The latter figure is notably one that Russian media outlets frequently invoke as the initial size of Russia's "peacekeeping" force in this separatist Moldovan territory (RIA Novosti, February 13). The JCC is a Moscow-imposed and tested "peacekeeping" structure and served as a model upon which Russia built its Joint Control and Coordination Center in Ukraine's Donbas. It has been instrumental for Russia to be able to exercise complete control over the Security Zone, a 12–20-kilometer-wide strip of land separating Moldova from its breakaway region. To wit, the JCC allows the Russian military to set the agenda for conflict resolution talks, block Organization for Security and Cooperation in Europe (OSCE) observers from monitoring hundreds of military and security violations in the Security Zone (Osce.org, August 15, 2018; Balkan Insight, February 1, 2018), and stall Moldova's attempts to change the status quo.
The latest proposal, to boost the size of the Russian "peacekeeping" force, was probably not serious and should instead be seen as a tactical maneuver to block the Moldovan representatives' request to close two "peacekeeping" posts installed by the Russian military and their Transnistrian proxies near the bridge over the Nistru River, in Dubasari District. The Moldovan side raised local dissatisfaction with these military control posts; but the Transnistrian representative to the JCC brushed this aside (Novostipmr.com, February 13). The Transnistrian representative's intervention was obviously orchestrated jointly with the Russian side, who chaired the meeting.
The conditions allowing this incident to happen emerged last November, when the pro-Russian Moldovan Socialist Party, informally led by President Igor Dodon, managed to take over all three branches of power in Chisinau through a series of political maneuvers (see EDM, November 12, 2019). President Dodon outplayed both the local actors (allies and opponents alike) and the Western diplomats. He achieved this through first ousting Moldova's top oligarch, Vlad Plahotniuc, who owned the incumbent Democratic Party (PDM), by coalescing with the pro-European ACUM ("NOW") political bloc and skillfully exploiting the circumstantial support of United States and European ambassadors (Protv.md, November 30, 2019). Following this, he convinced ACUM and Western diplomats into giving him control over important state institutions, such as the intelligence service and the Constitutional Court, as well as to coalesce more executive powers to the Presidential Administration (Deutsche Welle—Romanian service, August 19, 2019). He skillfully exploited this time to bring to his side a number of judges, corrupt business interest groups, and members of parliament from the PDM faction. And then he struck again, ousting ACUM from the governing coalition in favor of a new political alliance with a weakened PDM, whose prominent members were desperate to recover their lost rents or avoid prison terms on corruption charges (Europalibera.org, November 15, 2019).
In parallel, President Dodon built strong political and financial ties with influential political groups linked to the Kremlin, fortifying them through family business connections. For instance, Dodon's brother entered business enterprises jointly with the son of former Russian prosecutor general Yuri Chaika, acquiring shares in construction as well as waste management companies (BBC News—Russian service, September 2, 2019). These partnerships were founded on earlier interactions between the Dodon and Chaika families to establish a cryptocurrency mining operation in Transnistria, exploiting the virtually free Russian natural gas in the breakaway region (Europalibera.org, February 2, 2018). These tremendous conflicts of interest appear to undercut President Dodon's ability to objectively promote Moldova's position in relations with Russia. Illustratively, the Dodon-appointed minister of foreign affairs, Aurel Ciocoi, recently stated that the Russian military's intervention had stopped the bloodshed in 1992, during the violent phase of the Transnistrian conflict (Deschide.md, February 6). These remarks precisely echoed the Russian mantra on its role in the Transnistrian war, which contradicts the overwhelming evidence that the Russian military had actively fought alongside Transnistrian proxy units against the Moldovan government forces. Ciocoi's public statement, voiced to please Dodon—who articulated a similarly faulty interpretation of history while speaking in front of the Russian Duma (Zgd.md, November 21, 2018)—triggered a no-confidence vote against the foreign minister by the former ACUM bloc parties (Timpul.md, February 13).
A number of current and former Moldovan officials privately express concern over the Dodon-controlled government having quietly lifted the previously existing interdiction on the rotation of Russian troops and military equipment into the Transnistrian region. All previous monitoring by Chisinau of the Russian military's operations in Moldova and exercises in the breakaway Transnistrian region has ceased as well. This makes it difficult to observe and account for such activities (Author's interviews, February 3–17). Civil society, which once carried out these tasks when state institutions would not (Viitorul.org, May 2017), is unable to reprise this role today. Funding for such monitoring is scarce. And for the past year or so, the Russian military stopped sharing information about its military exercises in Transnistria, with the exception of some insignificant routine training. It even sanitized its posts on Mil.ru that had previously carried pictures of high-level, sophisticated military trainings in Transnistria.
The Russian troop presence in Transnistria and the intensive military activities conducted in the region are largely ignored in the West, mostly due to a lack of understanding of this issue. The incumbent and even previous Moldovan governments are also at fault, however, for failing to explain this issue effectively to Western audiences. The dominant approaches of counting rough numbers and perceiving any Donbas scenario in Moldova as impossible are misleading. In fact, the Russian military does not need to bring thousands of troops into Transnistria. According to local experts, Russia already has access to a few hundred Soviet- and Russian-trained military officers of various ranks in the breakaway region. Given the current freedom of movement in and out of Transnistria, Russia can fly in its own military specialists as needed (RIA Novosti, January 4). As such, Moscow can replicate the model it used in Donbas, where Russian officers plan and lead combat operations carried out largely by locally recruited foot soldiers and mercenaries. In Donbas, Russia can also bring whole units over the border into the conflict zone; but Moscow does not need to do this in Transnistria, where it has already trained a significant pool of troops over decades while additionally recruiting for its local military academy teenagers from the Moldova-controlled right bank, either from Gagauzia or other Moldovan Russian-speaking areas (Ziarulnational.md, March 27, 2018). Russia's continued "peacekeeping" presence in Transnistria is, thus, far from benign or inconsequential.