Moscow Frustrates Attempts to Resolve Karabakh Conflict, and Curtails Yerevan's Foreign Policy Options
Publication: Eurasia Daily Monitor Volume: 12 Issue: 200
By: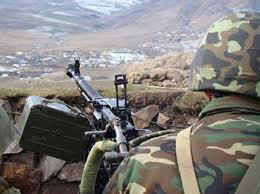 As part of a regional visit, the co-chairs (representatives of the United States, France and Russia) of the Organization for Security and Cooperation in Europe's Minsk Group visited the Armenian capital of Yerevan on October 26. The next day, they traveled to Karabakh and met with representatives of the breakaway Azerbaijani region's de facto authorities before crossing the line of contact and going to Baku. The US co-chair, Ambassador James Warlick, noted that as he and his Minsk Group colleagues approached the line of contact, repeated gunfire forced them to take cover. Warlick called this situation "unacceptable" (Twitter.com/AmbJamesWarlick, October 27).
The Minsk Group co-chairs' visit followed an unprecedented growth of tensions on the line of contact in Karabakh and on the Armenian-Azerbaijani border. Sniper fire exchanges have become routine in the area in recent years, and for more than a year, machine guns were being fired off by the two opposing sides pretty much daily. In September 2015, both sides used artillery for the first time since the ceasefire in 1994. This growth of tensions has repeatedly raised warnings from regional and foreign experts of the increasing risk of "war by accident." As Armenian foreign relations analyst Richard Giragosian argued in late September, "For both sides, this [frustration] has further triggered a dangerous spiraling upward of intensity, making it increasingly difficult for any one side to climb down or step back" (Al Jazeera, September 29). And well-known Washington-based expert on the South Caucasus Thomas de Wall has warned that there is the risk that "a serious incident will precipitate, by miscalculation, a new small war that no one wants but from which neither side is prepared to back away" (Politico.eu, October 11).
While in Yerevan, Ambassador Warlick revealed to the media an agreement to hold a meeting between the presidents of Armenia and Azerbaijan before the end of year. He also suggested that the conflicting sides should form a joint working group in order to hold negotiations continuously, rather than limiting the negotiations process to infrequent presidential or ministerial meetings. In addition, he underlined the need to resume consultations on the adoption of an OSCE investigation mechanism for incidents of violence (168.am, October 26). Without such a mechanism in place, the conflicting sides have been blaming each other for the growth of tensions, and have also often blamed the Minsk Group and other international institutions for producing "non-objective" evaluations or being "biased" in favor of the other side.
Although the Minsk Group co-chairs called for a more resolute attempt to find a solution, a breakthrough in the negotiations is highly unlikely to occur any time soon. Notably, the most recent serious uptick in tensions occurred just weeks after the last regional visit of the Minsk Group co-chairs and European Council President Donald Tusk, when a preliminary agreement for the Armenian-Azerbaijani presidential meeting was reached (see EDM, August 31). Despite all appeals for calm and a continuation of talks, the conflicting sides do not trust each other; at present, Baku and Yerevan are hardly ready to look for common ground. Moreover, the two sides clearly doubt the effectiveness of the mediation framework.
Specifically, Armenian and Azerbaijani experts alike consider Russia's role ambiguous. For instance, Richard Giragosian, who heads the Yerevan-based Regional Studies Center, noted that "Russia has largely benefitted from the unresolved nature of the conflict" and "Moscow now stands as the key, not only as an essential mediator but also as the number one arms provider to both sides and the main determinant of either deterrence or disaster" (Al Jazeera, September 29). In turn, as noted by Azerbaijani security analyst Zaur Shiriyev, "there is little hope that Moscow is genuinely attempting to move the peace process along. The only real brokership role for Russia in the region seems to be in the area of weapons deals" (see EDM, September 14).
A number of Western observers also share the skepticism concerning the possibility to advance conflict resolution while Russia's regional influence remains so strong. As noted by Thomas de Waal, who has closely followed the Karabakh conflict for many years, "by selling weapons to each side and trying to play each against the other, Russia is destabilizing the peace its mediators made in 1994" (Politico.eu, October 11). Konrad Zasztowt, from the Polish Institute of International Affairs (PISM), has also noted that because of its propensity to sell weapons to both sides, the Kremlin would be responsible for the likely future war. He has further argued that real progress toward a solution of the violent Karabakh dispute is unlikely because Russia is not interested in peace and uses the conflict as a tool to manipulate both Armenia and Azerbaijan (1in.am, October 29).
Meanwhile, the Russian attitude toward the issue was recently formulated by Moscow-based Caucasus scholar Sergey Markedonov, who admitted that a change in the status quo in Karabakh would ultimately result in Russia's departure from the South Caucasus. Furthermore, Markedonov noted that Russia has been able to effectively control both the government and the opposition in Yerevan. And despite Yerevan's negative attitude toward Moscow's arms trade deals with Baku, continued weapons sales to Azerbaijan are useful for Russia as it helps prevent Azerbaijan from "falling under Western influence" like Georgia (Russiancouncil.ru, October 23).
Considering Russia's hold on Armenia and the latter government's servile attitude, it is hardly surprising that last month's (October 14–15) visit to Yerevan of Iranian Vice President Eshaq Jahangiri produced no real meaningful results. Previous predictions of the bilateral visit showed cautious optimism (see EDM, September 1), and some Iranian analysts even suggested that Jahangiri's visit could revive stymied Armenian-Iranian economic projects like the proposed cross-border railway (Azatutyun.am, October 14). However, as noted by Armenian policy analyst Aghasi Yenokyan, Yerevan is not allowed to carry out a sovereign policy, so several projects have already been neglected despite Iran's readiness to finance them (Aravot.am, October 21).
It also remains to be seen if the negotiations on a new European Union agreement with Armenia will produce any result. In mid-October, the EU Foreign Affairs Council authorized the European Commission to start negotiations; such a possibility had been suggested after the EU's Eastern Partnership summit (see EDM, March 25). During a visit to Yerevan on October 17, the EU delegation's head, Luc Pierre Devigne, urged the Armenian government "not to be afraid and sign it this time" (Irates.am, October 17). Nevertheless, Devigne's statement itself implies that the final decision may ultimately be made not in Yerevan but in Moscow.