Moscow Losing Another Nation's Orthodox Church—This Time Latvia's
Publication: Eurasia Daily Monitor Volume: 19 Issue: 133
By: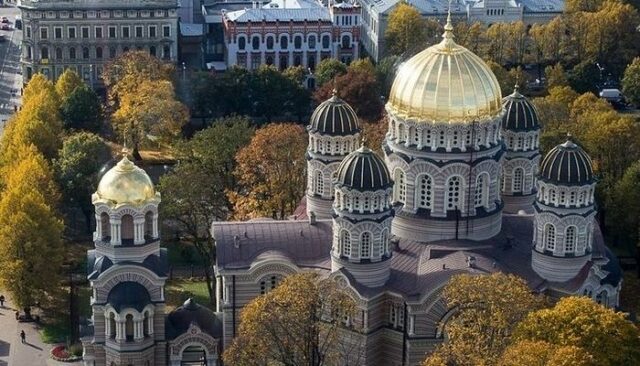 Since 1991, when the Soviet Union collapsed and the Orthodox faithful and leaders in the former Soviet republics and formerly occupied Baltic countries began to press for independence from the Moscow Patriarchate, the Russian Orthodox Church and equally the Russian government have been worried about these efforts and worked hard to oppose them. This anxiety was further exacerbated in January 2019 when the Ecumenical Patriarch granted autocephaly to the Orthodox Church of Ukraine, which cost Moscow its largest presence abroad (Novayagazeta.ru, March 27). Indeed, the Moscow Patriarchate is clearly in retreat almost everywhere in the former Soviet space, a retreat that has increased in speed given the Kremlin's all-out aggression in Ukraine (see EDM, August 12, 2021). Now, Moscow is in the process of losing control over yet another national Orthodox church—this time in the Republic of Latvia.
On September 5, Latvian President Egils Levits called for the Seimas (Latvia's parliament) to give the Latvian Orthodox Church autocephaly and thus formalize its complete independence from Moscow. Three days later, the country's parliament passed a law that requires the Latvian Orthodox Church to bring its statute into conformity with the new law by October 31 and thus become independent from Moscow (Eng.lsm.lv, September 5; Meduza, September 5). The parliament acted so quickly because, according to Levits, such a change was required for Latvia's national security given the long history of Moscow using Orthodox churches abroad for political purposes (Orthodoxtimes.com, September 10).
Not surprisingly, the Moscow Patriarchate and Kremlin media have reacted with fury. Archpriest Nikolay Balashov, an adviser to Moscow Patriarch Kirill, said this was a most unhappy development because Latvia's constitution proclaims the separation of church and state. Balashov also characterized the move as totally unnecessary because the Latvian Orthodox Church has been self-administrating since 1992. He said it was a return to the medieval principle of cujus regio, ejus religio, which held that the ruler of a country determines its religion. Moreover, he made clear that, since the state has no right to grant autocephaly, Moscow has no intention of recognizing Riga's action and that no other Orthodox church should either (Interfax-religion.ru, September 8; Stoletie.ru, September 9).
Meanwhile, commentaries in pro-Kremlin media were even more emotional. One in Vzglyad, for example, labeled Latvia's move as "completely fantastic and unprecedented in world practice" (Vzglyad, September 5). More independent Russian outlets were more cautious and apparently more accepting of something they consider inevitable in the current environment (Nezavisimaya gazeta, September 9).
The proximate cause of what Latvia has done lies in Ukraine, both in Russia's war there and the Ukrainian Orthodox Church of the Moscow Patriarchate's declaration of independence from Moscow because of the war and the earlier grant of autocephaly to the competing Orthodox Church of Ukraine. All this has echoed throughout Orthodox churches in the former Soviet republics and formerly occupied Baltic countries, which, in Soviet times, and in some earlier cases, were subordinate to Moscow. But Riga's latest move is also the product of uniquely Latvian concerns about ending arrangements that its people and government see as surviving from the time of Soviet occupation, and they have good reason to believe Moscow has and will again use these arrangements to compromise Latvia's independence.
Like most things connected with the Russian Orthodox Church, its situation in Latvia has been both complex and murky. In 1921, after Latvia gained independence, the Russian Orthodox Church recognized the Latvian Orthodox Church as autonomous, but the Riga church remained nominally subordinate to the Moscow Patriarchate. In 1936, following the Soviet assassination of the head of the Orthodox Church in Latvia, the Ecumenical Patriarchate recognized the Latvian Orthodox Church as part of its dominion. The Soviets suppressed that arrangement when they occupied Latvia during World War II; but in December 1992, after Latvia regained independence, the Latvian Orthodox Church again became autonomous but did not depart from the canonical territory of the Moscow Patriarchate. That was not a program many Latvians welcomed because Moscow retained the right to appoint the church's head and the Latvian church was required to follow Moscow's decisions (Apn.ru, September 7).
Tensions regarding this have only increased over the past decade and have exploded since Russian President Vladimir Putin launched his expanded invasion of Ukraine, an action Latvia has vehemently opposed. First of all, the Latvian government has published records from Soviet times showing that the metropolitan of the Latvian Orthodox Church was a KGB agent. Second, the Seimas passed a law requiring that the heads of all churches in Latvia must be Latvian citizens, something the Orthodox ones had not been but eventually conceded to despite fears in Moscow that it was giving up too much (Nezavisimaya gazeta, October 1, 2019). And third, the hitherto microscopic Latvian Orthodox Autonomous Church has begun to attract more followers and has become at least potentially a genuine competitor to the Latvian Orthodox Church, which has just over 100 parishes and a claimed membership of 350,000 (see EDM, October 17, 2019).
Given the small size of Latvia and the Latvian Orthodox Church, some may be inclined to dismiss this latest development as little more than a tempest in a teapot. But three primary reasons point to why that would be a mistake. First, Moscow has shown its willingness to use its church in Latvia to mobilize ethnic Russians against the regime and can be expected to do so in the coming weeks, thus creating another problem for Riga. Second, the Latvian action, one by the state regarding religion, may provide a model for other governments in the post-Soviet space to take similar actions, thus accelerating the departure of Orthodox churches from Moscow's supervision—or at a minimum raising the battle of this possibility to government levels. And third, this Latvian action, coming as it does during the course of Putin's war in Ukraine, will only intensify fissiparousness (cleavages) within the Orthodox world generally and indeed within Christianity as a whole regarding relations with Moscow by highlighting the unfortunate history of the Kremlin using the church for anything but religious ends.