Moscow Worried Orthodox in Belarus and Moldova May Gain Autocephaly
Publication: Eurasia Daily Monitor Volume: 18 Issue: 129
By: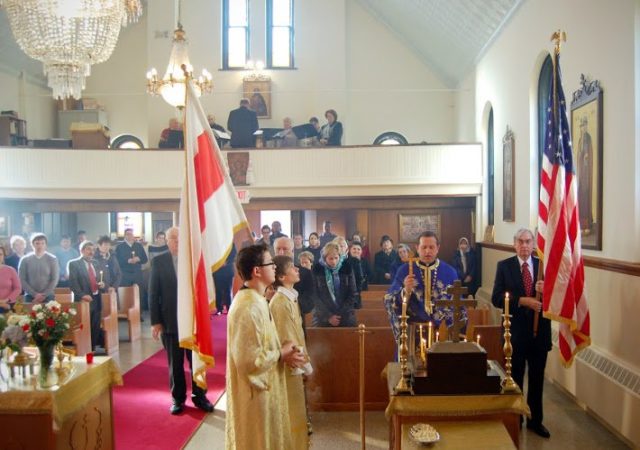 Moscow is increasingly anxious about potential new moves in Belarus and Moldova in the coming weeks toward achieving autocephalous status for the local Christian Orthodox churches. Such an outcome would further undermine President Vladimir Putin's efforts to promote his "Russian World" ("Russkiy Mir")—an ideological concept based not only on language but also on culture defined in religious terms. Indeed, the Kremlin is still alarmed by what the extension of autocephaly (independent self-governance) to the Ukrainian Church has meant. As one commentator described it, this was as the most important step Kyiv has taken, other than offering military resistance, since the Russian invasion of 2014; consequently, Moscow views it as an unforgiveable political attack on Russia (see EDM, September 13, 2018; Glavred.info, November 17, 2018). Russia's fear now is that developments in Belarus and Moldova may succeed in winning autocephaly, which could easily spark similar moves in other former Soviet republics or even lead some Orthodox within the Russian Federation to seek autonomous status for themselves. This would further isolate the Moscow Patriarchate within the broader world of Orthodoxy and reduce Russian influence abroad.
In Nezavisimaya Gazeta last week, Russian religious affairs specialist Milena Faustova argues that "the closer the August 24 date of the visit of Bartholemew, the Universal Patriarch, to Ukraine approaches, "the more frequently the Russian Orthodox Church and the Russian diplomatic corps frighten themselves and others with the idea that the Church split will spread across the entire post-Soviet space" (Nezavisimaya Gazeta, August 3). These concerns, she points out, informed vitriolic comments by Russian Foreign Minister Sergei Lavrov and Russian Orthodox churchmen on the occasion of the commemoration of the anniversary of the Christianization of Kyivan Rus (see Commentaries, July 30), an event that is increasingly a bone of contention between Moscow and Kyiv.
The two places where the future course of Orthodoxy appear most in play—and are, thus, generating the greatest Russian concern—are Belarus and Moldova. In Belarus, President Alyaksandr Lukashenka is backing the current situation, in which the Moscow Patriarchate controls most of the Orthodox there. But that could change. When she visited the United States at the end of July, Belarusian opposition leader Sviatlana Tsikhanouskaya visited the cathedral of the Belarusian Autocephalous Orthodox Church (BAOC) in New York City, an action that prompted suggestions by some that she plans to appeal to the Universal Patriarch to grant Belarusian Orthodoxy more generally autocephalous status. The BAOC does not recognize Moscow as its leader and supports autocephaly for the Orthodox of Belarus (Telegram, July 25; TRTrussian.com, August 10). Tsikhanouskaya's aides played down this possibility, pointing out that she is committed to the separation of church and state and would not take any step that would compromise that principle. But because Belarusian autocephaly would weaken Moscow's position in her country, many suspect she supports the idea.
Russia has faced challenges as far as autocephaly in Belarus is concerned not just from the Belarusian political and church opposition but from President Lukashenka himself, who, three years ago, threatened to pursue autocephaly to strengthen his hold on power and to prevent Orthodox Belarusians from shifting to the even more oppositionally inclined Roman Catholics (Nsn.fm, January 10, 2019; Urb-a.livejournal.com, February 4, 2019). Moscow responded both by attacking such ideas and by giving Minsk some of what it wants: namely, nativizing the formerly all-Russian leadership of the Belarusian Orthodox Church (see EDM, October 16, 24, 2018; Currenttime.tv, September 4, 2020; Windowoneurasia2.blogspot.com, September 9, 2020; Ahilla.ru, June 9, 2021).
Lukashenka has not raised this issue recently: he may feel that he has achieved all he can by securing a more Belarusian church hierarchy. But Tsikhanouskaya's visit to the New York BAOC cathedral shows that the debate over autocephaly remains lively inside Belarus. Some commentators have even suggested that the Belarusian president is still prepared to split the Orthodox Church in Belarus to ensure that he controls most of it (Sputnik.by, August 28, 2020).
Meanwhile, in Moldova, similar developments disturb Moscow, even though the Orthodox Church there is much smaller than it is in Belarus. Moldovan media in recent weeks have reported that the pro-Western Moldovan President Maia Sandu has decided to promote autocephaly in order to limit Moscow's ability to use the local Orthodox Church against her and her policies. Although Sandu has been focused primarily on secular issues, and while the separation of church and state is enshrined in the Moldovan constitution, she notably wants to pursue closer ties with Romania, which has made the Church a state structure and its priests and hierarchs state employees. Russia worries that the Moldovan case is linked to the Belarusian one, in that if one succeeds, the other becomes more likely. The consequences would be extremely unwelcome in Moscow, including the further rapprochement and even unification of Moldova and Romania as well as setting the stage for the fall of still other dominos in the former Soviet space (Nezavisimaya Gazeta, August 3).
Those dominos are already shaking and ready to fall. The Orthodox in Latvia and Lithuania are moving toward autocephaly or at least toward an Estonian outcome, in which there will be two Orthodox churches—one autocephalous and one subordinate to the Moscow Patriarchate (Eurointegration.com.ua, October 19, 2018). And the leader of the Russian Orthodox Church in Azerbaijan has struck such an independent stance that he appears to want greater local control as well (Credo.press, October 1, 2020). Perhaps even more troublesome to Moscow, there are signs that various groups within the borders of the Russian Federation are seeking autocephaly, citing the precedent that Moscow itself created by recognizing a Chuvash autocephalous church in the 1920s (see EDM, March 19, 2019; Nezavisimaya Gazeta, September 20, 2017; Idelreal.org, October 17, 2018).
Beyond the borders of the former Soviet space, both the Moscow Patriarchate and the Kremlin, saw their influence in the Orthodox World decline after Ukraine gained autocephaly; so they fear the loss of control over the churches in Belarus and Moldova would send Russia's standing abroad plummeting still further. Some in Moscow are pressing Russian Patriarch Kirill to make up with Constantinople to stop the bloodletting, while others, convinced it is too late for that, want him ousted and replaced by someone who can (Znak.com, October 18, 2018). In the next few weeks, Russia—religious and secular—can be expected to pull out all the stops to block any moves toward autocephaly for Belarus or Moldova, setting the stage for a fight in an arena few interested in international relations follow but that is increasingly important.