Kremlin Responds to New Moldovan Leadership's Overtures
Publication: Eurasia Daily Monitor Volume: 18 Issue: 129
By: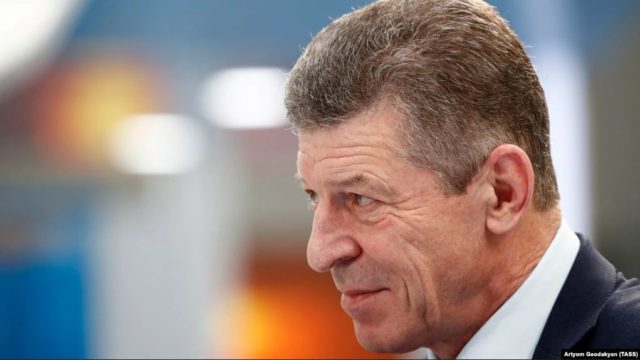 The Kremlin has wasted no time reacting to the positive signals from Moldova's new, Western-oriented leadership. On August 11, only five days after Moldova's new government took office, the deputy head of Russia's presidential administration, Dmitry Kozak, descended unexpectedly on Chisinau for talks with President Maia Sandu and government members. Kozak carries out the Kremlin's policy toward Ukraine and toward Moldova on parallel, correlated tracks (see below).
Kozak rushed to be the first foreign official of high rank from any country to visit Moldova after the new authorities came to power. According to the Russian side, Sandu invited Kozak; but the Moldovan side did not mention this (TASS, Moldpress, August 11). It may well have been an informal self-invite by Kozak followed by Sandu's formal but unpublished invitation.
Sandu and her Action and Solidarity Party had achieved landslide victories in the presidential and parliamentary elections (November 2020 and July 2021) by avoiding any criticism of Russia, furthermore emphasizing that their own Western orientation was compatible with improving Moldovan-Russian relations. Sandu had stated during both campaigns that she would be prepared to meet with Russian President Vladimir Putin (and the Moldovan government with the Russian government) after the elections, on terms that would serve the interests of Moldova's citizens.
Sandu's and her team's commitment to European integration is ironclad, but they had to recognize three realities. First, appeals of the type "away-from-Russia" cannot win elections in Moldova. Nor can they ensure reelection four years from now, considering the minimal levels of anti-Russia sentiment and still-widespread respect for Russia among Moldovan voters. Second, a functional economic relationship with Russia is what most Moldovan voters expect; and it could hold significant economic benefits to a pauper Moldova, without prejudice to its deepening ties with the European Union. And third, the Russia-orchestrated Transnistria conflict cannot be resolved in Moldova's interest until Moldova rebuilds its state; and pending the state's reconstruction by the new authorities, Moldova will need tranquil relations with Russia.
Russia's interests and objectives in Moldova—a non-bordering country—are limited. Among the EU's six Eastern Partnership countries (Belarus suspended its participation earlier this year), Moldova holds the lowest geopolitical value to Russia. The Kremlin's interests in Moldova are confined to:
– Holding on untroubled to Transnistria while stonewalling a political resolution of the conflict indefinitely;
– Retaining a degree of political access to Chisinau via some limited economic incentives, at no cost to Russia itself;
– Discouraging Moldova's solidarity with Ukraine and Georgia in the context of the Russia-orchestrated protracted conflicts; deceptively showing a softer face in Moldova, unlike Russia's brutal face in Ukraine and Georgia;
– Constraining a Moldovan rapprochement with the North Atlantic Treaty Organization (NATO) by exploiting Moldova's constitutional neutrality (even as Russia violates that neutrality on a daily basis in Transnistria);
– Blocking a hypothetical unification of Moldova with Romania (the old scarecrow that Russia's authorities no longer seem to take seriously now); and
– Using, hypothetically, Moldova as a testing ground (or first case) for harmonizing relations between Russia and the West in Europe's East, on terms that would recoup and enhance Russia's influence throughout the region.
Given those limited interests, Russia chose to play almost no role in Moldova's latest presidential and parliamentary elections (November 2020 and July 2021), ultimately abandoning the Russophile then-president Igor Dodon and his antiquated Socialist Party to their fate (see EDM, November 18, 2020, July 15, 2021, July 19, 2021). While in Chisinau, Kozak duly acknowledged the landslide elections and full-scale change of power in Moldova, recalling Moscow's earlier statements that it would work with any elected Moldovan government. Kozak also met with former presidents, now opposition leaders Dodon and Vladimir Voronin, inside the Russian embassy, without publicity (Noi.md, August 12).
No joint press conference was held after the official meeting. Sandu issued a concise, sober statement about "seeking constructive dialogue with Russia in the interest of Moldova's citizens." She "appreciated the Russian side's openness in this sense" (Moldpress, August 11). For his part, Kozak held an uncharacteristically upbeat briefing for the press in Chisinau (TASS, Newsmaker.md, August 11).
According to Kozak, "The talks were very constructive and marked by goodwill," and he saw "big opportunities to achieve mutually advantageous agreements." For now, however, they have only "agreed about holding talks," starting immediately at the level of ministries across the board. "If agreements are achieved, then a meeting of Presidents Putin and Sandu shall definitely take place."
The contentious issues salient in Kozak's briefing (presumably reflecting the agenda of the just-concluded talks) were: bilateral trade, natural gas and Transnistria.
Moldovan farmers need to regain access to Russia's market, lost due to Moscow's severe restrictions on the import of Moldovan agricultural products. According to Kozak, Russia will lift those restrictions, provided that Moldova lifts its own restrictions on Russian imports. The Russian side is raising this conditionality for the first time, perhaps aiming to bring Moldova's trade agreement with the EU into discussion.
Chisinau is concerned that Russian Gazprom may raise the price for gas supplies to Moldova in the context of gas price increases Europe-wide. Kozak professed a "market" approach to this issue, telling the local press that it is a non-political, corporate issue. Sandu's team most likely asked that Russia stop charging Transnistria's debts for Russian gas to Chisinau's account, but Kozak did not mention this issue in his briefing.
On Transnistria, Kozak's posturing on a political solution mirrors his (and Putin's) posturing on Ukraine's Donbas. "A political settlement on Transnistria is Moldova's internal affair. Russia is prepared to help you [Moldova and Transnistria] to come to an agreement, just as we have been doing. We are not going to impose our own terms of settlement. This is not our problem, this is your internal problem," Kozak told the press in Chisinau. That said, he agreed with Sandu's request to start negotiations about recycling the unusable and untransportable Russian ammunition from the vast Colbasna stockpile in Transnistria (TASS, August 11). For her part, Sandu would continue diplomatic negotiations in the "established" (i.e., 5+2) format (Moldpress, August 11).
From Moscow's standpoint, Sandu is still an unknown quantity ("maloponyatnaya"), except perhaps to Kozak himself. He is the only senior Russian official ever to have met with Sandu (twice in 2019 and now). Sandu is not known ever to have been to Moscow, at least not on business.
According to a Sputnik Moldova commentary, published on the day of Kozak's visit, Russia should have no problem with Moldova drawing increasingly closer to Europe. After all, leading European countries like Germany and France seek to further improve their relations with Russia; and even the United States now realizes the value of such relations. This seems to imply that Russia has little reason to compete against Moldova's Western patrons over Moldova (Sputnik Moldova, August 11).
From Chisinau's standpoint, improving relations with Russia could serve Moldova's interests (see above) but it is not a top or even high priority for Moldova's new, Western-oriented leadership. Its minimal objective is a conflict-free relationship with Russia. Within such a relationship, Moldova would focus on non-strategic, mundane but pressing issues of a practical nature with Russia in the economic sphere. Moldova will continue to seek the withdrawal of Russian troops from Transnistria (in keeping with Moldova's neutrality) persistently but non-confrontationally.